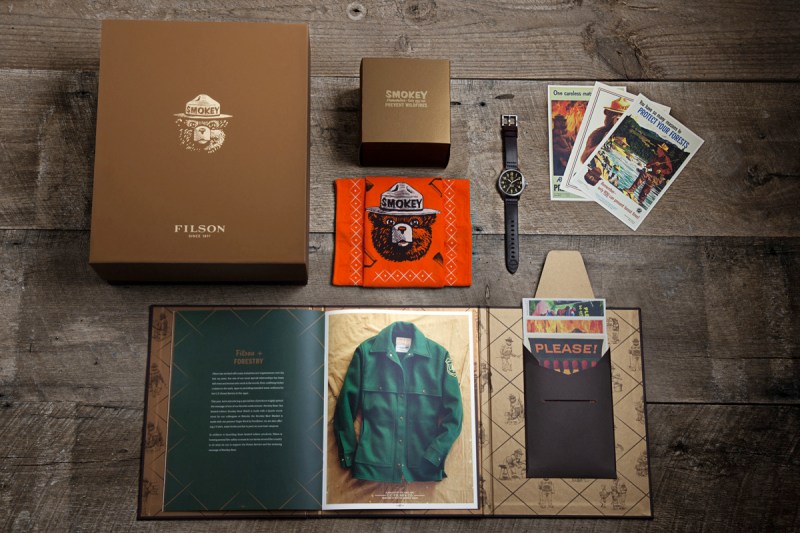 Ever since it flung open its doors back in 1897, the Seattle-based retailer Filson has worked with a wide range of collaborators and partners on many esteemed collections. However, few (if any) releases were as deeply rooted in one of America's most recognizable individuals as Filson's latest venture: the Smokey Bear collection.
Launched this past summer, the Smokey Bear collection is a smattering of any and all things — you guessed it — Smokey Bear related. From watches and blankets to various other accessories like hats and water bottles, the newest collection is yet another impressive feather in Filson's ever expanding catalog.
An homage to America's great outdoors and a tribute to its symbolic kin, the Smokey Bear collection aims to celebrate all those who've safely embarked into the country's wilderness for decades. Due in part to Filson's long-standing affinity for producing rugged outdoor wear, the decision to link with Smokey Bear seems an absolute no-brainer. With years of developing U.S. Forest Service uniforms, as well as outfits for timber cruisers, under its belt, Filson's no doubt the proper partner for such a release.
While the entire collection is a sight to behold, the main attraction is none other than a limited edition Smokey Bear timepiece. Based on Filson's 43mm Mackinaw Field watch, this special release boasts a new smooth top ring and a matte black velvet dial emblazoned with the Smokey Bear icon and his iconic "Only You Can Prevent Wildfires" slogan. Featuring a self-lined dark brown strap made of English Bridle leather, each watch also has its exclusive production number (only 1,000 were manufactured) engraved on the caseback.
In addition to the limited watch, Filson also partnered with Pendleton to make a one-of-a-kind Smokey Bear blanket featuring 100 percent Virgin Wool. Other items in the collection include a forest green Smokey Bear T-shirt, a bright orange collection-themed water bottle, and an orange bandanna which lists steps on how to properly maintain and run a camp fire.
The entire Smokey Bear Filson collection is available now via Filson's website.
Editors' Recommendations