There are more than a few brands out there that have taken the focus off profits and developed a sustainability and responsibility model. However, finding a unique brand that is founded on these principles is a harder thing. Footwear brand Oliberte was founded precisely to put these ideas into practice while providing skilled jobs and a self-sufficient supply chain in Sub-Saharan Africa.
Related: Best Boots for Work and Play | Less is More with Muro.exe
Oliberte is unique in that since their 2009 inception they have invested in slowly consolidating their entire chain of raw goods and manufacturing with African suppliers. Leather comes from local cows and camels in Ethiopia. Rubber is sourced from Liberia, South Africa and Kenya. Their manufacturing floor was built from the ground up with machines built in Africa, and manned by independent workers paid a fair, living wage – in fact, they are the first Fair Trade certified footwear factory in the world. What does this mean for Oliberte's line up? From dress shoes to the new sneakers and leather packs and bags, every product has serious handmade styling, and is built from the ground up with the best materials.
Anbesso ($110)
The Anbesso is new for spring 2015 and is one of the first real sneakers by Oliberte. Featuring a 100% goat leather lining, a serious natural rubber outsole, and extremely comfortable water-based polyurethane insole, this shoe is ready to tackle all the dangers of an urban commute or weekend bar crawl.
Nimbol ($110)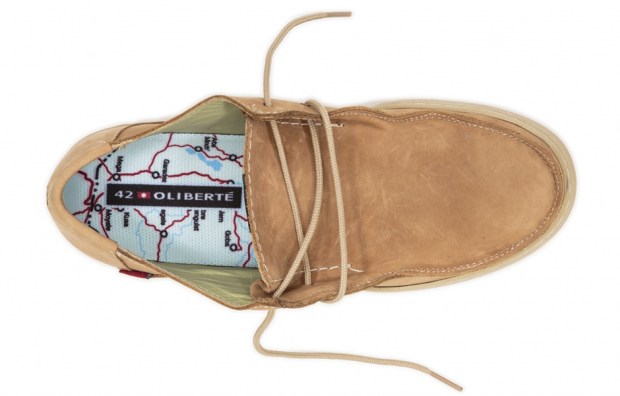 Built on the same sneaker last as the Anbesso, the Nimbol has a stitched toe style that lends a little extra formality for an office setting. The sidewalls of the outsole and upper are reinforced for some extra durability. We can easily see a pair of them anchoring an urban wardrobe for seasons to come.
Highlander Collection
If you're willing to wait until the fall, Oliberte's Highlander Collection will hit their website and retailers in late August. Eschewing traditional construction for thicker, more supple camel leather, this line of desert inspired boots is built to survive both the outdoors and serious urban adventuring.
Editors' Recommendations