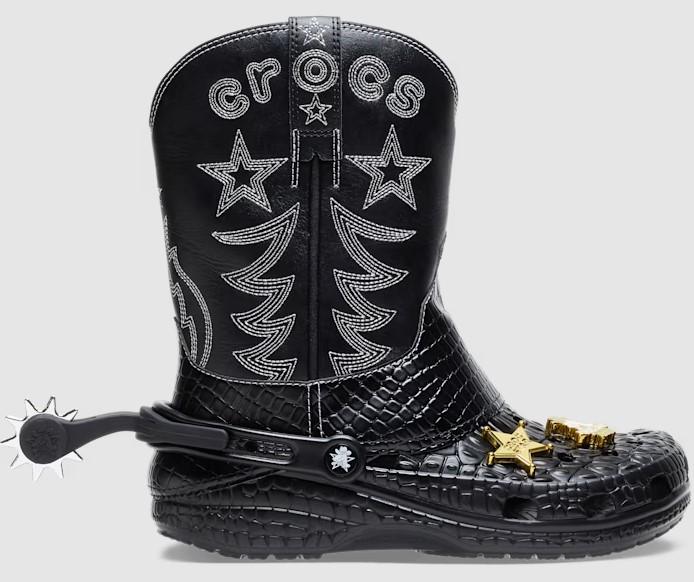 Do you ever wonder why so many people don't like high fashion? It is stuffy and pretentious, and a lot of times, it takes itself too seriously. People get wrapped up in the high part, and the fashion part becomes one of the things that keeps them from having any fun. Luckily for all of you, Crocs is a company that is less focused on the high (for many serious menswear lovers, less focused on the fashion as well) and committed to the fun with a new pair of Croc boots. This month is dubbed "Croctober," and the divisive water shoe company is bringing the fun with none other than a cowboy boot.
Cowboy is back. Thanks to the explosion of Yellowstone combined with the more casual look of today's modern man, men are reaching back to the days on the ranch to wear more rugged and function-focused looks. Of course, crocs aren't exactly rugged, but they are definitely casual and function-focused, so the new look makes sense for the company to cash in on the fringe group of Croc fans who are ready to update their collection during the month of "Croctober."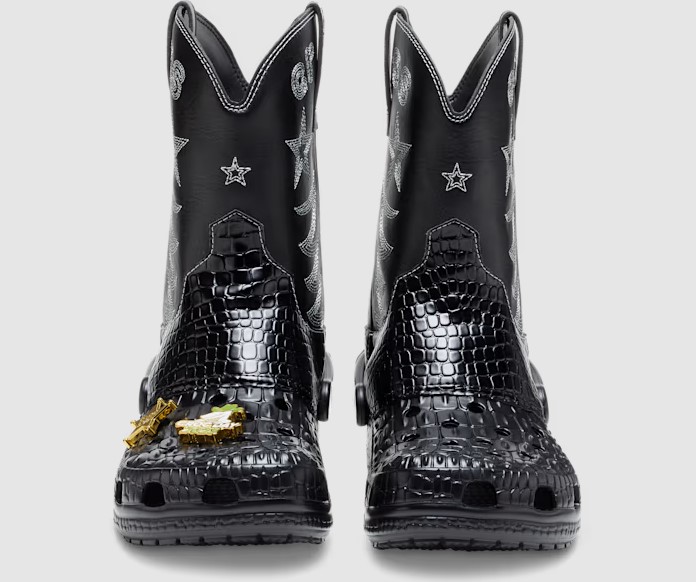 Can you pull off these Croc boots?
When it comes to flashy looks and out-of-the-box ideas for your look, the answer to whether you can pull them off is…absolutely. Now, before all of you Croc haters turn up your nose, many looks that are staples in your closet were snubbed when they first hit the market. You know that watch on your wrist? That was seen as feminine. They started as a woman's item until they were adopted by pilots and soldiers in the early 20th century. So take a moment and consider exploring the possibility of adding Crocs to your collection.
While these boots sport the classic bottom of normal Crocs, they feature a western ankle shaft with a classic boot design, and the company name emblazoned across the top. Of course, you can't have Crocs without the charms the company is known for. Two of the best charms this new boot provides are specific to the new product. The first is Duke, the brand's beloved crocodile mascot, getting into the Western spirit by donning a stellar cowboy hat and doing his best John Dutton on the Yellowstone Ranch. Of course, no cowboy boot is complete without a spur, and the Croc cowboy boots feature a one-of-a-kind charm of a spinning spur on the back of the boot.
You may not be a rancher, you may not be a cowboy, but the Cowboy Croc is something worth exploring. Just remember that the point of fashion is not to get too high-minded about it. Fashion is about fun. Fashion is about self-expression. And finally, fashion shouldn't be taken too seriously. If you are feeling squirrely this "Croctober," the Croc boots with the spur are a statement.
Editors' Recommendations