For centuries, wool has been the go-to natural fiber for socks, sweaters, pants, and any other type of clothing (even underwear!).
This month, Taylor Stitch (one of our favorite menswear brands) in partnership with The Woolmark Company, launched its Merino-wool based collection, CIVIC, created for the urban commuter.
"The current market for Merino is focused on two things on opposite ends of the clothing spectrum, suiting or technical outdoor apparel," Taylor Stitch Co-Founder, Michael Maher says. "Our aim with CIVIC is to take all the naturally performing goodness of Merino and bring it to casual, everyday style. The thermo-regulation, anti-odor, and breathability are something everyone should be using, while the natural, renewable and biodegradable aspects of it are things more companies should be paying attention to. We hope CIVIC ignites a larger conversation to encourage and support sustainable travel as a means to heather lives, stronger communities, and an enduring future for generations to come."
The Woolmark Company, as a subsidiary of Australian Wool Innovation, a not-for-profit enterprise owned by more than 24,000 woolgrowers that invests in research, development and marketing, is recognized as the "global authority on wool." It is this extensive knowledge of wool that brought the company together with Taylor Stitch to produce a line that demonstrates the amazing natural performance benefits of Merino wool. Merino wool regulates body temperature, resists odor, and manages moisture from perspiration or the elements.
The collaboration resulted in several stand-out styles, including the Commuter Chino, Commuter Short, Commuter Jacket, and the Merino T-Shirt.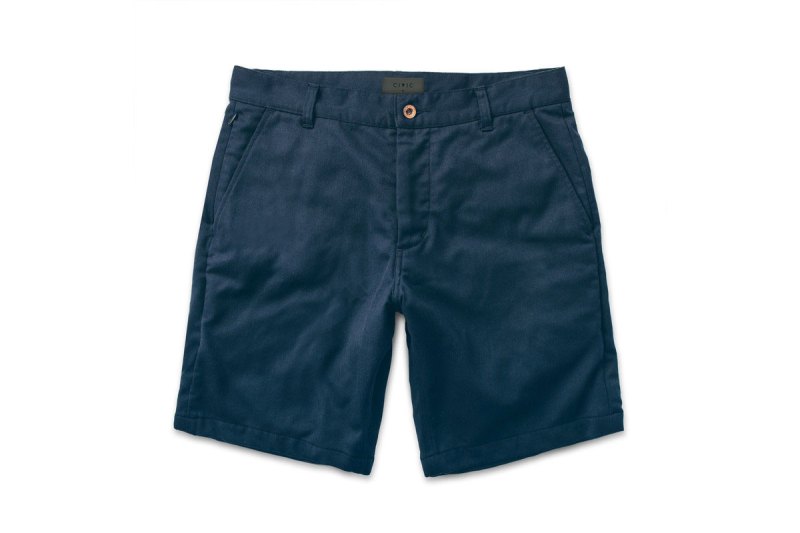 Both the chino and the shorts are composed of a blend of Merino Wool and Sorona, which helps the pieces maintain their softness and shape throughout the day, while also keeping your nethers well-ventilated. Beyond that, since they are constructed from such a durable fabric, these bottoms are meant to as long as your legs will. And, coming in navy and olive, the neutral color palettes allow these pants to match almost any shirt or pair of shoes you own.
The Commuter Jacket is made with The Woolmark Company's innovative MerinoPerform WP fabric, which, "is engineered to keep your body dry and comfortable, no matter the circumstances, without sacrificing breathability. So you know you won't hop of your bike soaked through with sweat. The Merino T-Shirt is composed of Mercerized Merino wool, which provides the ultra-soft feel and additional odor protection.
Prices for the CIVIC collection range from $44 to $298. The CIVIC menswear collection is available exclusively on Taylor Stitch's website at a discount through their crowdfunding platform "The Workshop." Only the products that have achieved their funding goals are created and delivered, giving "customers the power to bring their coveted designs to life."
Editors' Recommendations