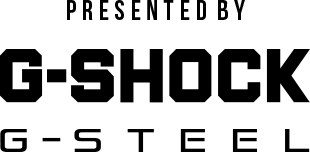 G-SHOCK may be a household name for tough timepieces that can withstand even the most hardcore of situations, but the new G-STEEL collection takes that functionality to another level with its aesthetic and design. As stylish as it is functional, G-STEEL provides you the ability to feel put together, wherever your day may take you. This watch is built with Bluetooth connectivity to ensure no matter where you are, anywhere in the world, you never have to second guess a quick glance at your watch.
With its sophisticated chronograph face and stainless steel band, it blends seamlessly into any man's wardrobe. But not to worry guys, it's still the G-SHOCK you've come to know and rely on, which means it's built with the seven elements that make it the toughest watch of all time: electric shock resistance, gravity resistance, low-temperature resistance, vibration resistance, water resistance, shock resistance, and overall toughness. These elements are the foundation of G-SHOCK, but up until now, the options didn't lend themselves to anything but what you would think a rugged, tough watch would. In other words, there may have been pause before wearing your G-SHOCK on certain, more dressed up occasions. Not anymore. Not with G-STEEL.
This watch is as handsome as it is rugged. With its double-layer bezel and stainless steel band, it's built as much for the paddle board as it is for the boardroom. Showing up straight to the office from flying the red-eye, you can rest assured that the Bluetooth connection to your phone keeps your time up to date, no matter the time-zone. It's self-adjusting, which means it receives time calibration signals and corrects the time automatically — this even includes Daylight Savings Time. If wearing your G-SHOCK with your suit wasn't an option for you did in the past, those times are over. The sleek metallic finish of G-STEEL keeps you dressed up, even if you only throw your suit on when absolutely necessary.
Because it's everything you have come to appreciate about a G-SHOCK, this watch still looks great with your jeans, a t-shirt, and a leather jacket. Included in the nearly 53.88mm case are neo-brite luminous hands, a world time display, your daily alarm, stopwatch, countdown timer, date display, and a full auto calendar. Wearing this straight from Friday at the office, to late night at the bar, to wearing it all weekend, this watch is uncompromising in its ability to look as good as it functions for everywhere the adventure of life takes you.
Editors' Recommendations