Earlier this month, Casio's G-SHOCK released its first-ever collaboration with internationally known bike shop turned street-style and cycling brand, Chari & Co. The two have put together a limited edition timepiece, the GA500K, that is a perfect right- or left-hand man for all your cycling and high-activity endeavors.
Both brands boast a shared Japanese heritage and commitment to delivering on durability. Chari & Co, located in the Lower Wast Side in New York City, are known for their stylish, yet sturdy, urban apparel and gear. If you're not familiar with Casio's shock-resistant G-SHOCK series, it's a watch built on toughness or, as developer Mr. Ibe's inspiration suggests — a watch that never breaks. It's easy to see why this collaboration makes perfect sense.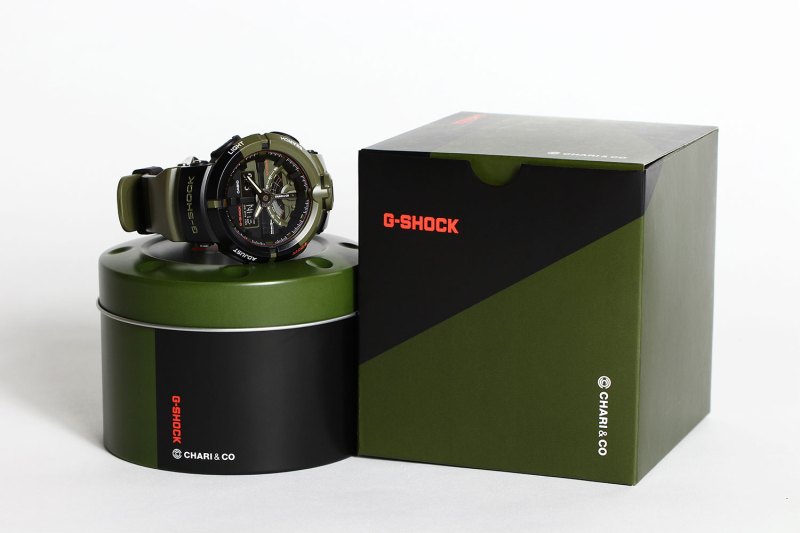 The new timepiece highlights a design inspired by the three main components of a bicycle, which forms a triangular geometric pattern in shades of black and olive.
"It's really fascinating to be a part of a collaboration between G-SHOCK, a company whose product brings to mind style, dependability, and durability, and Chari and Co, whose roots are at the center of a culture where those qualities are of huge importance. The design of the watch itself is directly inspired by the bike frame, the focal point of any bicycle. A good bike frame needs to be built with precision and accuracy, and the G-SHOCK is known for its precise time-keeping. The two exist on the same level," says professional cyclist, Chari & CO Ambassador John Kniesly.
The collaboration also brought about a whole new case design for the G-SHOCK series, while keeping it's tough-as-nails qualities. This new case for the GA500 model still flaunts the shock resistant technologies, but also boasts a wider, more legible face than its earlier cousin. Furthermore, a second hand, which acts as a stopwatch and countdown timer, was added to help keep track of your daily schedules and workouts.
The watch also features  200M Water Resistance, a LED Light, 48-city World Time, 5 Daily Alarms, a Retrograde 1/100th-second Stopwatch with Target Time Alert, and a countdown timer.
The GA500K is available now for $190 and can be found at the Chari & Co NYC storefront, as well as the respective websites of Casio and G-SHOCK .
Editors' Recommendations