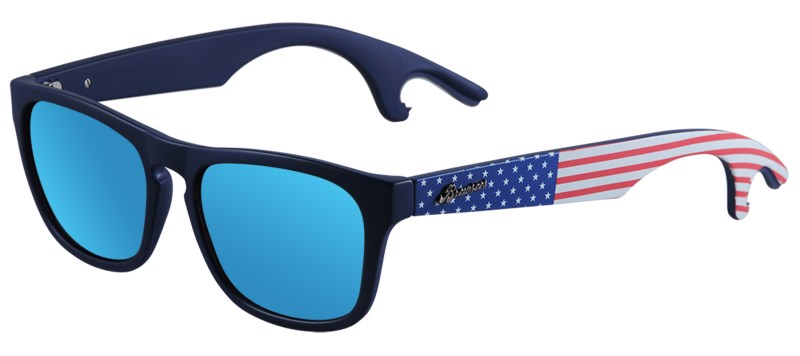 We love when style and everyday tools come together in one very convenient package – and that is why we are introducing you to one of the quirkiest (but not quirky looking) sunglasses we've seen this year.
The Brewsees. They're glasses, they're bottle openers, they're a work of genius – not to mention a frat boy's dream come true. So how did it all start? We spoke to the man behind the frames, Rob Ianelli, to see how this all started.
"I started Brewsees as a way to have a few laughs," Ianelli said. "What started out as a napkin sketch has insanely turned into a lifestyle revolution."
The company started in 2012 and has grown significantly over the past three years.
"We initially launched the company with a wrap-around frame style, which we have discontinued for 2015." Ianelli noted. "The response to that frame was awesome, and we had press from all around the world. Our new collection "The Pryfarer" has gone gangbusters."
Brewsees has tweaked it's branding since 2012, and sells directly online.
The different styles available are as clever as the concept – two in particular that stuck out to us?
The Belushi's – an homage to that classic all-black wayfarer style we all know so well from the famous Blue's Brother's.
The Captain Pry'Merica's – an extremely patriotic set, made with navy blue acetate front frames, hand-polished polycarbonate temple arms and integrated PryTech stainless steel openers. Polarized blue mirrored charcoal lenses with 100 percent sun blocking UV400 protection will keep your eyes safe while your destroying your liver (just kidding!)
These sunglasses have a lifetime warranty (so you know these guys aren't messing around) and you know that includes a lifetime of excessive high-fives.
The brand will be releasing new colors and combinations later this year and you can even have your company logo printed on the sides.
Fun fact: the record number of bottle caps demolished by a pair of Brewsee's? 874.
Summer can't come soon enough.
Editors' Recommendations