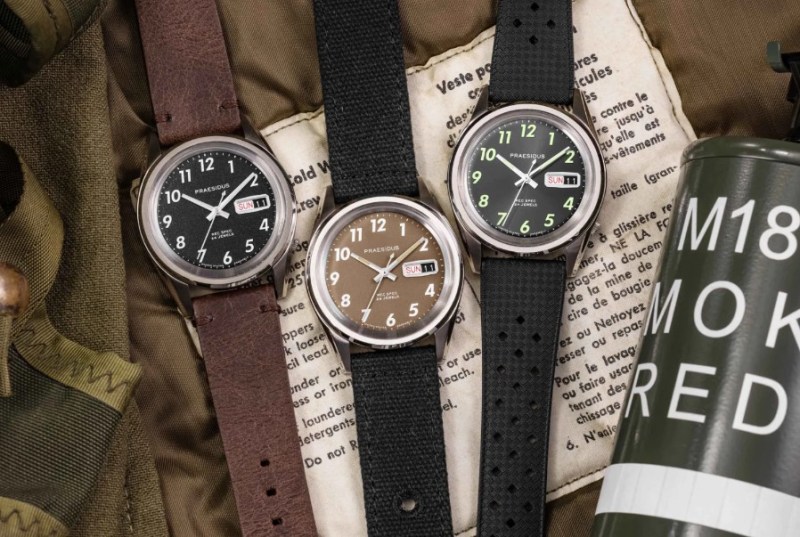 Some watches have a story. Maybe they were designed for a famous or influential person. Maybe they were designed specifically to make something easier to do. Flying, sailing, diving, driving, and exploring all are industries that have watches specifically designed to make them easier. Whether military or field watches, Praesidus has made a name for itself by recreating some of the best and most iconic watches ever to hit the market.
While one of its most popular watches was the Tom Rice A-11, modeled after the timepiece the WWII sergeant lost when his parachute failed over D-Day, its newest jumps two decades ahead to find the newest inspiration. From the jungles of Vietnam, Praesidus brings back the iconic watches for men that soldiers picked up from Seiko that were completely different from the ones the military provided them. While you can choose a lot of military watches, the Rec Spec is definitely one of the best looking.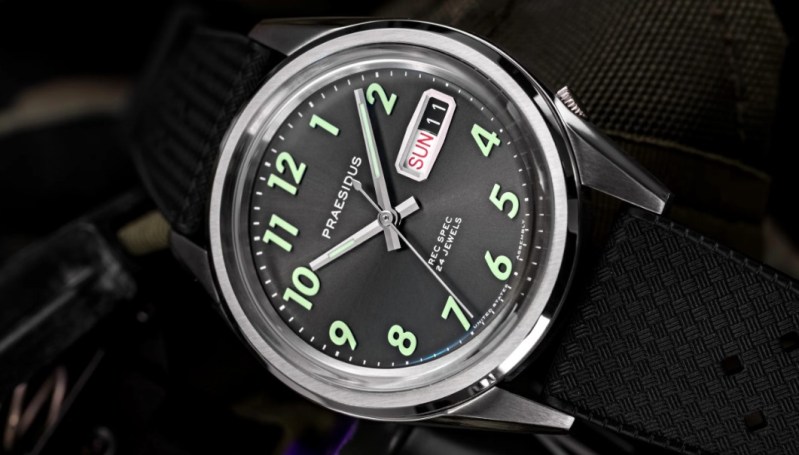 From the jungles of Vietnam
Of course, what makes this watch different from other field watches and Seiko watches is the story behind it. We sat down with Akshay Kumar, with Praesidus, so he could explain the story of the watch and what inspired the project to recreate it.
"The Rec Spec project was born from our encounter with John "Tilt" Stryker Meyer, a former MACV-SOG (Military Assistance Command, Vietnam – Studies and Observations Group) member and accomplished author who shared the remarkable story of these watches," Kumar said. "MACV-SOG as a unit was usually operating outside of Vietnam. This meant they could not use traditional U.S.-issued military gear, as the U.S. military had to keep plausible deniability that these guys were U.S. soldiers. The Seikos were chosen to fulfill the role mainly because the MACV-SOG procurement office was based out of Okinawa, Japan, where these were readily available on any market and, for 1/100th of the price of Rolex/Omega watches."
This was a group of men who acted as the tip of the spear in America's efforts to stop the spread of communism against the North Vietnamese. They conducted operations that included strategic reconnaissance, direct action, sabotage, personnel recovery, Psychological Operations (PSYOP), counter-intelligence, and bomb damage assessments. They had one of the highest casualty rates since the Civil War, and since their job was one of the toughest, they needed watches that could stand up to the fight.
Half dress and half field
Many men resort to one of two schools of thought. First, you need separate watches for your dress moments and your casual/work times. Others take the approach of getting one watch that can do it all, your every day. The Rec Spec is the perfect choice for the second school of thought. It is simple and minimalistic. It doesn't have a lot of complications. Instead, it focuses on legibility and function. The option to swap out bands from your basic leather to your retro canvas lets you jump back and forth between the two.
"Personally, I love the Day-Date window and its vintage aesthetic," Kumar said about his favorite thing about the watch. "It really is what sets this watch apart from the usual field watches. It also serves to highlight the original nature of this watch as a dress watch before it got used by MACV-SOG and turned into a de facto field watch." This is truly one of the greatest watches inspired by the military.
This watch was used by some of America's toughest men, and now it can accompany you on some of your most difficult times or some of your most momentous occasions. While the first 100 sold out in less than a day, you can sign up on the website to know when more hit the market. Rest assured, more are on the way this fall.
Editors' Recommendations