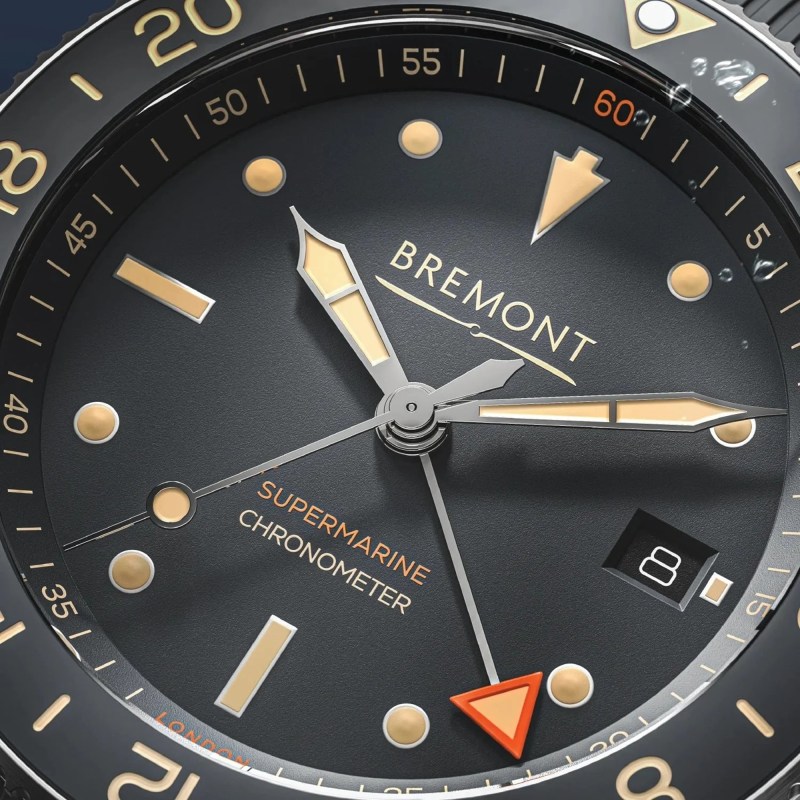 Luxury timepieces, those finely wrought works of art, have long been associated with sophistication and quality. A household brand among the world's watch fans is Bremont watches, which belongs to the elite class of watchmakers. Its most recent product, a Supermarine lineup expansion, has generated a lot of excitement, and rightfully so.
Let's start by peering into the heart of this remarkable timepiece. With 25 jewels, a Glucydur balance wheel, an Anachron balance spring, and a Nivaflex mainspring, it's evident that Bremont has left no stone unturned in ensuring the watch's accuracy and longevity. At 28,800 beats per hour and a 50-hour power reserve, this watch is built to keep ticking, no matter where life takes you.
One of the standout features of the Supermarine S302 is its functionality. The watch boasts a central GMT, hour, minute, and second hands, along with a date window at 3 o'clock. Whether you're traveling the globe or simply keeping track of your daily schedule, this watch has got you covered.
The case: A blend of strength and style
The case of the Supermarine S302 is a testament to Bremont's dedication to quality. Crafted from stainless steel using Bremont watches Trip-Tick construction, it ensures durability that can withstand the rigors of daily life. Additionally, the case is treated with scratch-resistant DLC, which means your watch will look as stunning as the day you bought it. The bi-color blue and green aluminum unidirectional 24-hour bezel not only adds a touch of sportiness but also serves a practical purpose for those who love to explore the depths.
With a case diameter of 40 mm and a lug width of 20 mm, this watch strikes the perfect balance between presence and wearability. It's a size that suits a variety of wrists and is designed to fit any occasion, from a barbecue with the boys to a date night with your girl.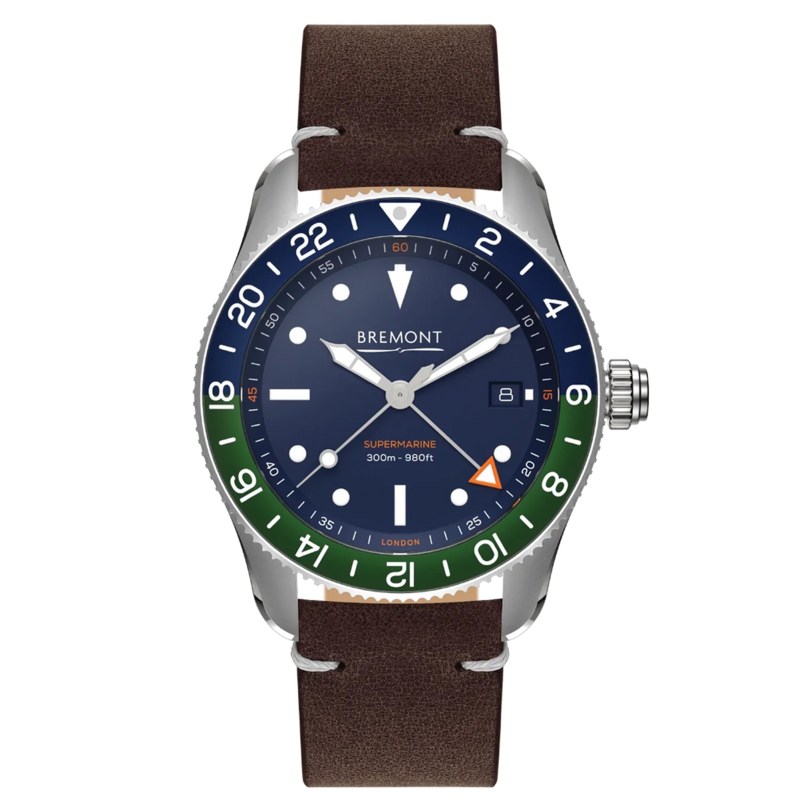 The art on the inside
When it comes to the dial and hands, the Supermarine S302 doesn't disappoint. White Super-LumiNova is printed on the blue metal dial indexes, filled in the hour, minute, and second hands, and filled in the orange tip of the GMT hand. This combination not only makes the watch hands pop but also enhances visibility in low-light situations.
A domed anti-reflective, scratch-resistant sapphire crystal protects the dial, ensuring your watch remains pristine even in the face of daily wear and tear. The Supermarine S302 is water resistant up to an impressive 300 meters, making it suitable for your underwater adventures or poolside lounging.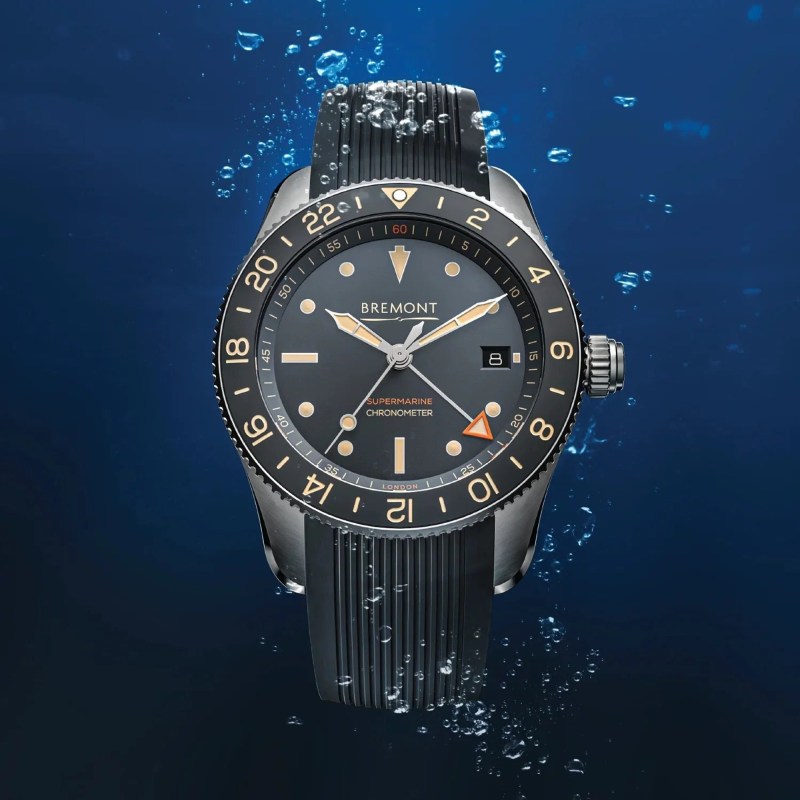 A limited-edition color
Renowned marine conservationists Ocean Ramsey and Juan Oliphant are the inspirations behind the eye-catching Limited Edition Supermarine Ocean watch. This watch, which is only available in 400 pieces, supports their extraordinary underwater explorations, which in turn help Save the Turtles International raise critical funding for ocean conservation. This nonprofit organization is committed to marine conservation and its main goals are to eradicate plastic trash, shield marine species from entanglement, carry out outreach programs, and aid local communities.
The verdict
The initial model took on the guise of a dive-GMT watch, where the GMT feature was an augmentation to the S300 dive watch's core. The Supermarine collection, initially a bastion of dive watches, has ventured into new territory. While the latest S302 retains its impressive 300 meters of water resistance, its focus has shifted away from diving functions. Instead, the introduction of the 24-hour bezel empowers the new S302 to adeptly track up to three distinct time zones.
In the world of watches, Bremont stands tall as a brand that combines elegance, functionality, and exclusivity. The Supermarine S302, with its precise movement, stunning design, and practical features, is a testament to Bremont's commitment to quality and craftsmanship. So, whether you're a watch connoisseur or simply someone looking for a timepiece that makes a statement, Bremont's Supermarine S302 is an option worth considering.
Editors' Recommendations