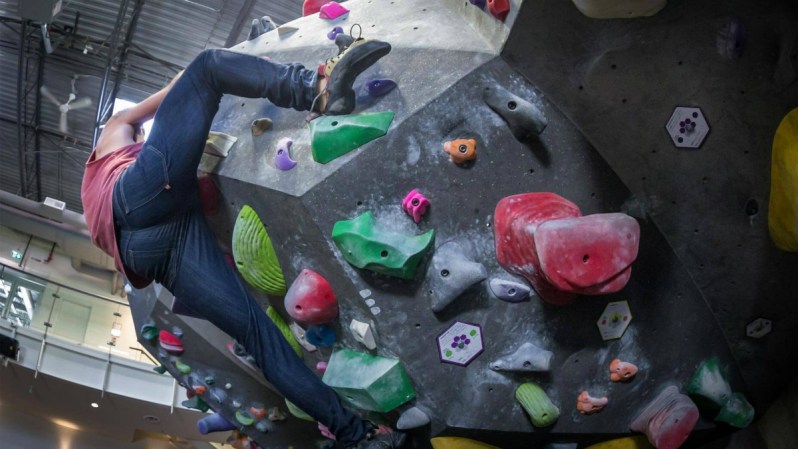 Back in 2015, Boulder Denim was one of the first clothing brands to hit the market with active stretch denim. The original Boulder Denim had a lot of great features, like extreme stretch and water resiliency, but there is always room for improvement when it comes to a product as ubiquitous as the blue jean. Now, Boulder Denim has released their Denim 2.0 in both active and slim fit styles.
This second iteration of this denim sports a few additional features that truly make these jeans the stretchiest and most comfortable you can buy this season. Using a 10.5-ounce, four-season denim with 360-degree extreme diagonal stretch (EDS), the denim hugs your bodies contours, leaving no gaps at the waistband and no chafing or rubbing in the legs. The jeans also have what's called "shape memory," meaning the jeans hold their shape no matter the activity you do in them. According to the brand, "What started as a stylish climbing pant has quickly evolved into a pant that is perfect for virtually any activity."
From literal bouldering to hiking to commuting around town, Boulder Denim 2.0 provides ease of movement and breathability without running the risk of blowing out a knee or the butt.
A few other great features are super deep pockets so nothing falls out during movement, a hidden zipper pocket to store a passport (since these are great travel pants due to the stretch an comfort), reinforced stitching to make them stronger than ever, and weather-proofing. Treated with nanoshere, a proprietary formula often used to waterproof raincoats, the denim is not only water- and stain-resistant, but also resistant to smells since sweat and anything else coming out of your skin won't ever seep into the fabric, meaning you don't have to wash them as often — and that's good not only for the busy man, but also the environment.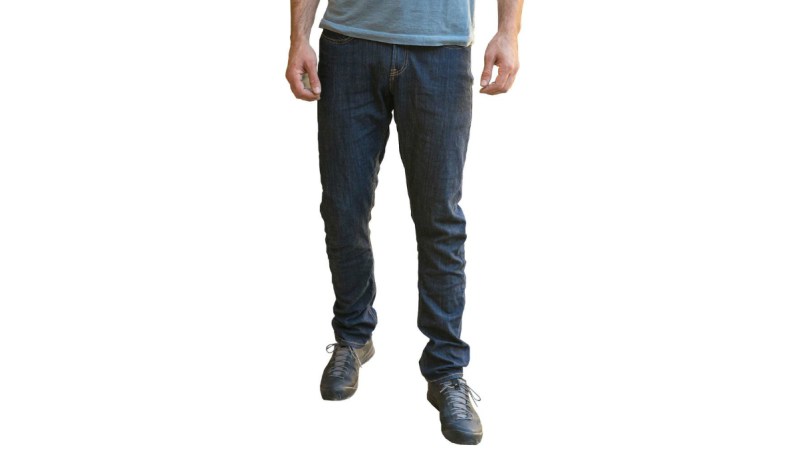 Boulder Denim 2.0 comes in two styles for men:
Athletic Fit: For guys with bigger, muscular legs, that don't want their pants to be skin tight, but also not so loose they look like their strolling around in JNCOs. Another often unthought advantage of an athletic cut is simply that more muscular men are going to fit into their jeans better. Many men with big legs and butt often have to go up at least one (perhaps more) size in their waist before they find a pair of jeans that actually fit their legs. With the athletic fit denim from Boulder, big-legged men everywhere can finally wear the waist size they were meant, meaning no more tightening belts or falling pants.
Slim Fit: Designed for skinnier, less bulky guys, who want to look like their wearing a pair of custom-fitted pants. The slim fit is also a medium, low-rise, offering up a relaxed feel as opposed to the painted-on feeling many skinny- and slim-cut jeans offer.
And for those who care, the jeans are also vegan, meaning there are no leather patches attached to the jeans whatsoever. So your crunchy granola, vegan-announcing friend can also wear these without feeling bad about a few dead cows. Their environmental-friendliness doesn't end there though because these jeans are made in Canada, which has extremely strict environmental and labor laws, resulting in a product that is ethically sourced, built, and sold.
If Boulder isn't doing it for you in the jean department, but you're still on the lookout for some with stretch and freedom of movement, check out Duer's latest.
Editors' Recommendations