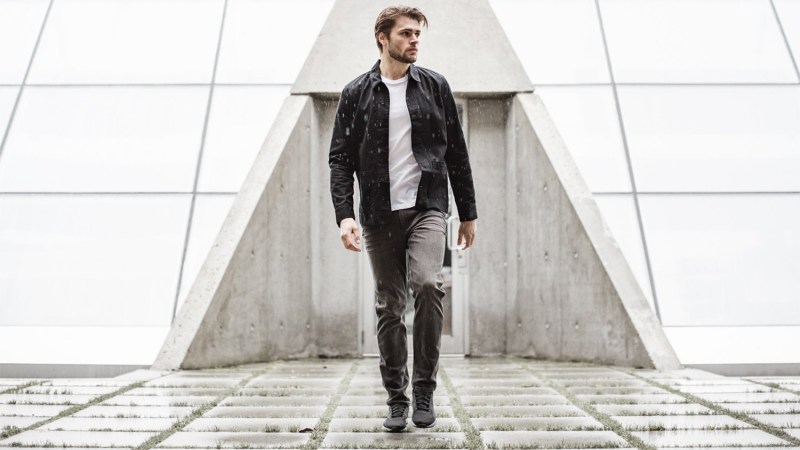 In the battle to find the happy medium between comfort and formality in menswear, hundreds try, but few succeed.
The team at Vancouver B.C.'s Dish & Duer have come to market with a breakthrough at this very intersection with a fabric called Nature2X.
The material was developed in an effort to build sweat pant comfort into woven/twill fabrics that most causal pants are made out of. Ironically enough, they're calling it the "No Sweat Pant" – inspired by the desire to need just one pair of pants for anything life throws at you.
After returning from this year's Outdoor Retailer show, I had an opportunity to test out a pair around Portland and I have to say I was very impressed. The pant material is soft to the touch and the 19 percent polyester blended in with a bit of spandex gives it the perfect stretch.
My olive green pair went on several mornings at 8:00 am and worked right through the day between meetings, coffee shops and a couple post-work happy hours. Even more so than pants twice the cost, this material moves with you effortlessly.
I also appreciated the contrasting inner material, which makes for a very handsome cuff. Being a short guy, I typically have to cuff anything off the shelf, No Sweat Pants included. However, this cuff looks great in its off-green shade and the material actually flexes nicely as to hold the cuff's shape rather than droop over sneakers.
I'm looking forward to breaking these in more and seeing how they handle through the rigors of travel. (I could easily see these pants becoming my new airplane go-to.)
Some get the pattern down, but lack wearability. Others create a comfortable jean, but the silhouette isn't flattering and you could never get away with it in a business meeting.

As an added bonus, these pants are designed with special fibers (including one derived from the Eucalyptus plant) to be anti-microbial and anti-odor. Anything with less added maintenance is fine by me.
Dish & Duer have found that sweet spot where premium and functionality exist. With more colors, washes, and fabric technologies planned in the coming months, there's an opportunity for everyone to jump on the No Sweat Pant bandwagon.
You can get your own pair here.
Editors' Recommendations