It finally happened. We have reached peak subscription box.
Since 2012 when the first fully-realized monthly subscription boxes hit the internet, the sheer number and variety of subscription boxes available have exploded. At last count there were: snack boxes, wine boxes, underwear boxes, skincare boxes, diabetic supply boxes, boxes of personal-stylist-selected clothing, cigar boxes, sex toy boxes, and even apocalypse-prepper boxes. If you wanted to, you could literally outfit your entire life with products solely from subscription boxes.
With all those boxes being shipped across the world, it shouldn't come as a shock when we reveal that there are literally dozens of different sock subscription boxes on the market now, running the gamut from playful, patterned socks to high-end, respectable work-wear.
When it comes to our socks though, most men aren't that concerned. For nearly 50 years, we got by on only two options: black crew socks and white gym socks. When you only have two basic choices, taste and discernment don't much matter. Today, socks are more often seen as an accessory on the level with timepieces and ties, rather than just a piece of cloth to save your shoes from smelling. The cut, color, pattern, and material are all key factors when deciding on what sock to purchase. But, you can't really try socks on at the store (or at least, you shouldn't). So, we took the time to sift through the nearly endless options and have selected our top five sock subscription boxes. Check these out and give your toes a treat.
Sock Works has a super selection of styles and patterns. When subscribing, choose from three types of boxes: fun, pro, or mixed. As a veteran-owned and operated company, Sock Works also gives back to our guys in green with 10% of their profits going to a different veteran charity each month.
Cost: $20 per month when paying month to month or subscribe for a full year and pay only $18 per month — a yearly savings of $24.
Made from 70 percent combed cotton with a 200 thread count, these socks are supple and soft. A two-inch no-slip cuff band prevents these pairs from falling down and a reinforced heel and toe ensures no future blow-outs or toe-holes. Sock Fancy sends you a random pattern each month, so if you're the type of guy who needs control or choice, this might not be the best box for you.
Cost: $11 per month for one pair or $57 for a six-pack. There's also an option for bulk subscription at 35 percent off.

Composed of cotton grown in the southeastern United States and made in Austin, Texas, Sock Club is the most homegrown of all the emerging sock subscription boxes. Receive one newly designed pair of socks each month and be satisfied knowing that Sock Club has complete oversight over its entire design process. This ensures not only a high-quality product, but also one that's manufactured by equitable and eco-friendly means.
Cost: $12 per month when paying month to month or $132 for a full year.

Foot Cardigan will send you one randomly selected pair of socks per month. As the minds behind the brand put it, "these socks are made from 75 percent combed cotton, 20 percent polyester, 5 percent spandex, 2.4 percent natural and artificial flavors, 1.7 percent laughter, and the last twinkle of a distant dying star."
Cost: $12 a month for one randomly selected pair.

Sock Panda is the feel good company with the feel-good socks. This box made our list because of its charitable contributions. For every pair of socks you purchase, Sock Panda will donate a pair of socks to someone in need. With options for "Stylish and Suave," "Daring and Bold," or a box with one of each, Sock Panda will have you putting your best foot forward.
Cost: $19 for two pair per month when billed monthly, $16 for two pair per month if paying for a full year in advance.
Society Socks is a sock-in-a-box service dedicated not only to serving bold designs to its customers, but also to bringing about some pretty bold change. For every pair of socks sold, another is donated to charity. This combination of style and social impact is at the core of the brand, making it an excellent choice for anyone who wants to look good while doing a little good, too.
Cost: $17 a month for two pairs for yourself and two to be given to a nonprofit organization.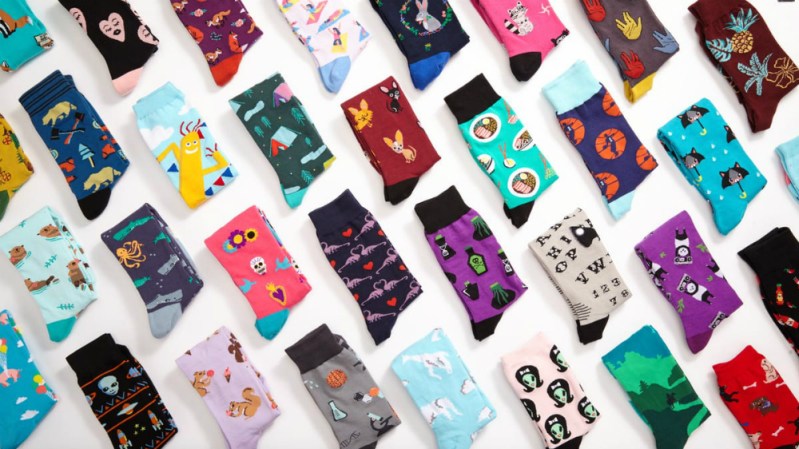 On a mission to supply happiness in every box, Sock It To Me is the sock subscription service perfect for the playful consumer. With designs featuring cupcakes, dinosaurs, unicorns and all things magical, these socks are sure to stand out in a crowd and bring a touch of whimsy to your wardrobe.
Cost: $22 a month for two pairs or $220 upfront for 12 month (an $88 savings).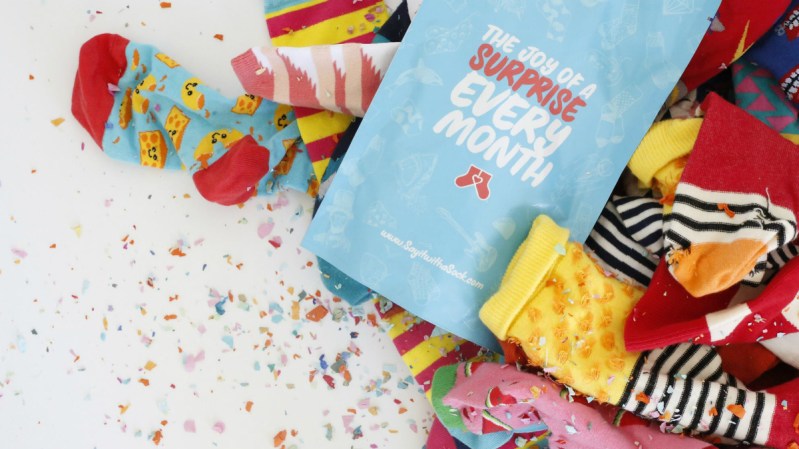 Say It With A Sock is an Los Angeles-based company that delivers a random pair of socks to subscribers every month. While you're likely to love the zany, colorful designs they send your way, if you find that you want to exchange the socks for another pair, they offer 100 percent free returns. That's what we call customer service.
Cost: $11.99 for a single pair, $19.99 a month for two.

Blister Resist Running Socks – $13-18
Because sometimes a whole box is too much sock. Designed with a killer combination of mohair and the brand's proprietary Drynamix moisture-wicking fabric, the Balega Blister Resist Running Socks are as comfortable as they are functional. Outfitted with arch support, blister-resistant technology and a no-slip grip, these bad boys are guaranteed to up your exercise game. And you can snag them in three different lengths: crew, no-show and quarter.
Article originally published by Cody Gohl on August 14, 2017. Last updated by Cody Gohl on March 16, 2018.
Editors' Recommendations