Concept cars tend to be crazy, way-out-there-futuristic takes on where cars are going in the future. Some concepts cars, like the 1989 Dodge Viper RT/10, look a few years into the distance and result in production vehicles with similar styling. Other concept cars, like the ones on this list, look much, much further into the future. Most of the vehicles on this list weren't meant to ever go into production, but were used to highlight design chops, to showcase how radical cars could look without regulations, and, this may be a surprise, for fun.
If we covered all of the wonky concepts we've ever seen, we'd be here for days. Instead, we'll take a look at the 10 of the strangest concept cars we've ever seen, ranking them from not-so-crazy, but still absurd to bonkers.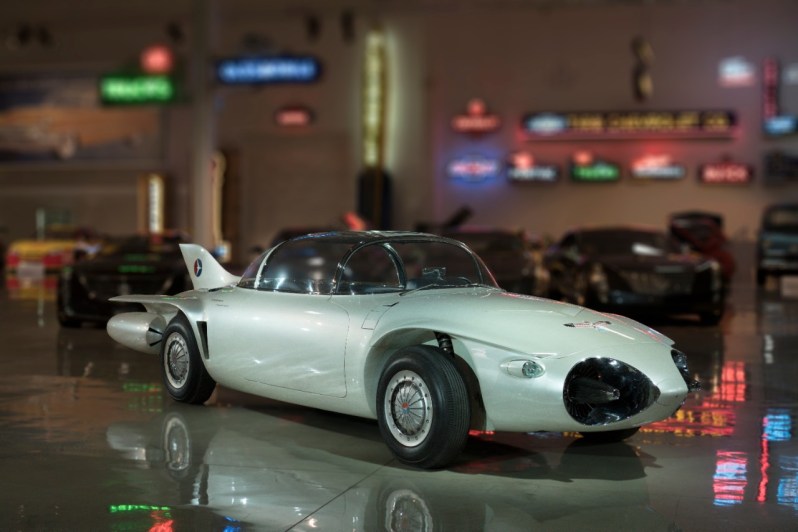 9. 1956 General Motors Firebird II
Car designers take a lot of inspiration from the aviation industry, which makes sense. To reach high speeds and, well, fly, planes have to use physics and witchcraft to stay in the sky. While cars don't fly, not yet at least, they also have to use physics and witchcraft to keep the wind at bay to hit high speeds.
In 1956, General Motors showcased the Firebird II, which took a little too much inspiration from airplanes. Not only did the concept look like a jet, but it was actually powered by a jet engine — hence the absurd rear end. Power came from a Whirlfire GT-304 gas turbine engine that made 200 horsepower at an insane 35,000 rpm. Beyond the jet engine, the concept had some other futuristic elements like a titanium body, four-wheel independent suspension, disc brakes, quad-zone climate control, a two-way communications system, which would eventually turn into OnStar, and a rearview camera.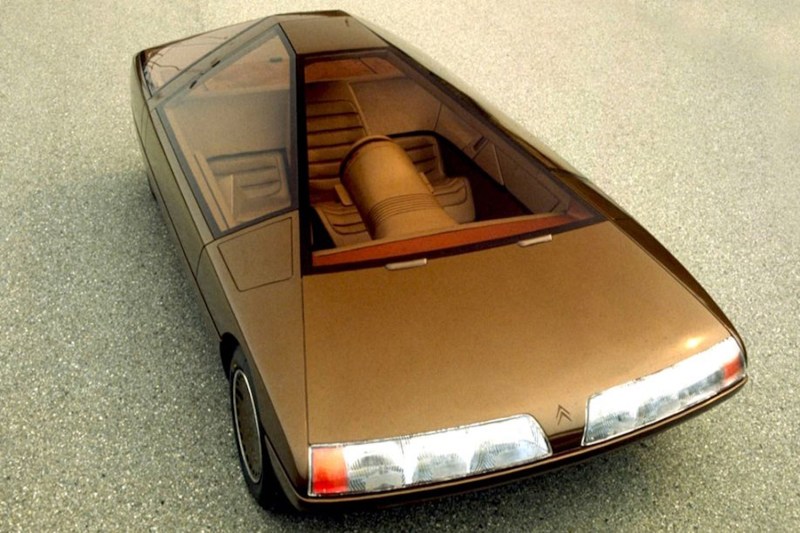 8. 1980 Citroen Karin
Most of Citroen's classic cars could be considered extraordinary. The French automaker simply refused to do things like everyone else, resulting in cars that go beyond having peculiar designs, but some strange interior layouts. Even for Citroen, the 1980 Karin has one of the more outlandish designs that looks like it was inspired by the Egyptian pyramids. The wide front end slowly tapers as it reaches the top of the vehicle, creating a natural point. The rear end, though, appears to be just as wide as the front end, which makes the Karin look like a pyramid driving down the road.
On the inside, the Karin's claim to fame was that it had a similar layout to the fabled McLaren F1, with the driver positioned directly in the middle of the car. The glass-everything design must have been a trip to sit in, but we don't think the car would've been that safe in a crash.
7. 1991 Isuzu Nagisa
Some concepts, like the Isuzu Nagisa, really make you scratch your head and question whether the designer was in a good place when they came up with a design. Isuzu launched the Nagisa in 1991, which is when automakers were working with blocky designs. The Nagisa is quite blocky, but that's because it looks like a boat. It's almost like the design team behind the Nagisa were secretly telling Isuzu that they wanted to quit to make boats.
In Isuzu's defense, the Nagisa was apparently amphibious, which explains why it looks the way it does. But with amphibious cars being such a niche product and no one in their right mind actually choosing to purchase one, it seems like it was more of a joke. Still, it was definitely one strange concept.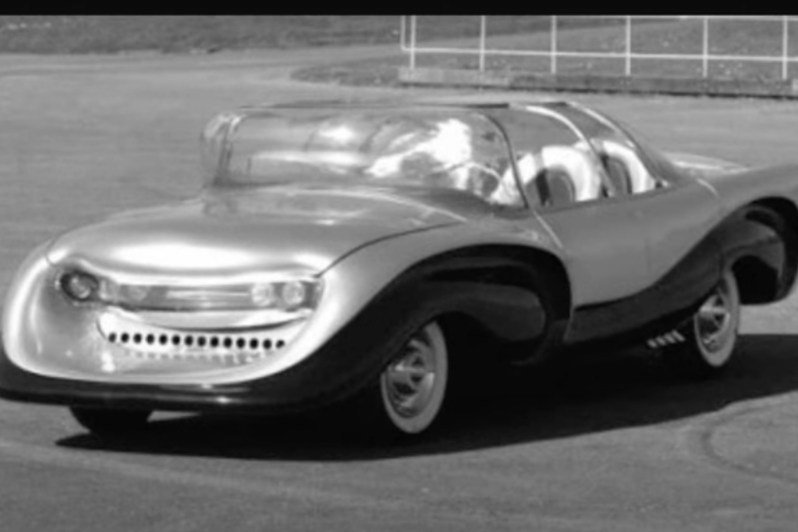 6. 1957 Aurora Safety Car
Safety today means something completely different compared to 1957. Nowadays, cars come with so many advanced safety features to keep drivers from getting into an accident that some people have taken to abusing the systems by texting or even sleeping while driving. It wasn't like that in 1957, which is when the Aurora Safety Car made it to the light of day.
The history of the Aurora Safety car is just as interesting as its design. It was penned by Father Alfred A. Juliano, a priest who decided to try his hand at being a car designer. As its name implies, the car was meant to keep occupants as safe as possible. It utilized a wooden frame (hey, it was 1957), and a fiberglass body for added protection. The car was absolutely hideous and would scare kids into a coma, but it came with things that would help passengers in an accident. The car had a roll cage, a collapsible steering column, seatbelts, swiveling seats, and side-impact bars.
5. 1956 Buick Centurion
Buick has made some ugly concepts. I mean, the automaker's current lineup doesn't inspire a lot of emotion from a design standpoint. That certainly wasn't the case with the Centurion, which had a strange bubble canopy design and bodywork that looked like it was plucked from a jet fighter. Honestly, the Centurion looked kind of cool. It reminds us of something that belonged in The Jetsons.
Still, with its massive all-glass canopy, streamlined lines, and rear central taillight that formed a cone mimicking a turbine, the Centurion was a strange concept car. In addition to its U-shaped front end and pointy rear end, the Centurion came with a dial-operated transmission shifter, automatic seats, and a rearview camera. These were cutting-edge features back in '56. Could you imagine if Buick actually put something like Centurion into production? How different would the brand be today? One can only help but wonder.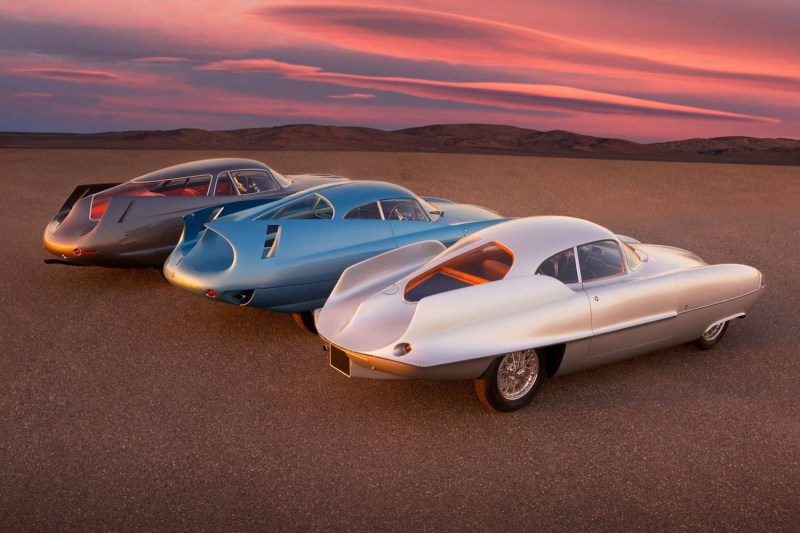 4. 1953 Alfa Romeo Alfa BAT Cars
If there's one brand that deserves to have vehicles in an art gallery, it's Alfa Romeo. The Italian marque is responsible for beauties like the 33 Stradale, 8C Competizione, Montreal, Giulietta Spider 2000, and 8C 2900. But the Berlina Aerodynamica Technica (BAT) cars, which were codeveloped in collaboration between Alfa and Bertone, were peculiar.
The gray BAT 5 was unveiled at the 1953 Turin Auto Show, the blue BAT 7 came out in 1954, and the silver BAT 9 was unveiled in 1955. As a fun fact, the BAT 11 Concept was unveiled in 2008, but that model looked completely different from the other ones. Each of the original BATs were used to study aerodynamics. The BAT 7 reportedly had a drag coefficient of 0.19, which is still incredibly impressive by modern standards. To be able to cheat air, the BATs had a bat-like design with these massive rear body panels and a pointy greenhouse at the rear of the vehicle.
Leave it to Alfa Romeo to make science experiments that look this good. The three original vehicles recently sold at a RM Sotheby's auction for $14.8 million.
3. 1980 Briggs & Stratton Hybrid
Concepts allow companies that don't have a footing in automobiles to try and make a car. Case in point, Briggs & Stratton, a company that's best known for making engines for things like generators and lawnmowers, tried its hand at making a car in 1980. Instead of doing something simple, like a gas-powered car with an engine at the front and driving going to the rear wheels, the company went straight to the deep end with a hybrid. The result was a crazy-looking brick with two doors, a hatchback, and oh yeah, six wheels.
The concept car was used for promotion, but it could drive down the road. The vehicle used an 18-horsepower twin-cylinder air-cooled gas engine paired with a battery pack that could also power the car for up to 60 miles of all-electric range. The company used a four-speed manual transmission and front suspension from a Ford Pinto, while a few body parts were from a Volkswagen Scirocco. The extra set of wheels? Well, that was all Briggs & Stratton. Apparently, it was needed to help support the battery pack.
2. 1980 Aston Martin Bulldog
Seeing Aston Martin on this list might throw your brain for a loop, but the British automaker threw everyone for a loop with the Bulldog. The strange, wedge-shaped concept car was a big departure for the automaker, which was, and still is, known for its sumptuous tourers that are good enough for a spy. The Bulldog wasn't a sumptuous tourer. It was a brash, in-your-face supercar with gullwing doors, a wedge shape, squared-off ends, and recessed headlights that were located nearly under the windshield under a folding panel.
While the Bulldog's design was certainly unique, its performance figures were blistering for the time. The car came with a twin-turbo 5.3-liter V8 engine that made 650 horsepower. The car, despite its design, was capable of hitting a claimed top speed of 200 mph. As one would expect, the interior featured opulent materials in typical Aston Martin fashion.
1. 1970 Ferrari Modulo
Nowadays, Ferrari plays it safe. The automaker follows a proven formula for its supercars, is electrifying its vehicles to comply with regulations, and has even bent the knee with an SUV on the way. Back in the day, Ferrari was a trend-setter, not a follower, and the 1970 Modulo was a vehicle that can be attributed to starting the wedge-shaped craze for supercars.
Even by today's standards, the Modulo is absolutely bonkers. It looks like a spaceship hovering just above the ground, and you wouldn't know that it's a car until you try to find the tires that are just peeking out of the covered fenders. The way Ferrari incorporated massive pieces of glass for the windshield and windows was remarkable, while the 24 holes in the engine cover provided an interesting view at the motor. The way the entire canopy moved forward to let passengers in, the pop-up headlights, and the obscurity of the Modulo makes it the strangest concept car we've ever seen.
Editors' Recommendations