What is it like to fly on a private jet?
It's awesome. Now you know. But I should elaborate a bit.
Private jet travel means no TSA security lines, no baggage check counter, no queueing up at the gate 30 minutes before the agents open the door 45 minutes after they were supposed to. It means large, comfortable seats, private restrooms, plentiful personal space, a glass or two of fine wine along with your fancy snacks, and a precisely maintained schedule.
At least that was the case when I recently boarded a Cessna Citation Latitude for a 30-minute flight from Teterboro, New Jersey, to the Hamptons courtesy of NetJets, the largest private jet aviation company in the world. The ironic thing is that, despite the general impression of private jet travel as an exclusive affair reserved for CEOs and celebrities, a large portion of private jet passengers aren't using the planes for fun, but rather to get work done.
If there's one thing I can certainly say about private air travel, it's that commercial flight is no match when it comes to efficiency.
According to Patrick Gallagher, executive vice president of sales and marketing for NetJets, often "the people flying private are the ones who have to get to two factories in different cities in the morning and then an afternoon meeting somewhere else too. Flying commercial, you just can't do that." He explained that more often than C-level executives use private jets to cruise around in luxury, midlevel managers use private aviation to shuttle between locations with maximum efficiency, getting more work done in less time and ultimately saving companies money thanks to this efficiency.
If there's one thing I can certainly say about private air travel, it's that commercial flight is no match when it comes to efficiency. Once past the security gate outside a private airport, a passenger can be aboard his or her aircraft in a matter of minutes. With minimal traffic on the runway, the jets are usually in the air within minutes of scheduled departure times. I longed for any delay that would leave my flights sitting on the tarmac before takeoff or circling prior to landing, but alas both the flight east and the return back west took off and landed right on time.
While in the air, the flight was smooth and stable despite the relatively small size of the 62-foot long aircraft, which has a 72-foot wingspan and a cabin in which I could almost stand up straight. Able to seat nine passengers in total, when loaded with four passengers and a two-man crew, the Citation Latitude has a range of 2,700 miles.
The comfort and range combined with the moderate price tag (moderate for the private business jet category, mind you) of around $16.7 million per plane have made the Cessna Citation Latitude the best-selling aircraft in its size category, and NetJets has been acquiring the plane at a steady rate. Which is no surprise, really, as the company is both the oldest private jet aviation company on Earth and has the largest fleet of private jet aircraft, with about 700 jets in total.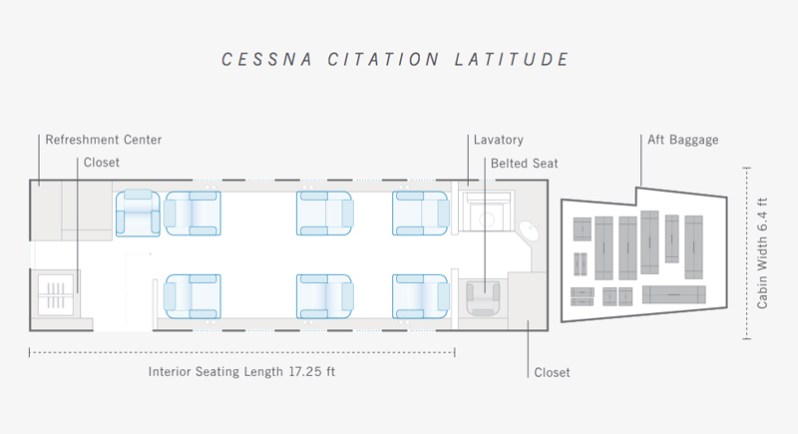 In case you were wondering, the name NetJets has nothing to do with the Internet. In fact, the company was founded back in 1964 as Executive Jet Aviation and acquired the NetJets name in 1987. The "net" is a reference to the company's fractional ownership business model wherein several entities (meaning businesses and/or crazy rich people, which is to say, people who are quite well-to-do, not people who are wealthy and also insane) can purchase partial ownership of a given aircraft. Depending on the portion purchased, the owner(s) have access to anywhere from 50 to 400 hours of annual flight time, and with so many planes, a jet can be ready to take off within four hours of an owner requesting a flight. (Also, don't worry if "your" plane is not available, they just put you on an identical or an even bigger one.)
Don't get me wrong, private jet travel is expensive stuff even with the NetJets model — you have to request pricing info from the company directly — but it's more affordable to own a percentage of a plane than the whole damn thing. Maybe not quite in your or my price range at present, but, you know … let's be aspirational.
Editors' Recommendations