We have all heard about the Hamptons, both good and bad. What was once an idyllic farming community, where old New York had big cozy beach houses, has become a bastion of red velvet ropes, Lamborghinis, and horrendous traffic. Luckily, its northern neighbor, the North Fork, has yet to be targeted by the Manhattan social swirl and there are still farms by the dozens, salty seamen in the bars, and quiet lanes where you may see more turkeys than cars.
To understand where the North Fork is situated, make a peace sign with your left hand and rotate it so it's pointing to the right. Your hand is Long Island and your pointer finger is the Hamptons ,while your middle finger is the North Fork. Fun trick, right?
More and more New Yorkers are looking for a great escape away from the chaos of the city. Upstate New York is all the rage, but folks should consider heading out east as well. The traffic isn't nearly as bad going to Greenport (the main town in the area) and there is more farm-to-table goodness than we had time to try. And did we mention the 47 vineyards?
Stay
Sound View
The Sound View has been a staple for locals since it opened in 1953 Eagle Point Hotel Partners bought the property several years ago and they have done an A+ job of keeping the charm intact while making the inn feel fresh. Every room faces a quarter-mile of private beach on the Long Island Sound and has a cozy, Scandinavian minimalism to it. The newly renovated space, designed by Brooklyn-based firm Studio Tack, is reminiscent of the golden era of motels with touches of New England modernism and nautical undertones that nod to the town's fishing and boating history. We could have spent a month in this place. The cocktails at sunset, the ridiculous lobster fritters at dinner, and the late night fun in the piano bar (!), plus waking up each morning to that serene sound view, was a Manhattanite's idea of heaven.

Eat and Drink
8 Hands Farm
There is no better way to start the day than with a fried egg, cheese, and sausage breakfast sandwich on the farm where all of the ingredients came from. This 28-acre, sustainable family farm has a food truck on the property where a line of locals form to experience breakfast nirvana. Sit under an umbrella and enjoy your grass-fed sausage patty while chickens dart under your table.
The Halyard
Located in the Sound View and run by the James Beard Award-winning chef, Galen Zamarra, The Halyard's menu embodies the property's nautical geography and history with fresh produce, seafood, and wine from the North Fork and Atlantic seaboard. While we loved the food (more lobster fritters!), the wine, and the view, the vibe was truly something special, with locals and tourists enjoying this renovated dining room. Even our waitress grew up eating here and regaled us with stories of its endearing past.
American Beech
Looking for something more sceney for dinner? This is your spot. Located in a former horse stable in the center of Greenport, the space now hosts a great bar, restaurants, and even a little hotel. The oysters did not disappoint and, if you are going to be drinking, the Beech Burger will help soak up those Manhattans.
Whiskey Wind Tavern
If you want to experience the real Greenport, order a round at this iconic little dive. Open year round (many places close in the winter), the jukebox, pool table, and foosball are ready to be played. Be sure to order a Blue Point Beer, the pride of Long Island.
Shop
Beall & Bell
Calling all antique hounds: The North Fork is going to be your paradise. Besides spotting random estate sale signs on the sides of the road, there are some legit shops to check out. One is Beall & Bell, where editors and designers go to source everything from mid-century modern American to English and French antiques.
NorthFound
Another rare gem is this antique store owned by two designers who have a seriously good eye. From old trunks to wicker chairs and rustic communal tables, we had a hard time leaving empty-handed.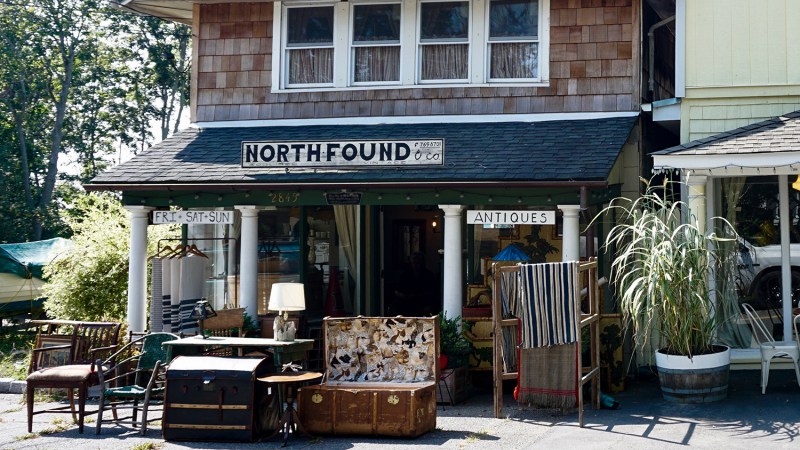 The Weathered Barn
Located in downtown Greenport, this is the kind of place we love — 50 percent of their products are made in-house and they have a great relationship with local artisans. We are big fans of their in-house grooming brand. The beard oil, shave soap, and salt scrub are new favorites.
Local Knit
Who doesn't like a good T-shirt shop? This company is known for their local logo shirts from Montauk to Amagansett. The store also stocks great watches, bags, and ball caps.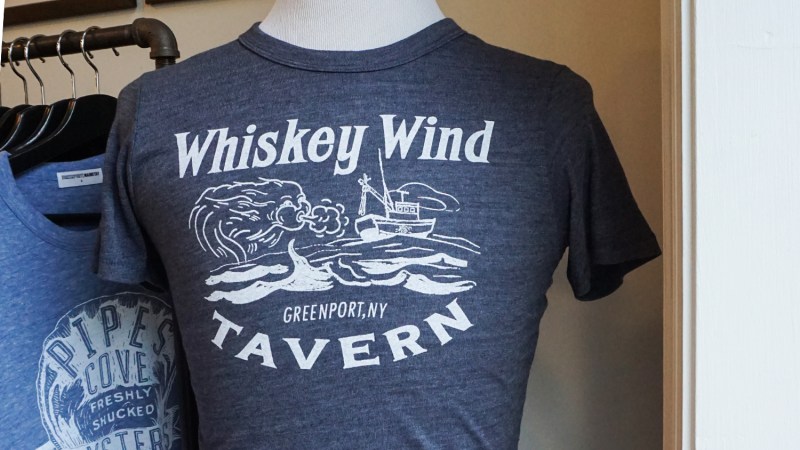 Sea Bags
While not local, this brand is made in Portland, Maine, and we are fans. Every bag is made from old sails collected from Maine-based boaters. Hint: The wine bag makes a great gift.
Do
Croteaux
While there are enough vineyards out here to make Bacchus blush, one of our favorites is Croteaux. They are the only vineyards in the U.S. to produce only rosé. But don't worry, this place isn't a chic party. The family has converted an old barn and farmhouse into veritable wine man caves where the staff will take care of all of your tasting needs.
Greenport Harbor Brewing
One could actually roll from winery to brewery all in one afternoon. The Greenport Harbor Brewing restaurant is located in their main brewery. A menu by acclaimed chef Vincent Purcell sources all locally harvested protein and seafood. That means seriously succulent duck spring rolls, lobster rolls, and fish and chips. They all go well with a cold Harbor Ale.
Shelter Island
A ferry ride over to Shelter Island is a must when visiting the North Fork. The ferries come about every 20 minutes and you simply drive on and float over in about 10 minutes.
Inhabited since the 1700's, Shelter Island is about 12 square miles of beaches, forest, and seriously spectacular Victorian houses. While you could easily spend a week here hiking, swimming, and puttering around, we went to Salt for a little "dock-to-table" lunch washed down with a Montauk Wavechaser IPA.
Orient
Well, we saved the best for last. We found Orient to be the most magical part of the North Fork. Named Orient simply because it is so far way, it is a quiet hamlet at the tip of the Fork filled with old houses and historic buildings. While there isn't much to do, it's an idyllic place to simply wander on a Sunday afternoon. Pop into Old Orchard Farm Store for some good vintage furniture gazing (there is no food sold at the farm store) and hit up Four and Twenty Blackbirds for a coffee and a slice of pie. When we visited they had a honey salt pie that was so good we had to just sit on the sidewalk and devour it.