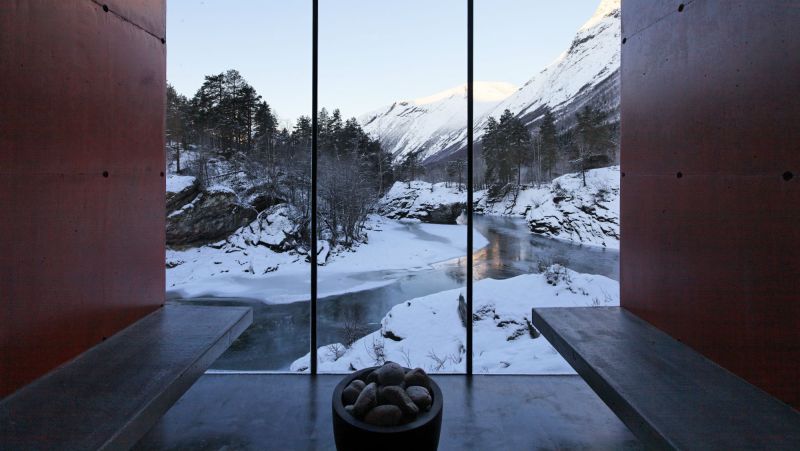 Few places in the world are as synonymous with minimalist architecture as Scandinavia. The style is marked by clean lines, a purposeful lack of unnecessary decoration, and structures that stay out of their own way in favor letting nature serve as the centerpiece. Here are three of our favorite minimalist hotels in Norway and Sweden that do just that.
The Sea Cabins of Manshausen Island (Mannshausen, Norway)
The history of Manshausen Island dates back more than three centuries to a time when it was used solely as a storehouse for local fishermen. Today, the 55-acre island is a huge draw for adventure travelers seeking a remote getaway for hiking, kayaking, climbing, even diving. The island also inspired architect Snorre Stinessen to create a tiny boutique hotel. Its four stunning cabins are cantilevered over the island's natural ledge with a glass cube design that seamlessly brings the outside water indoors. The interiors are simple, almost ascetic, adorned with raw timber and only the most basic creature comforts: a double bed, a bathroom with a shower, and a small kitchen.
The 7th Room at Treehotel (Harads, Sweden)
With themed rooms like The UFO, The Mirrorcube, and The Bird's Nest, Sweden's Treehotel is equal parts treehouse hamlet and art gallery. Its latest addition, the aptly named The 7th Room, is a modern, minimalist take on classic treehouse design. Perched three stories above the forest floor, the structure appears to float thanks to a large-scale photograph on the underside that depicts how the treeline used to look before the room was built. It's a curious and fascinating trompe l'oeil illusion that has to be seen to be appreciated. The treehouse sleeps five, spread between two bedrooms designed in a stark palette of metal and dark, charred wood mixed with light furnishings; pale, ashy flooring; and birch walls. Stretched between the two bedrooms is a double-layered net that serves as an open terrace for relaxing under the stars. Ample skylights and large floor-to-ceiling windows all around provide excellent opportunities for spotting the Aurora Borealis.
Juvet Landscape Hotel (Valldal, Norway)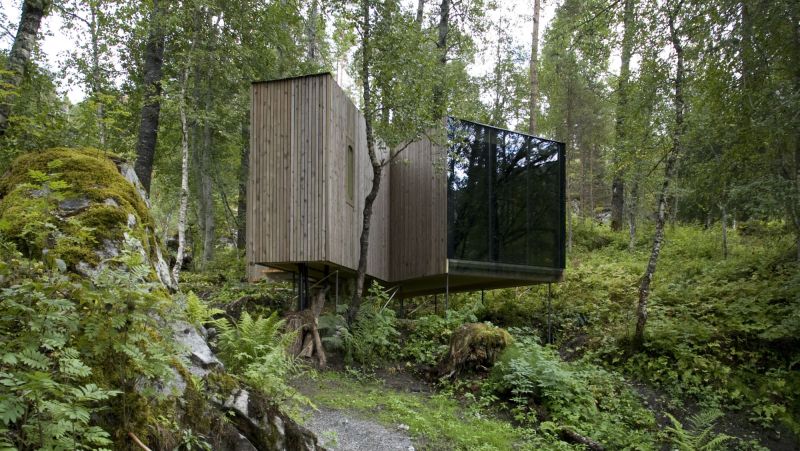 About 250 miles northwest of Oslo lies a 16th-century farm set amid an impossibly idyllic landscape. Tucked into one corner of this remote valley farm is the Juvet Landscape Hotel, a getaway that successfully integrates modern architecture, Norwegian culture, and some of the finest scenery in all of Scandinavia. Its seven cabins are perched neatly on the edge of the beautiful Valldola River. Floor-to-ceiling windows face the lush, mountainous landscape while a black-pigmented oil covers the interior walls to minimize reflections and force guests' eyes outward. In addition, two new "birdhouse" rooms were built on a steep slope overlooking the original guesthouses. These resemble tiny log homes and were inspired by Norwegian stabburet, detached buildings traditionally used as food stores. The real show-stopper, however, is the hotel's spa, which sits directly on the riverbank with a natural turf roof, oversized windows, an outdoor hot tub, and a wide riverfront terrace.
Feature image courtesy of Juvet Landscape Hotel.
Editors' Recommendations