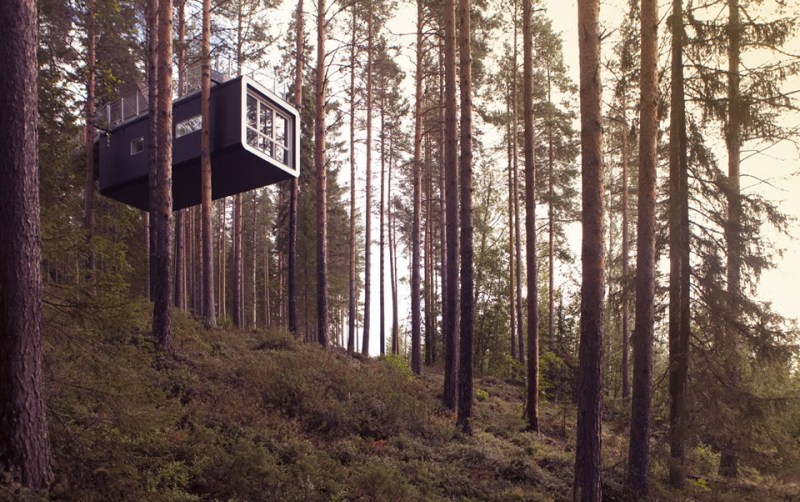 Elevating the concept of a country weekend to a whole new level, The Treehotel provides an achingly cool modern alternative for some quality green time. Located in the midst of the Boreal forest in Sweden, this awe-inspiring concept hotel will blow your mind. Fusing boyhood nostalgia with cutting-edge architecture, each treeroom was born out of a totally unique design dreamt up by some of Sweden's leading architects; think tree houses for style savvy grown-ups.
Nestled high amongst the century-old pine trees, currently guests can select from five existing rooms, though plans for an additional 19 are already underway. The Cabin room boasts a traditional log cabin structure with grandiose windows for panorama addicts, while The Blue Cone has a den-like feel and its own footbridge. Kids/trekky fans will love the UFO. Space age and set over two floors, this ultra-concept space will surely unlock a sense of adventure that you haven't felt in years. For architecture junkies, it has to be The Mirrorcube or The Bird's Nest. Both structures are completely camouflaged by the lush green surroundings, which will impart a sense of hippy-like unity between the guest and the great outdoors.
If hiking for two days solid feels a little intense, The Manual recommends kayaking along the Lule River or booking an action-packed dog sled ride in pursuit of the breathtaking Northern Lights. If you're in need of a little R&R, kick back in the Tree Sauna and take a dip in the hot tub; there's no better way to end the day.