Henry David Thoreau once said "The savage in man is never quite eradicated." Although Thoreau likely meant human-kind has the capability of savage violence toward one another, for me, his words are more befit the idea of reclaiming one's relationship with our history. A history before computers, cell phones, and the noise of social media. A time when the fastest means of transportation had four legs and required meals twice a day. That's the experience the Indian Scout Sixty delivers; the ability to leave the modern behind.
More often than not, this sort of imagery and reflection is more closely associated with adventure or off-road motorcycles. Bikes like Honda's ready-for-anything Africa Twin. Yet, in the Scout Sixty, there's a sense of rawness and history not found in Honda's buttoned-up adventurer. Sure, the Honda will go anywhere you want at incredible speeds, but that's what it was designed to do. If it didn't, it'd be a failure. The Scout Sixty, however, is bumpy, loud, and bucks on pothole impacts like a horse that hasn't been given a break in months. It's a modern motorcycle, yet delivers an anachronistic experience.
The Scout nameplate is one of historical significance. The Scout was brought to life in 1920 – a time that still saw horses used as means of transportation – and was produced until a few years after World War II. During the war, it was used by the military in a similar manner as the Willys Jeep. It proved to be a hit. But during the post-war period, it fell out of fashion as Harley-Davidson became the dominant American motorcycle manufacturer. Over time, the Scout name returned. However, due to the brand's financial issues, quickly disappeared again into the annuls of history until 2015 when Indian staged a rebirth.
From the moment I saw the Scout Sixty, I knew I needed to get out onto the long open stretches of desert highway that encircle Los Angeles. A plot was quickly hatched to ride the Scout Sixty to Palm Springs for a date with an open-wheel race car at The Thermal Club. The 137-mile journey would take the bike and I through the San Bernardino foothills, over wind-swept mountains, and finally onto the vast desert floor that surrounds Palm Springs. "Go [East], young man!"
The following day, I pointed the Scout Sixty's front tire toward the rising sun; strapped on my Velomacchi Giro bag; queued up Crosby, Stills, Nash and Young's "Ohio;" and blasted eastward.
The Scout Sixty is the smallest displacement Scout in Indian's lineup. It only makes 78 horsepower and 65 lb-ft of torque from its liquid-cooled 60 cubic-inch V-Twin engine. It's not a lot for a motorcycle weighing 524 pounds without rider. It's even less when you consider I added another 215 pounds. However, throughout my ride, I was never wont for added grunt due to the Scout Sixty's torque curve. In operation, the V-Twin feels like a naturally aspirated American V-8. Torque is low and meaty and always available as it surges you ever-forward.
The agility of the Scout Sixty while splitting lanes and diving to-and-fro through traffic, however, isn't something I expected given its portly proportions. The Scout's steering isn't as telepathic as Yamaha's FZ-10 or KTM Super Duke R, nor should it be. Yet, it's better than any modern Harley-Davidson by leaps and bounds. I found myself leaning more in turns, dragging my knee ever closer to the pavement and speeding through traffic as if I were on a new sportbike.
That's not to say you'll keep up with the sporty offerings from Kawasaki, Ducati, or KTM in the canyons; you won't. But the Scout Sixty has more than enough capability to leave every cruiser firmly in your rear-view mirrors.
Through my path's mountain section, the Scout Sixty cruised comfortably at highway speeds and I was able to take in the splendor that is the American Southwest. It's easy to forget how beautiful the desert's desolation is when you live here. Even when a February rain-shower hit and my hands began to freeze through my warm Alpinestars gloves, the Scout Sixty's presence and personality made me push on with my adventure. The bike's soul egging me on after every mile-marker. And as I left the mountains, the sun pierced the clouds, warmed my body, and reinvigorated my soul. I couldn't have asked for a more picturesque moment as I made my way toward the desert floor.
Yet, as I breached the cooler mountain barrier, I encountered my next foe; wind.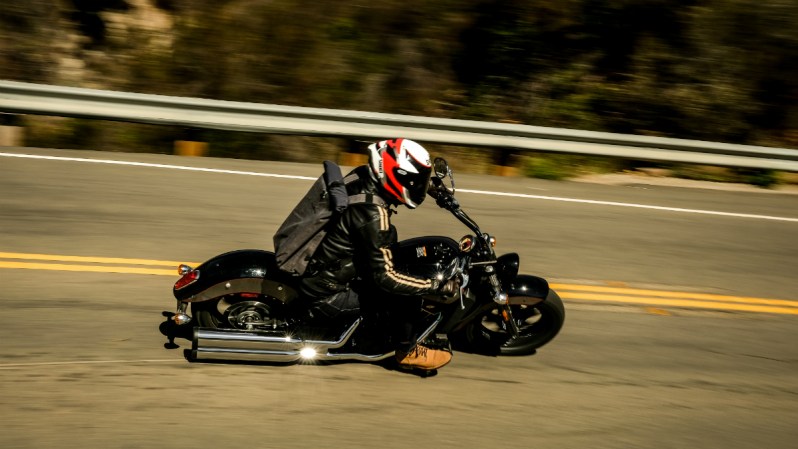 The Scout Sixty doesn't come standard with any sort of fairing. It's not really meant for long road trips or high-speed desert romps. As such, I was absolutely battered by the hellish winds near Palm Springs. In fact, the winds here are so strong that Palm Springs is home to one of the largest wind farms in the state of California; the San Gorgonio Pass Wind Farm. For an hour I was pushed across the roadway, pulled toward semis, and hunched over so greatly to reduce my profile, I thought I'd end my journey as Igor from Young Frankenstein saying, "Walk this way."
But through it all, I persisted. In my mind, I thought of those intrepid souls that made far longer journeys into the west at the turn of the century. My mild discomfort compared to their abject misery and bouts of gut-wrenching dysentery wasn't about to beat the motorcycle or I.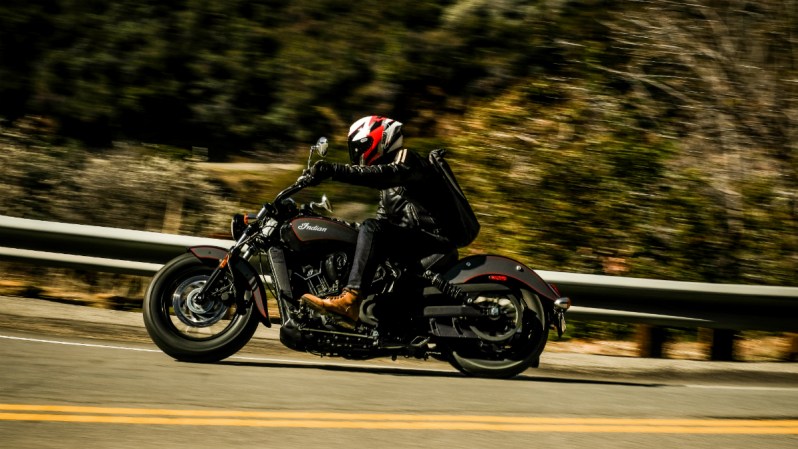 An hour later, I was on the last leg of my journey, and onto the broken dust-strewn roadways that make up the agricultural hub that ensconces The Thermal Club. Potholed and pitted aren't the right descriptors for the roadways here. Rather, the roads and alleyways look more similar to the lunar or Martian surface than the pristine glass-smooth track of Thermal. Given my weight, and the tightly sprung factory suspension setup tuned for more urban environs, the Scout Sixty bucked and lurched as I smashed into the god-awful pavement, threatening to rip the bars from my hands and send me flying down the road. If I was to make my destination, I had to tame the wild Scout and pick my lines more carefully. It was a bronco and I was the cowboy.
With sand coming up through my Shoei helmet from a massive dust storm, my teeth were gritted and my face blackened – a resemblance likely similar of those first explorers that made their way across the plains – I finally reached my destination. A feat I accomplished without ever thinking of the world's hustle and bustle.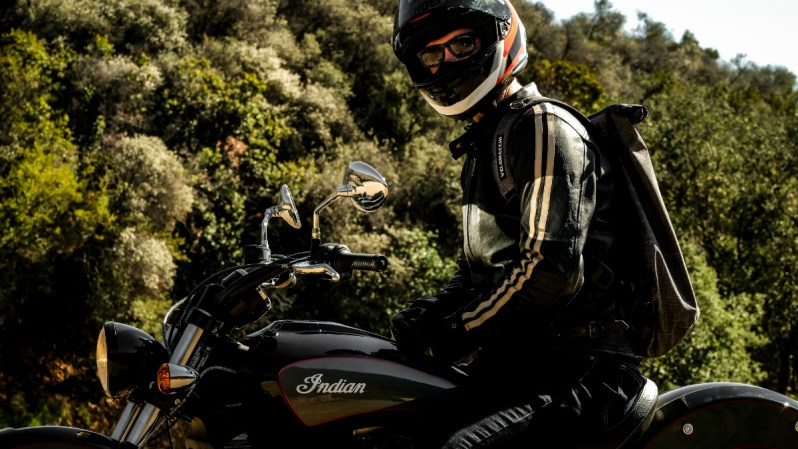 On the Indian Scout Sixty I wasn't plugged into the internet, worried about paying rent, or enraged by the news of the day. I was just a rider and machine. The modern world faded away all because of the somewhat magical quality of an old-school motorcycle and a trip into the desert. I must warn you though, the Scout Sixty isn't meant for long trips such as this. It' can be done, and for me, the trip was worth the momentary soreness. But the Scout Sixty is much happier just going from bar to bar, taking you to and from work, and showing up your friend with a Harley-Davidson.
As a $9,000 time machine, however, it has no equal.
All images courtesy Sam Bendall Photography – LiveMotoFoto
Editors' Recommendations