Planning a road trip? You might find some of these other guides useful. Here's everything you might need to plot a cross-country journey, a family vacation, or a solo trek.
There's no better way to experience America than on a road trip.
The feel of the wind in your hair, the smell of Oak savannas and sagebrush and cedar wood as you pass from climate zone to climate zone, the vast horizon spreading out before you, the road rolling endlessly on–all these aspects combine together to create the perfect symbol of the country's freedom and vastness and lasting-ness.
But, contrast the beauty of the road trip with its contingent realities and you wind up realizing you've spent hours in a hot cramped car, feeding off of cheap fast food and gas station sandwiches, and sleeping fitfully in lonely highway hotels. Not so with a camper van rental from GoCamp Camper Vans.
Founded by Deborah Kane in 2017 in Portland, Oregon, GoCamp Camper Vans looks to be in the running for the title of "the Airbnb for camper vans." With GoCamp, you simply reserve a van, pay a deposit, pick the van up, and go. The vehicles are completely stocked with everything you would need to head out camping that very day (except food). With kitchen items such as pots, pans, cutting boards, utensils, and dish soap, as well as bedding and towels for four, a small camp table, four camp chairs, two headlamps and other camping items, GoCamp sets you up with everything you need to do your camping road trip right. Many of the camper vans offer pop-up tops, allowing for you to sleep even more comfortably (and bring along the kiddos) than you probably would in a roadside hotel, and all vehicles have propane stoves to help with your non-campfire cooking.
I met Kane prior to taking her personal Grand Ronde campervan out for a trip through California's Redwoods that continued down the Lost Coast, and ended inland at Yosemite National Park. Kane, a petite powerhouse of a politico and outdoorswoman (who is just at home in a class IV rapid as she is at the USDA), gave me the scoop on the inspiration for the business as well as a rundown on how it works, its cost, and the tremendous benefit it affords those who aren't able to own or keep a classic camper van.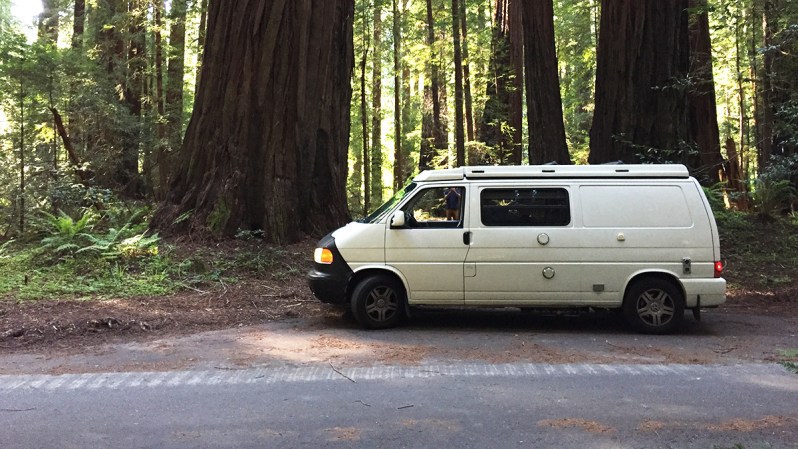 Kane was inspired to create the business as she says, "After a successful career in public service that had me flying back and forth across the country nearly constantly, I decided I didn't want to get on another airplane for a very long time. I am, however, always interested in hitting the road for a camping trip," and thus GoCamp was born. But, putting GoCamp together wasn't just for her own benefit, Kane also feels that, most camper van owners don't get enough usage out of their vehicles to make them a worthy investment. GoCamp Camper Vans eliminates that feeling of not getting your money's worth by allowing you, a camper van owner, to offer your own van up for rent on the site. Ah, the beauty of the sharing economy!
But, for those of you without a camper van, GoCamp is your one-stop shop for snagging a Vanagon and hitting the road.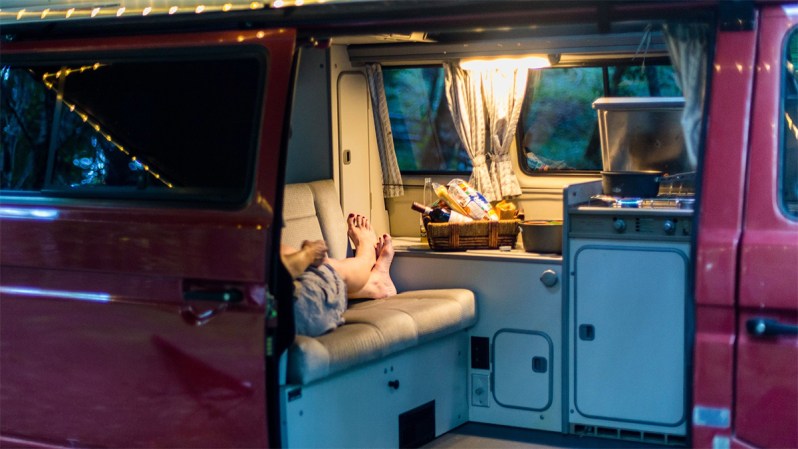 How It Works
Reserve: Rates are $150 per day during the low season (November-April) and $170 per day during the high season (May-October). Reservations can be made here and most vans have a three-day minimum reservation. (GoCamp Camper Vans are currently located in the Portland, Oregon area, with plans to expand nationwide.)
Pay: You pay 50% of the total rental fee at the time of booking. You pay the remainder, plus the security deposit, 30 days before the rental period, or, if booking with less than 30 days to go, at the time of booking.
Plan: You'll get a detailed list of everything that is included in the van, as well as an orientation on how to operate and care for all the van's features.
Go Camp!
All GoCamp Eurovans and Vanagons are personally inspected by Kane and her team and are guaranteed to be in good working condition, so you never have to worry about a break-down. But, if you're the type with anxiety (we understand), you have the option of signing up for roadside assistance for a small daily fee, giving you peace of mind.
If you're planning on exploring the Pacific Northwest any time soon and are interested in getting out into the outdoors, stop by GoCamp and take a look around. You'll be surprised how much more affordable a road trip vacation can be when you're riding around in your own accommodations. And, with GoCamp, you'll never have to set up another tent in the dark again. Two words: worth it.
Editors' Recommendations