At the turn of the 20th century, Australian farmers needed a term to describe transporting livestock over long distances. "Overlanding" soon came to represent more than just toil as expanded routes through the Australian outback beckoned 4×4 enthusiasts to explore with both stock and modified rigs. Today, overlanding usually takes the form of extended travel in a 4×4 vehicle, typically with some level of customization for comfort, capability, and convenience.
The question of how to modify a vehicle to best handle the unpaved lifestyle is not easy to answer. Most overland experts will advise using your rig as-is for a few weeks or months to learn which accessories and enhancements are most relevant to your particular adventures. Follow this instruction, and you'll likely find additional storage to be a prevailing requirement. Interior drawer systems are one way to make your rig more practical, but a better place to start is with an upgraded roof rack.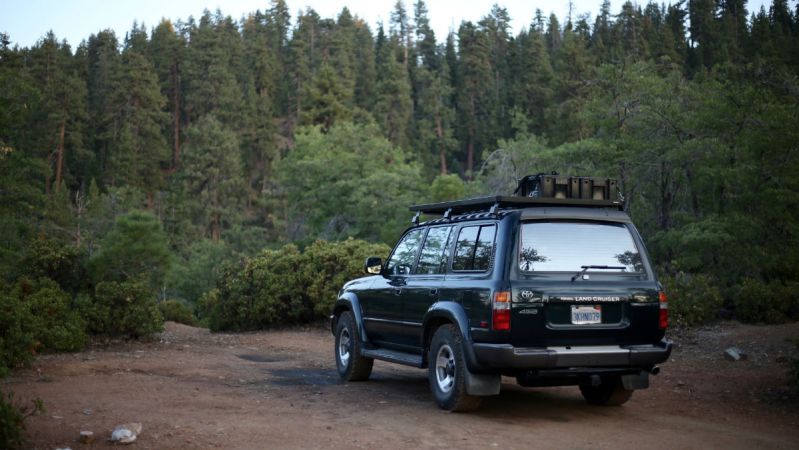 Front Runner Outfitters is a South African manufacturer born from the desire to develop smarter, more durable equipment for the most grueling overland adventures. The company's headlining product is the Slimline II racking system, a modular platform available in 55 sizes and with more than 50 accessories. Our 1994 Toyota Land Cruiser (80 Series) mates nicely with one variant of the Slimline II, so we took a trip to Front Runner's showroom in Agoura Hills, California, to install the rack before heading to the trail.
The Setup
Front Runner offers full- and half-rack configurations of its Slimline II system for the 80 Series Land Cruiser with either standard height or "tall" gutter mounts. Our chosen setup was the full-length rack with tall mounts ($1,226 plus shipping and handling). Each kit includes one Slimline II tray measuring 85.3 inches by 52.9 inches, an integrated wind deflector, and six mounting legs. The tray is built from T6 aluminum and the brackets are constructed from high-strength steel. Everything is finished in black weather-resistant powder coating. Front Runner Outfitters guarantees the rack will not rust. The approximate installed weight is 71 pounds and the system can support up to 660 pounds of weight. Detailed installation instructions are available online.
Front Runner Outfitters also sent us a set of its regular length Stratchits (black), new Stratchits Shorties (gray), and tie down rings. The Stratchits cargo restraint tools combine the best elements of a strap system and a bungee chord. The tie down rings are designed to fit anywhere along the rack's sliders and hand tighten.
Style and Substance
Whether your Land Cruiser is already decked out with exterior modifications or retains its stock look, the Slimline II rack is perfectly suited to the 80 Series' fluid design. Installing the Slimline requires removing the factory crossbars, which unclutters the top of the SUV, and the rack's black powder coating blends into the roofline nicely. We won't claim the full-length Slimline looks stock, but if there's any impression to be made, it's one of strength and purpose.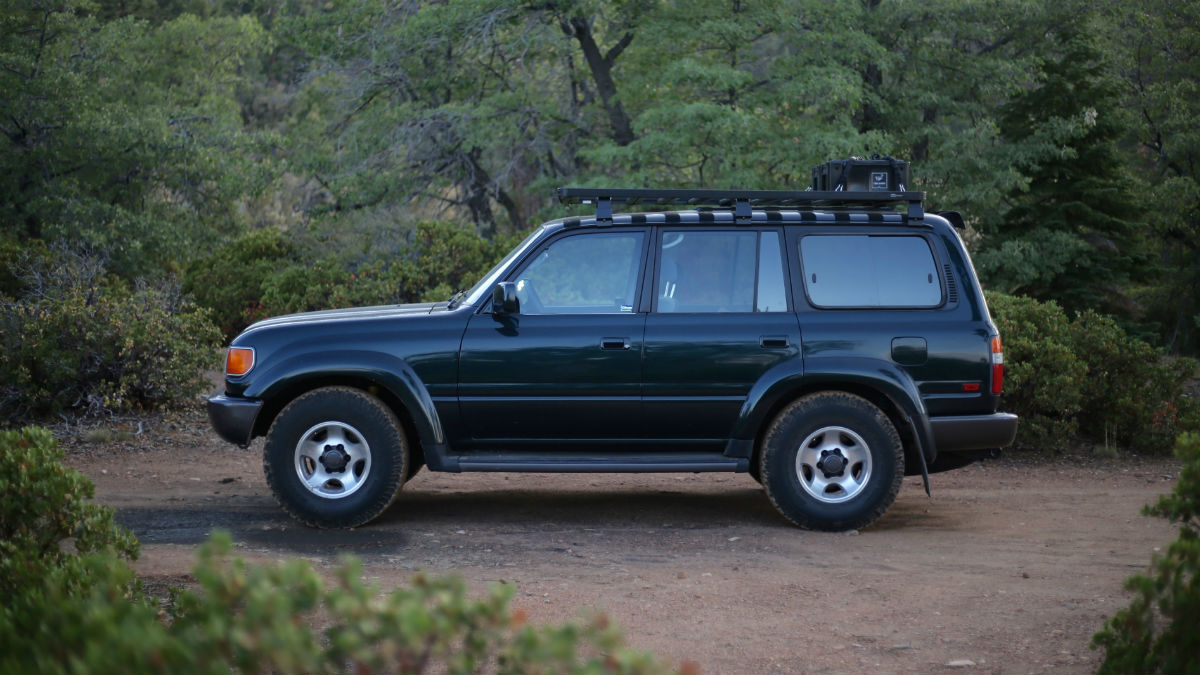 Despite the rack's lightweight construction, it feels high-quality enough to match the well-engineered Land Cruiser. The tray slats are designed to flex a small amount, and when our curiosity draws us to the roof of the car — placing 170 pounds dead middle on the rack — we feel totally confident in the system's stability. Each mount bracket tucks neatly under the Cruiser's gutter and doesn't budge an inch when yanked repeatedly.
The tie-down rings (available in stainless steel or black powder coated designs) are simple but nicely machined. Both Stratchits (black for regular and gray for Shorties) are cleverly designed with Velcro holds to secure excess strap length so it doesn't flap in the wind.
While on the trail, one of our companions also lent us a pair of his Wolf Pack Front Runner boxes to pair with the Stratchits. The stackable storage boxes look tidy within the lip of the rack and stay in place while the rig bounces over rocks and dips.
Modularity and Versatility
The claim to fame of the Slimline system is its modular design. Individual slats can be moved along the rack, added to create a solid floor, or removed to make space for a sunroof opening or other accessories. Furthermore, T-slots along the entire rack's perimeter and within each slat mean you can mount an M8 bolt virtually anywhere — top or bottom — on the system.
The claim to fame of the Slimline system is its modular design.
This universal mounting system also means you can install any aftermarket gear of the same bolt size (though Front Runner's robust accessory list leaves little to be desired). The tall mounting bracket version creates room under the plane to store a camping table, traction aids, or other flat equipment. The tall variant also permits hands and tools to work in the space between the rack and roof to make installing or removing gear a breeze.
Front Runner clearly designed the Slimline II for unpaved exploits, but most overland enthusiasts also rely on their rigs for daily driving duty. The rack needs to be stable at speed, not reduce fuel economy too dramatically, and not make too much noise. Before installing the rack, our Land Cruiser earned, on average, 13-combined mpg. The same type of driving conditions with the rack (and no additional gear on top) yields 12 mpg (rounded down). With a pair of 18-inch tall, 14-inch wide storage boxes loaded on the rack (sitting side-by-side), we still see 12-combined mpg (this time rounded up slightly). Giving up a single mpg is a small price to pay for effectively doubling our vehicle's cargo capacity.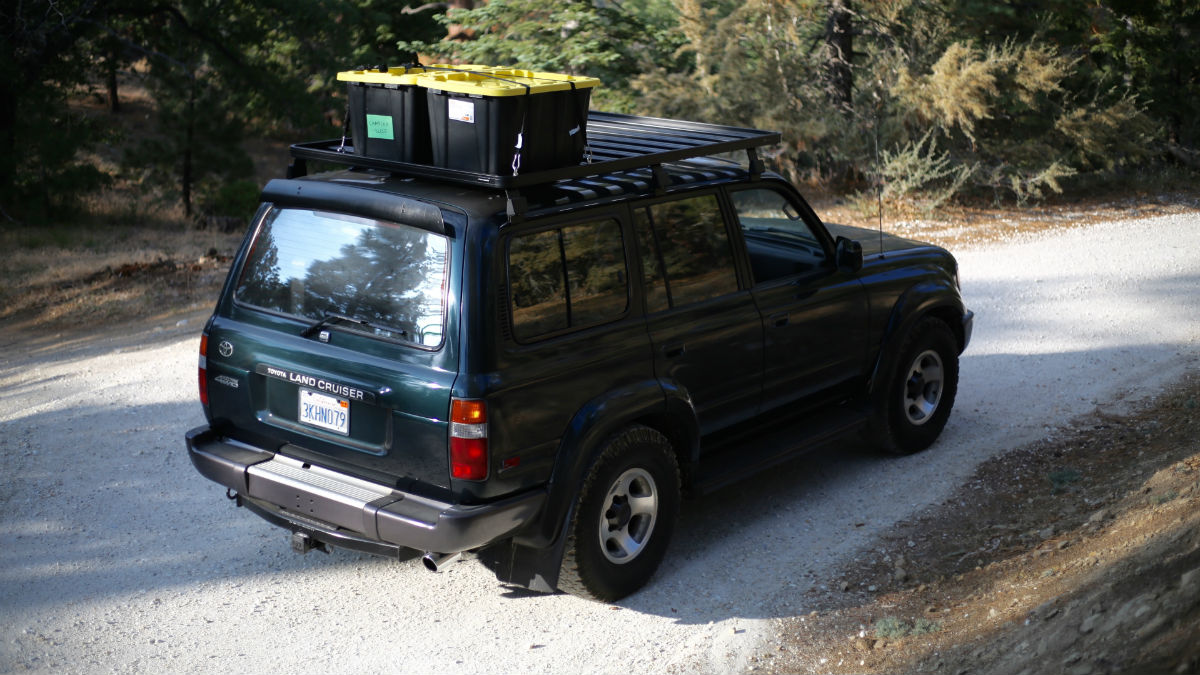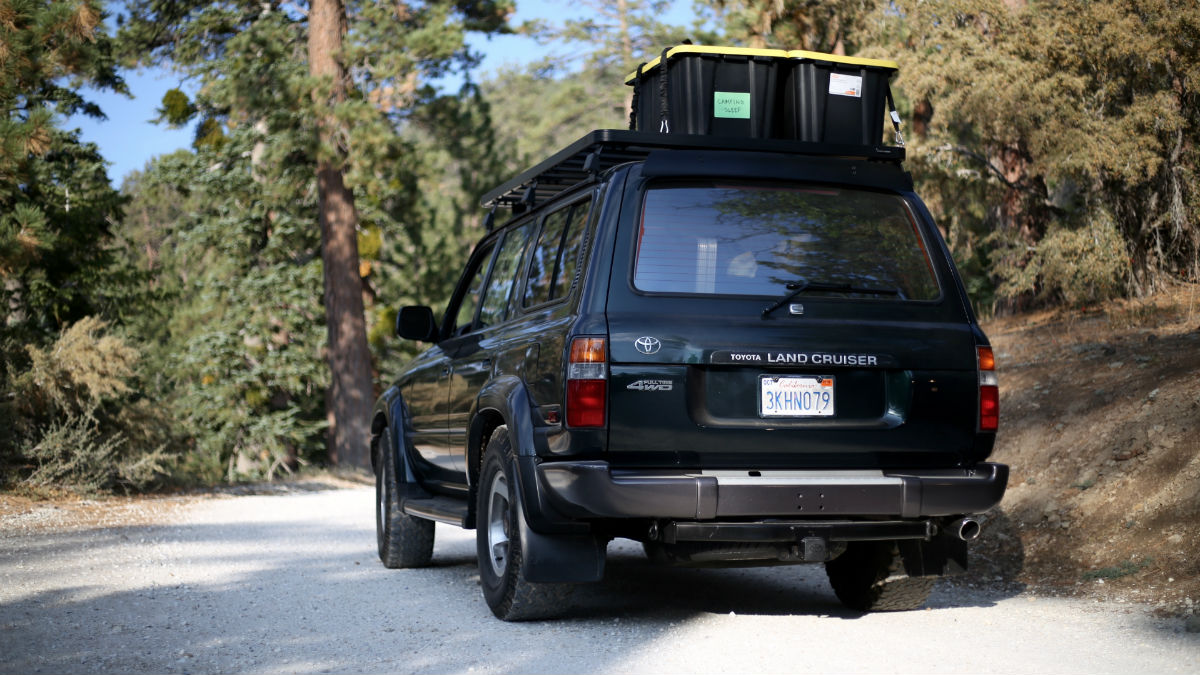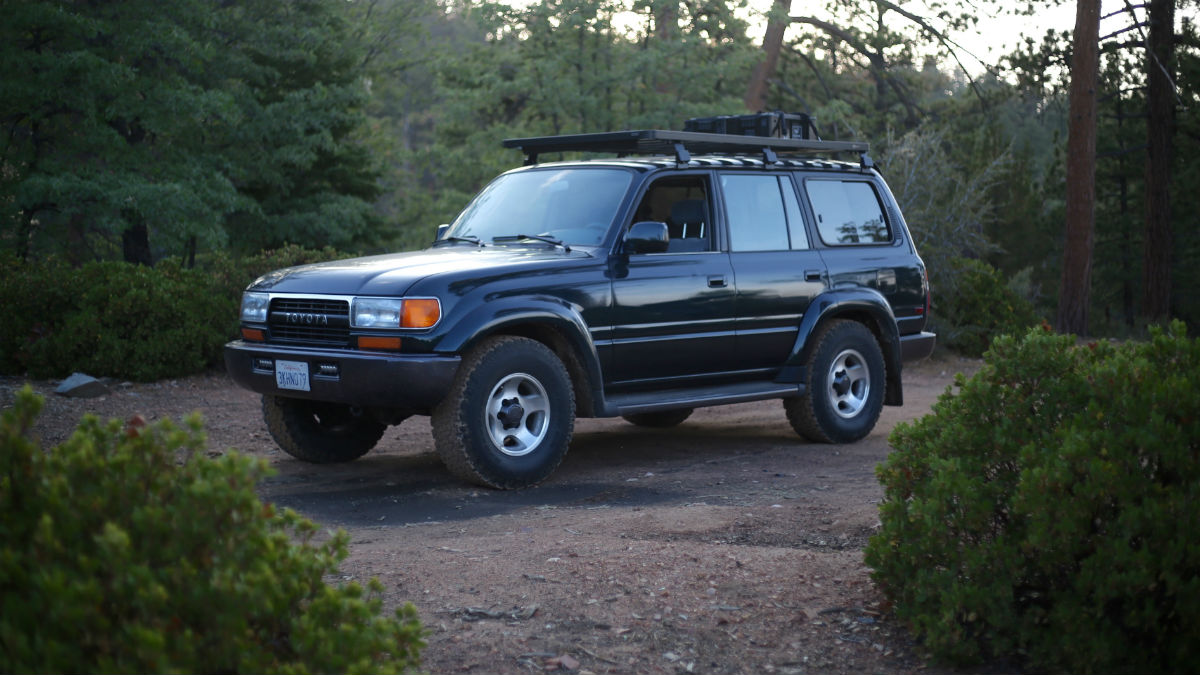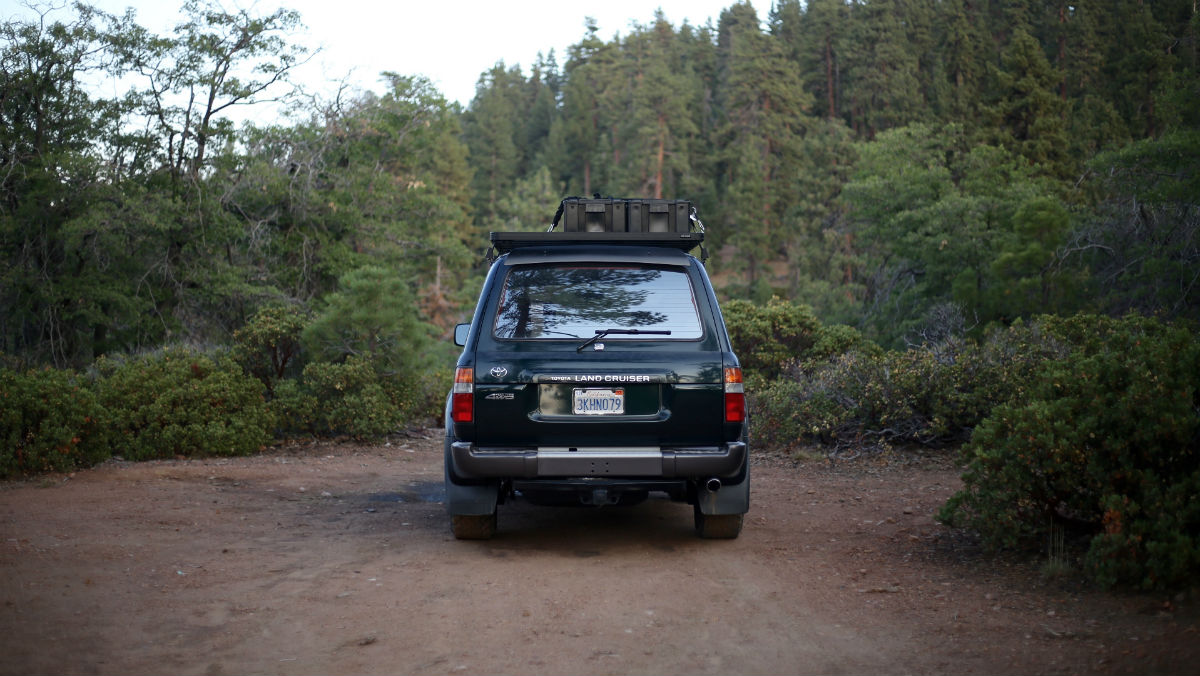 Furthermore, the Slimline rack makes no discernable noise or vibration at highway speed.
Out on the trail, the Slimline II feels one with the truck over all types of terrain. No rattles or squeaks can be heard within the cabin and the Stratchits keep our gear securely in place. Though we've only added a few pieces of equipment, it's easy to imagine organizing the rack with recovery gear, storage boxes, fuel tanks, propane, and any other tools we might need. Alternatively, a rooftop tent could be added with plenty of leftover room for accessories.
Warranty Information
Front Runner Outfitters sells every Slimline II rack with a lifetime warranty, provided the rack kit is installed following the company's recommended fitment. The limited Lifetime Warranty is effective for as long as the original retail purchaser owns the product, but selling the product to another customer will terminate the coverage. Front Runner also covers its accessory products for two years.
The Verdict
The Front Runner Outfitters Slimline II roof rack is a platform for overland enthusiasts to build a bespoke kit for any adventure. Modular, durable, lightweight, and aerodynamic, the system requires only minor sacrifices to afford ample storage opportunities. With configurations to fit numerous SUV models and clever accessories, the full-length Slimline II (though a bit pricey, at $1,226) should be on every explorer's wish list.
Alternatives to the Slimline II rack include Prinsu Design's 80 Series RoofRac and Rhino Rack's Pioneer Platform. Both systems undercut Front Runner's solution by about $400, but neither is as simple to adjust, offers as many accessories, or is available with tall mounting brackets. The Slimline's construction and design are superior by almost every measure. If you long to increase your vehicle's storage potential with a versatile, well-built rack, the Front Runner Outfitters Slimline II is worth every penny.