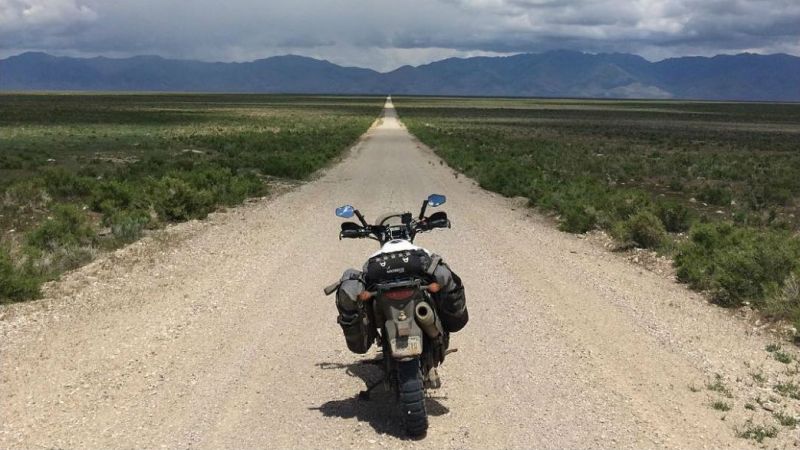 A web of interconnected backcountry trails crisscrosses the United States, invisible to most anyone not interested in hiking or the outdoors. Likewise, thousands of miles of relatively unknown trails are established and maintained by the Backcountry Discovery Routes initiative for the sole purpose of intense, off-highway motorbiking. This year, for the first time ever, one man is planning to ride every inch of them.
Self-proclaimed perpetual explorer Forrest Bault set out in April 2018 on a never-before-done journey to ride every mile of the country's Backcountry Discovery Routes (BDR). If all goes to plan, he expects to cover more than 14,000 miles — nearly three times the width of Russia — on his rugged Suzuki custom. A full 8,000 of those miles will cover actual BDR routes, while the difference will be spent traveling between routes.
Bault told Lonely Planet his plan, in the beginning, had just been to spend the summer riding his own favorite routes in the western U.S. — four months, 18 states in total. But, he found his dream trip overlapped with many existing BDR routes. So, he figured, "Why not ride all of [them] in a row? Turns out it's never been done before."
It's no surprise the biggest challenge for Bault has been the hardware. The sheer number of daily miles and the grueling weather conditions he's suffered have been hard on him and his bike. He's constantly changing out tires and maintains a rotating stock of spare parts. It seems his bike — a 415-pound, 65-horsepower custom build with a range of 350 miles — has served him well, however. At last check, he was cruising near Nezperce, Idaho, after completing nearly 10,000 miles in June alone.
Backcountry Discovery Routes is a non-profit organization that works with the U.S. forest service, state/federal agencies, and land managers to establish and preserve a vast network of off-road trails for dual sport and adventure motorcyclists. The official site details current and planned routes around the United States, all organized by region. They also provide free maps, GPS coordinates for routes and waypoints, tips and advice specific to each route, and general education about the off-road motorcycle community.
Follow Forrest Bault on his epic journey via Instagram. Plan your own off-highway motorbiking route, or just live vicariously through those who ride them at the BDR website.
Editors' Recommendations