We're well into riding season now but our focus on certain bikes continues, with a closer look this time around at the Swiss Army Knife of a bike, the Suzuki SV650.
Originally introduced in 1999, the midrange-in-every-way Suzuki SV650, commonly referred to by riders simply as an "SV," was an immediate hit. Its combination of a stout and torquey liquid-cooled V-twin engine, dialed-in handling, comfy ergos, sporty stance (with a slightly more sporty and bikini-faired "S" version also offered) and triple-disc brakes on such an affordable bike made the SV650 one of the iconic bikes of the new millennium.
Related: Suzuki takes its Expertise to the Moon in Seeking the Google Lunar XPrize
Right out of the gate, riders found the SV650 excelled at pretty much anything: sport riding, club racing, DIY sport-touring, commuting, bopping around town, and so on. In 2002, Suzuki added fuel injection to the SV, which bumped up power considerably. Since then, the SV has been continually refined while maintaining its basic goodness: a low price, a high fun factor, great handling, and the ability to cover multiple categories of riding.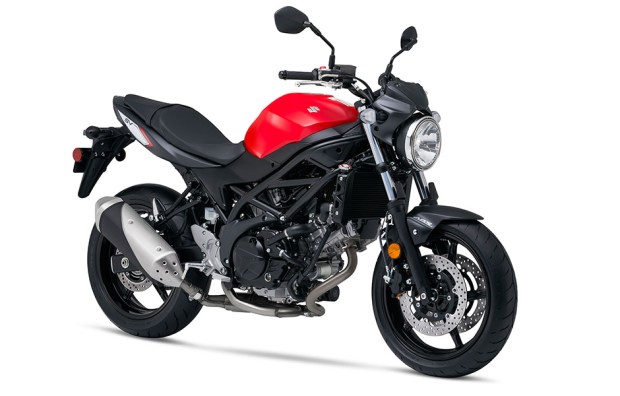 The SV is a widespread success in part because it's both approachable and docile enough for first-time riders to learn on and punchy enough for veteran riders to enjoy and modify. The SV doesn't come with top-shelf gear in order to maintain a reasonable MSRP, but since it's pretty much a blank slate, it's a great canvas for easy modification and improvement. As such, a vast aftermarket dedicated to the bike exists today.
The 2017 SV650 continues the tradition of those that came before it. It's still an easy way to get riding, and a bike that will continue to entertain for years to come. This year's model includes ABS brakes for $7,500, just a $500 bump over the base model. Minor updates include more power (always a good thing), an upgraded digital dash and it even went on a bit of a diet and dropped some weight, in case you didn't.
Flashy? No. Capable? Absolutely. While the SV650 would seem to be a basic bike, it's really not. Its ability to entertain and easily adapt to different kinds of riding make it both a bargain and a long-lasting source of adventure. And if you want to take it off road, well, Suzuki has a solution for that as well.
Editors' Recommendations