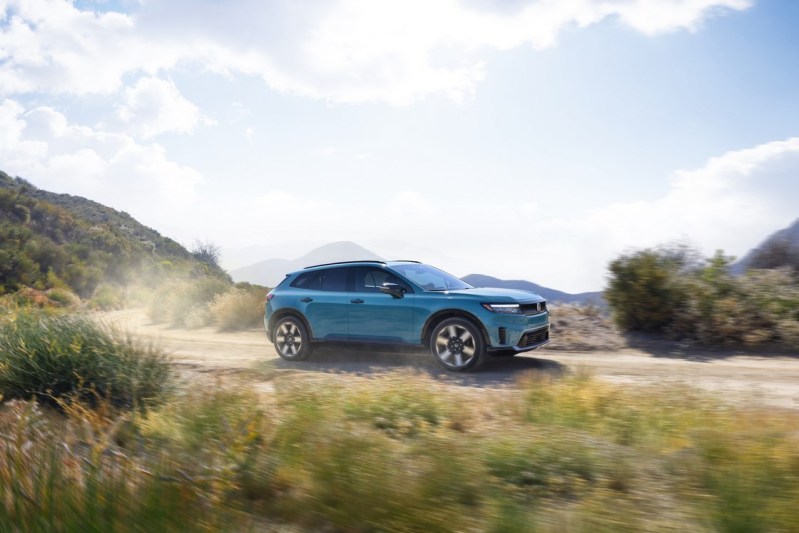 Honda is finally bringing its first electric vehicle to the United States, dubbed the 2024 Honda Prologue. Technically, the Honda Clarity was Honda's first EV in the U.S., but that doesn't count since it's powered by hydrogen and was only offered on a lease.
The Honda Prologue is an all-electric SUV that looks like the bigger version of the Honda-E but with a modern and sporty design that appears more aggressive. In fact, it's slightly longer and bigger than the Honda CR-V but almost the same size as the Honda Passport. However, its overhang is shorter compared to the Passport.
All about the Honda Prologue EV
How far can it travel on a fully charged battery? Honda says the Prologue is anticipated to have a range of up to 300 miles with a battery capacity of 85 kWh. Interestingly, the Honda Prologue is built on GM's Ultium EV platform, and it comes with the same range as the 2024 Chevy Equinox EV. Besides that, it can also charge almost as fast as the Chevy Equinox EV by adding 65 miles in just 10 minutes at a DC fast charger. Just like GM, you may have to wait until 2025 for Honda to fully adopt Tesla's North American Charging Standard (NACS) — but you can still access the Tesla Supercharger network using an adapter.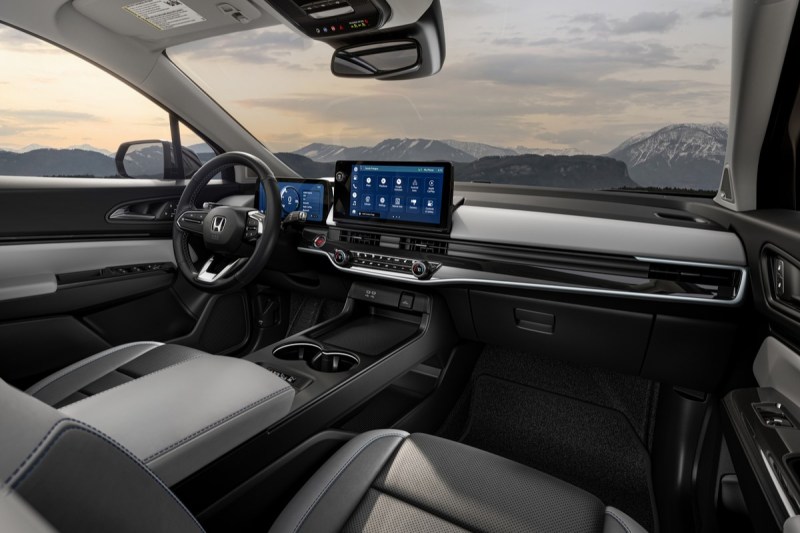 If you enjoy off-road adventure, the Honda Prologue EV is available in an all-wheel-drive configuration that can deliver 288 horsepower and 333 lb.-ft of torque. Of course, you also have the option to choose the front-wheel drive configuration with a longer range. Honda is yet to disclose how much power you should expect from the single motor configuration, but since it shares the same platform with the Equinox EV, it will likely produce 210 horsepower.
Inside, the Honda Prologue features an 11.3-inch touchscreen display that is compatible with Android Auto and Apple CarPlay and an 11-inch digital gauge display behind the steering wheel. It also comes with the same cabin design and interior standard features you will find on the 2024 Honda Pilot and CR-V. But if you want a more premium interior, you could consider the Touring and Elite trim options.
The 2024 Honda Prologue is scheduled to be delivered in early 2024. So far, we don't know how much it will be sold for, but it will probably match up to the Equinox EV; the Equinox EV is expected to start at upper $40k, despite GM's earlier promise of a $30k price tag. However, since the 2024 Honda Prologue will be built in the same production facility in North America as the Equinox EV, the price tag may be reduced by up to $7,500 if it qualifies for the EV tax credit.
Editors' Recommendations