There are plenty of hotels in Mexico City, but only one gives off vibes like it's where Batman stays when he visits town: Umbral Hotel, in the city's Zocalo district. That may seem like a very specific description, but it's apt, for – whether intentional or not – Umbral has a decidedly gothy style that lends it one of my favorite aesthetics I've seen at any hotel anywhere.
Gothy yet luxurious: just my type.
Let's take a look at what, precisely, makes the Umbral so unique. I'll also share a few recommendations for the surrounding area, which is one of the most historic sections of Mexico City.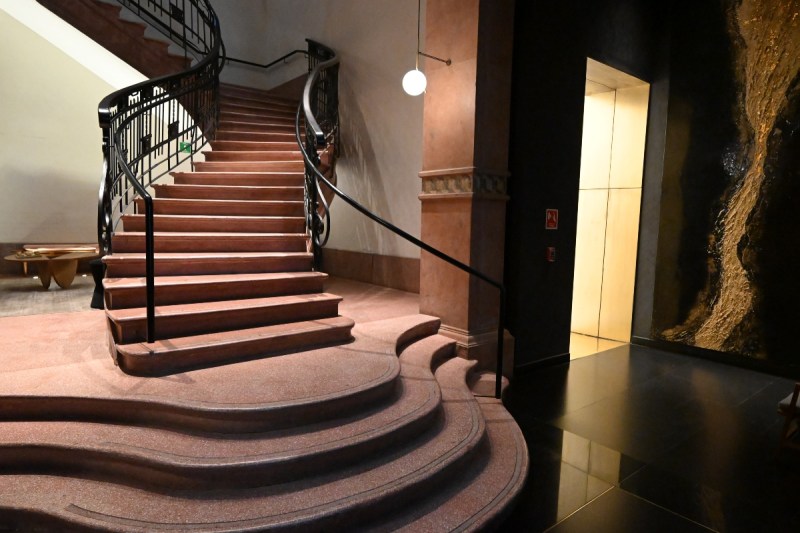 Umbral Hotel: unique among Mexico City hotels
The Umbral is part of the Curio Collection by Hilton, a distinction that is given to some of Hilton's most unique properties around the globe. It certainly is that – unique. From the moment you walk into the black hole that is its lobby, you realize that you're not in your typical downtown accommodation.
The whole place has an almost steampunk atmosphere that blends neoclassical features with modernist and, again, gothic elements. The lobby provides access to two art galleries where revolving collections are on display, and you'll find fine art scattered throughout the hotel – including some singular pieces in one of its bars (more on that in a moment). Hotel art can vary greatly in quality, but I genuinely appreciated what I saw displayed at Umbral. Abstract works from Mexican artists are well placed throughout, and in the gallery off the lobby was a selection of works from indigenous Wixarika artists.
Things get particularly gothy once you take the old-fashioned elevator to the guest floors. Stepping out into the black, glass, and almost industrial metal touches of the hall, the Bat-cave ambiance cranks into high gear. Then you step into your room.
The room
It's like entering into another black hole. Each room's foyer is a little cave of darkness: black walls with a couple of spotlights illuminating large art pieces, a little grey waiting chair by the door, a desk hidden in the gloom – very rock and roll. Beyond this is a secondary entryway – also black – with a couch and TV.
Finally, beyond a curtain you enter the room proper: a bright space with top-notch hotel appointments – and a record player flanked by a pair of records. Mine were Mazzy Star and ACDC, but you can request titles from a fairly wide-ranging selection.
The bed is fantastic, the bathroom spacious and elegant, and my room had a view of the bustling street below. Outstanding accommodations all around.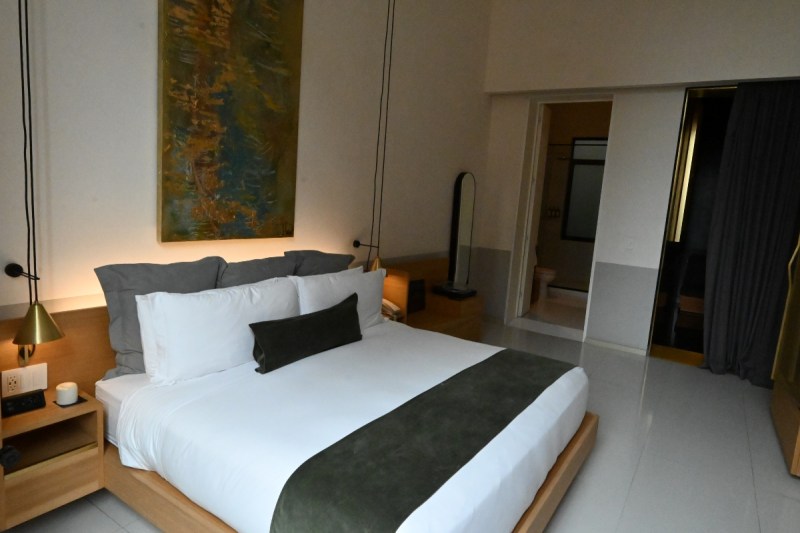 The restaurants
There are a bunch of different foody-drinky opportunities in the building, and I tried three.
On the roof are two options: Oliva, which provides a fairly wide range of Mexican and international bites throughout the day, both in a restaurant and via a trimmed-down poolside menu (yes, the hotel has a small rooftop pool and lounge area); and Paxia, which offers an elaborate menu of modernist Mexican flavors.
In the lobby a spiral staircase will bring you to Nardo Cocktail Club, where you can enjoy art with your drinks. I was particularly into the surrealist pianos. Great, weird stuff indeed.
I didn't get a chance to try the patisserie Matisse or Chocolateria San Gines, but suffice to say there are plenty of chances to eat. There's also a branch of Ojo de Agua, a small café chain that has locations all over CDMX, and is popular for its fresh juices and healthy yet tasty breakfasts.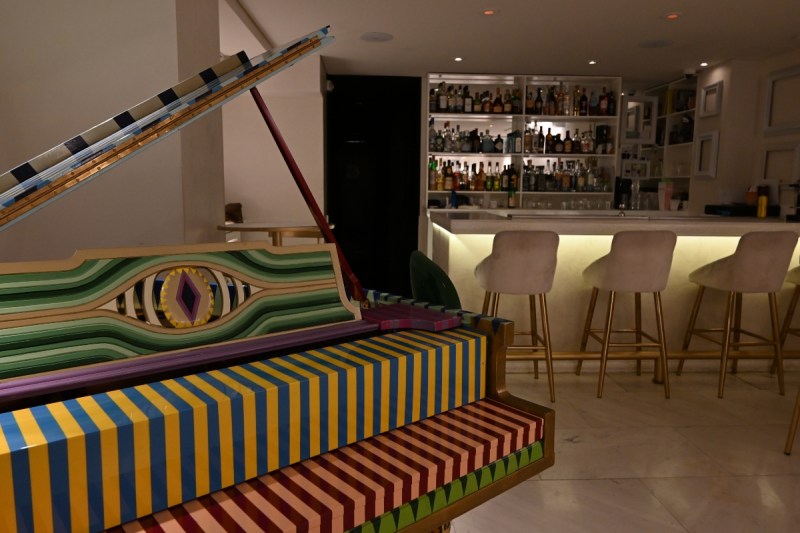 The Zocalo neighborhood
The Umbral is located in the heart of the historic Zocalo district, near the city's central plaza, the big cathedral, impressive Aztec ruins, and many of the main government buildings. Having spent a lot of time in CDMX, I have to admit that the neighborhood is rather hit or miss.
During the day it's a vibrant area that bustles with people, restaurants, shops, and street vendors. There are outstanding food options all over the place, and lively events are frequently held in the plaza. Stunning architecture abounds, and you'll likely get the chance to see Aztec dancers performing in front of the cathedral.
It does, however, get a bit barren and occasionally sketchy at night, like most metropolitan downtown areas. There is a heavy police and security presence, but if you're coming or going late at night you'll probably want a taxi.
Don't let that deter you – there's plenty of rich culture to be experienced in the Zocalo. Just be aware as you would in most major cities.
As for what to see while in the neighborhood, the aforementioned plaza, Aztec ruins, and cathedral are at the top of the list. Just down the street you'll also find Bellas Artes: a unique Art Nouveau building that is famed for its massive murals, particularly those painted by the renowned Mexican painter Diego Rivera, husband of Frida Kahlo.
Between the art and architecture of the Umbral and the abundance of it throughout the surrounding neighborhood, the whole situation makes for a supremely artistic experience.
Editors' Recommendations