South Dakota is one of those states that the average traveler most likely doesn't know much about. The state is home to the Great Sioux Nation, which is made up of the nine Lakota, Nakota, and Dakota tribes totaling more than 62,000 Native American's living in the state, with each tribe doing their best to preserve their rich and vibrant traditions. With a visit to South Dakota, visitors can experience authentic crafts, powwow celebrations, and a proud and enduring heritage. South Dakota's tribal communities welcome visitors and guests are encouraged to stop at a tribal administration building for additional information.
In addition to the above, another must-see destination is Rapid City, which is located among the pines of South Dakota's beautiful Black Hills and six incredible parks and monuments. Here, you can meet American heroes, take in local arts and culture, explore the outdoors, and indulge in a unique dining scene. It's also a perfect home base or starting point if you want to see the best of what the state has to offer.
Want to know what the best is? We've rounded up our list of reasons why South Dakota deserves some attention, including parks, monuments, and another roundup that is sure to get your attention.
Mount Rushmore National Memorial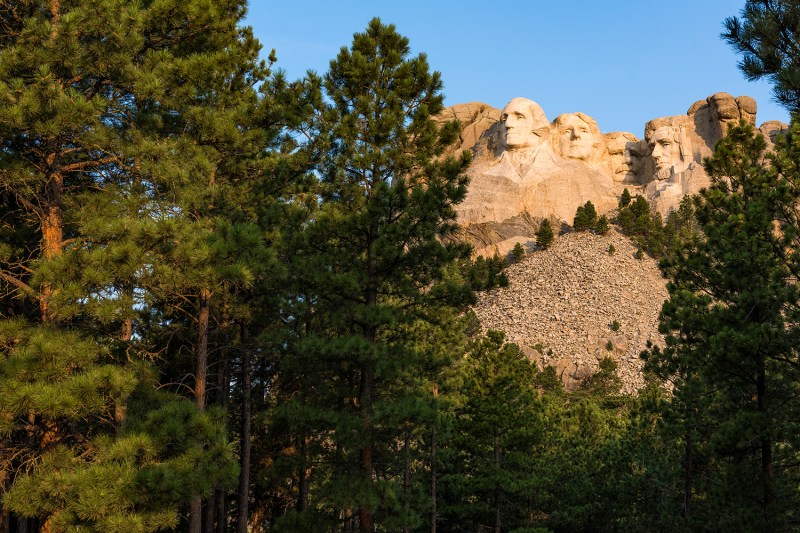 The attraction that South Dakota is most famous for, and that keeps visitors coming year after year is hands down Mount Rushmore. The mountain carving features the 60-foot faces of four great American Presidents: George Washington, Thomas Jefferson, Theodore Roosevelt, and Abraham Lincoln. While here, visit the Lincoln Borglum Visitor Center and Museum which includes more than 400 artifacts and 300 photographs. To get up close and personal, take the Presidential Trail, a half-mile walk that loops along the base of the mountain offering a close-up view of the faces.
Badlands National Park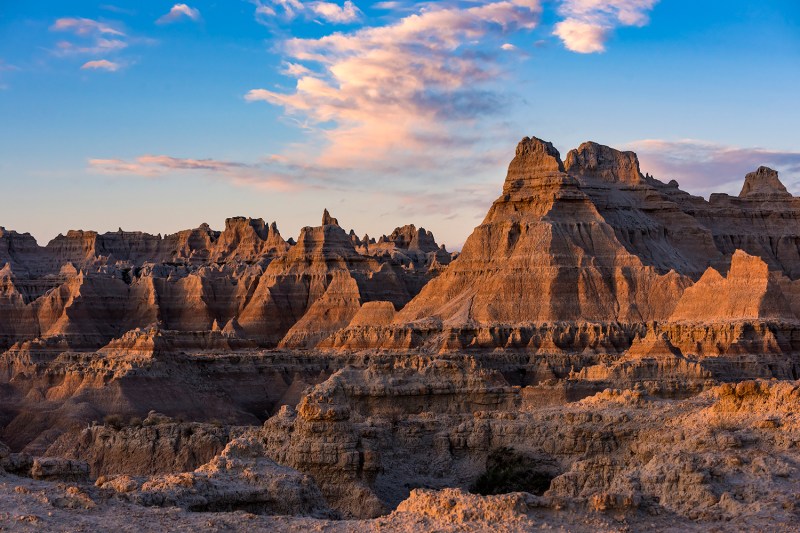 This park features a maze of buttes, canyons, pinnacles, and spires, making it one of the most picturesque parks in the state. The park encompasses 244,000 acres filled with interesting landscapes, bison, prairie dogs, eagles, mule and whitetail deer, pronghorn, and coyotes. Erosion of the Badlands reveals sedimentary layers of different colors: purple and yellow (shale), tan and gray (sand and gravel), red and orange (iron oxides), and white (volcanic ash). Visitors can also see skeletons of ancient camels, three-toed horses, saber-toothed cats, and giant rhinoceros-like creatures, which are among the many fossilized species found here.
Wind Cave National Park
One of the nation's oldest National Parks, Wind Cave National Park became part of the park system in 1903. While it started with just a cave and some surface land, the park now spans 28,295 acres above ground. Wind Cave houses two worlds, the terrain and wildlife of the surface, and the hidden labyrinth beneath the surface. The cave system is one of the longest in the world, with more than 100 miles of rare and unusual boxwork, frostwork, and popcorn formations. The cave is named for the barometric winds at its entrance.
Jewel Cave National Monument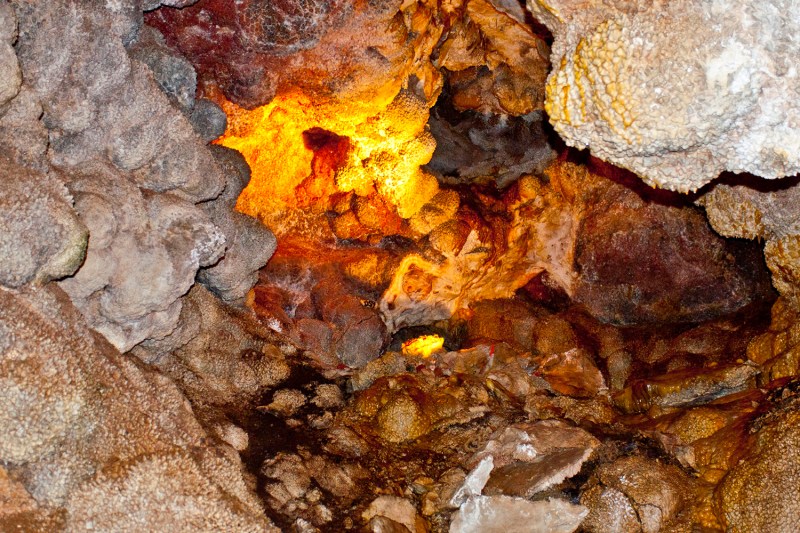 This underground wonderland just west of Custer is far removed from the forests and mountains above, although it's still an integral part of the Black Hills. Jewel Cave is a maze, and the third longest cave in the world, with more than 164 miles of mapped and surveyed passages. The monument gets its name from the glittering calcite crystals that line its walls.
Black Hills Wild Horse Sanctuary
Black Hills Wild Horse Sanctuary is one of America's greatest private wilderness areas. Located near Hot Springs in southwestern South Dakota, it is owned and operated by the Institute of Range and the American Mustang and is dedicated to giving America's unwanted wild horses a life of freedom. See hundreds of wild mustangs roaming free across 11,000 acres of wind-swept prairie. The Sanctuary is open year-round and offers several different tours.
Spearfish Canyon
The limestone Palisades of this creek-carved gorge are more ancient than the Grand Canyon, although Spearfish is much narrower when compared to the Grand Canyon. The only way to access the 1,000-foot walls of Spearfish Canyon is by horseback. The canyon is the Northern Hills' number one natural attraction and is a great spot for wildlife enthusiasts, as the diverse array of plant life, provides a comfortable home for deer, mountain goats, porcupines, and bobcats. Outdoor enthusiasts can also take advantage of climbing, biking, hiking, and fishing inside the park.
Historic Deadwood
This National Historic Landmark town is in the Black Hills National Forest and is home to many historical sites, including Day of 76 Museum, Broken Boot Gold Mine, Saloon #10 and the original site of the killing of Wild Bill Hickok. The district is also home to several stores, restaurants and bars, making it a fun place to spend a full day.
Wall Drug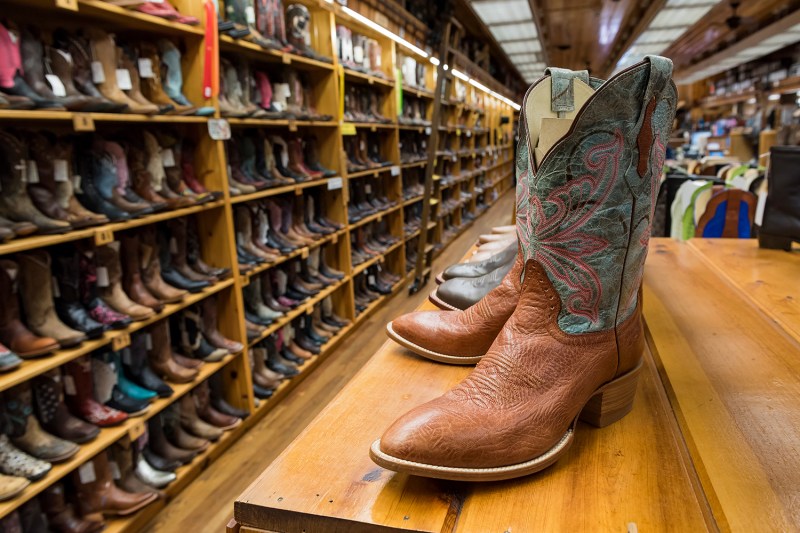 Known as the "#1 Roadside Attraction in America," Wall Drug has evolved from a drug store to a 76,000-square-foot wonderland of free attractions including a Frontier Town, an animated T. Rex, a world class collection of Western art, 26 retail departments, and a restaurant capable of seating 520 guests. Wall Drug was made popular after it began serving "free ice water" during the hot summer months along the prairie of South Dakota. And they still serve free ice water to this day, although that is probably the last reason why you should check it out.
Crazy Horse Memorial
The fifth granite face in the Black Hills is located just 17 miles from Mount Rushmore National Memorial. Sculptor Korczak Ziolkowski started work on the mountain in 1948 as a tribute to American Indians. Following his death in 1982, Korczak's family continued to carve the mountain, using three books containing his detailed plans. When completed, Crazy Horse will be the world's largest mountain carving, standing 563 feet high and 641 feet long.
George S. Mickelson Trail
Stretching more than 100 miles through South Dakota's Black Hills, the Mickelson Trail is open to hikers, bikers, horseback riders, and cross-country skiers. The Mickelson Trail surface varies from gravel to crushed limestone and meanders amid stunning forest scenery. The trail was built along a former railroad corridor, so its nearly level grade makes it an ideal outing for users of all ages and abilities.
Custer State Park
Nearly 1,300 magnificent bison wander the park's 71,000 acres, which they share with the swift pronghorn, shy elk, sure-footed mountain goats, and a band of curious burros. Visitors often enjoy close encounters with these permanent residents along the 18-mile Wildlife Loop Road that winds around the southern edge of the park. Slender granite formations nicknamed "the needles" dominate the skyline, and grassy meadows fill the valleys. Visitors can explore the park via trail rides, scenic drives, mountain bikes, paddle-boats, hay rides, and even safari tours.
Custer State Park Buffalo Roundup
Wildlife enthusiasts are invited to watch bison in their natural habitat during the famous Custer State Park Buffalo Roundup, which will take place from September 26-28. What started as a small roundup in Custer State Park attended mainly by buffalo ranchers in the 1960s to eradicate the disease brucellosis from the herd, has grown into one of the largest buffalo roundups in the country and attracts more than 21,000 visitors from around the world who come to watch cowboys on horseback round up the park's nearly 1,300 buffalo in conjunction with the fall sale as a way to manage the size of the herd and to provide an opportunity to brand and vaccinate the calves.
Where to Stay
Sylvan Lake Lodge in Custer State Park
Located inside Custer State Park, the lodge is rich in both history and natural beauty. The stone and timber lodge overlooks the sloping hills and Sylvan Lake. Some of the finest trails, including the challenging Harney Peak Trail and the more moderate Sunday Gulch Trail, lead from Sylvan Lake to the peak, where the lodge is situated. During your stay, you can rent watercraft, go fishing, or take a swim in the lake.
Editors' Recommendations