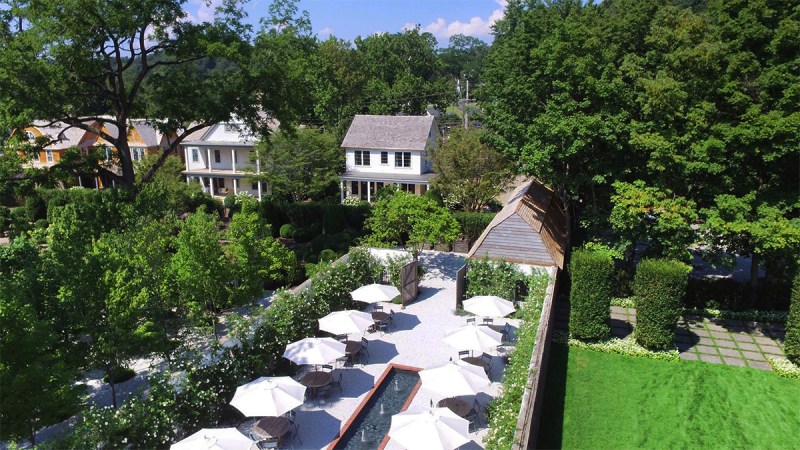 If I'm being honest, historically there hasn't been that much of a reason for most people to visit the town of Sloatsburg, New York. Incorporated back in 1929 (just a couple weeks before the market crashed, in fact), the town had a population barely above 3,000 people as of the latest census. There are some shops, a few places to get a meal or a drink, and a train station that connects the village to the Port Jervis Line. I'm not saying it's not a pleasant place to live, there just wasn't much reason to visit.
But now there is. See, Sloatsburg is home to Valley Rock Inn, the latest venture from tech entrepreneur and real estate developer Michael Bruno. Don't let the word "inn" mislead you — this is a multi-acre resort featuring a 75-foot pool, a fine dining restaurant, a bike and gear shop, guest suites, and much more. Or at least it will feature all that and more once the project is completed; as of this writing, the Valley Rock Inn is still a partial work-in-progress. From what I saw during my visit in November, from the vision Michael expressed, from the amenities I enjoyed, and from the food I tasted, I can tell you this for sure: there is now a damn good reason to visit Sloatsburg.
Adjacent to the town is the 47,000-plus-acre Harriman State Park, a splendid preserve replete with 200 miles of hiking trails, dozens of lakes and streams, mountains, valleys, campsites, and more. The park is a haven for hikers, bikers, campers, fisherman, photographers, and anyone else who needs to get away from city life. Being as Sloatsburg is located a mere 35 miles from Central Park in downtown NYC (in case you didn't know where Central Park is), it's ideal for weekend trips or even for day hikes, though one could spend a week camping there without growing bored.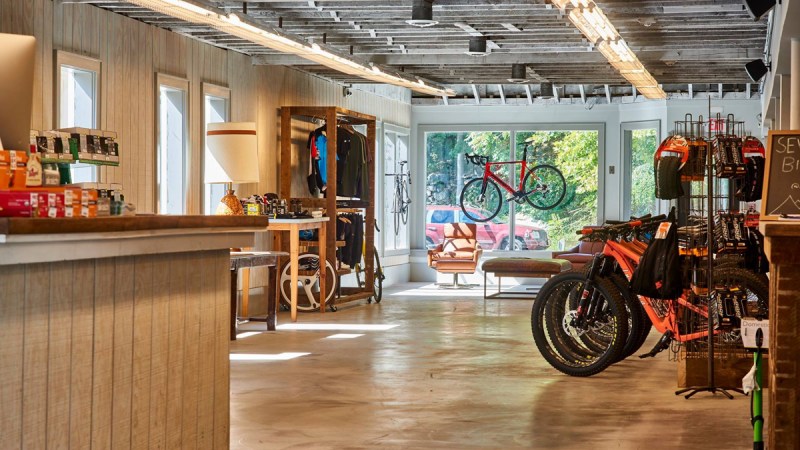 Better yet, one could spend a week hiking, cycling, and fishing by day, then enjoying the life of luxury at the Valley Rock Inn by night.
When completed, Valley Rock Inn will feature four stand-alone guest houses, each with multiple bedrooms, bathrooms, and common areas. It will have a multi-room hotel. There will be a massive pool. There will be massage and spa services. There already are several outdoor courtyards perfect for dining or sipping coffee and cocktails. There's a bocce court. There's a market stocked with local foods. There's a full-service bike shop that offers sales, rentals, and tune-ups and that will soon be stocked with gear for hiking and camping (also available for rent and sales).
The Valley Rock Inn will also soon feature the Rock House Bar, a tavern and restaurant with fireplaces, indoor and outdoor dining, and food prepared by chef Phillip Kirsches-Clark. I had the pleasure of eating several meals prepared by Kirsches-Clark, and to give you a sense of what the man does with food, here are just a few of the courses he prepared for me and a handful of other guests: Polenta Arancini with Taleggio, Marjoram, and Arrabiatta Sauce; Roasted and Shaved Beets with Whipped Ricotta, Cranberries, Arugula, and Pumpernickel; and Charcoal Grilled Octopus with Scarlet Turnips, Crispy Fingerlings, and Lobster Jus.
Phillip also makes one mean Manhattan, by the way, a cocktail he somehow managed to create despite the temporary bar being without sweet vermouth. (I didn't ask questions, I just enjoyed the drink.) The menu at Valley Rock Inn blends farm-to-table and globally conscious foods. When possible, Phillip uses regional organic fare; when necessary, he sources foods from farther afield, but always with an eye toward its provenance. For example, he has ordered foods from an all-female farm in Afghanistan and a Portuguese fishing collective.
Once the entire resort is up and running, it would be easy to spend all day enjoying the topnotch amenities of the Valley Rock Inn. But unlike many destination resorts, that would be missing the point of this place. The goal of the Valley Rock Inn is not only to provide a great place for guests to spend time (and one superlative venue for a wedding, convention, or a very fancy 43rd birthday party), but rather to serve as a springboard into the beautiful hills and mountains that surround it. One could leave the bike shop under pedal power and enter Harriman State Park within a matter of minutes. A short drive deposits the hiker, fisherman, or camper in the middle of the wilderness. And returning to finely appointed facilities after a day spent out in nature only makes the time spent away from creature comforts all the sweeter.
And as the Sloatsburg train station is literally across the street from Valley Rock Inn, people looking to get away from the hustle of New York City and the greater metro area are a short, easy trip away.
Editors' Recommendations