Instagram Stories have always encouraged shoot-from-the-hip social media expression where the design becomes secondary to the need to be in-the-moment and spontaneous. The result, however, is that most look like they were designed by over-caffeinated tweens. The new Unfold mobile app is looking to change that by elevating the Stories of design-conscious users through clean, thoughtfully considered templates.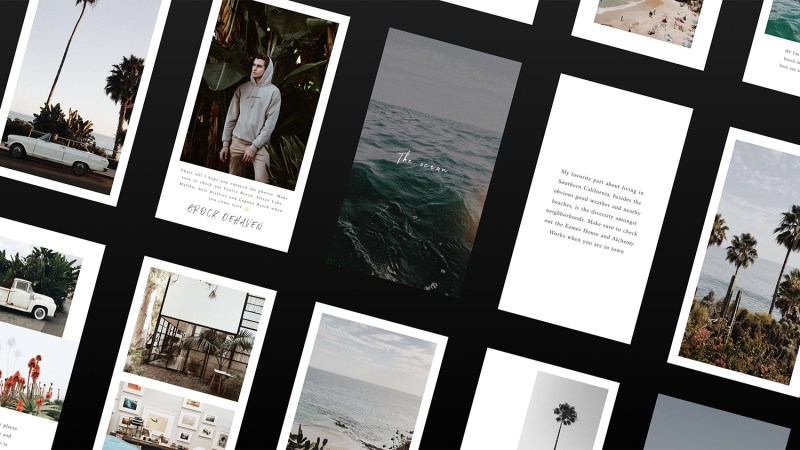 The core functionality of Unfold is simple but effective: It provides streamlined templates to which users can add photos, video, and text to their new Stories. Photos can be sourced from their own camera roll or Unfold's growing pool of stock photography. The look of the more 80 templates borders is professional and, in some cases, worthy of a two-page magazine spread: ample white space, photos displayed on perfectly color-coordinated borders, and handwritten script font captions.
Unfold is the brainchild of an Instagram-savvy entrepreneur and an architect. The former, Andy McCune, has a solid background in new media and advertising technology. He's also the man behind the Instagram heavy-hitter @Earth account, which has garnered more than 1 million followers. The latter, Alfonso Cobo, is an architect with a Parsons design degree. The app started as a simple idea for Cobo to share his design and photography portfolios before he realized it could be the perfect vehicle for others to create better Instagram Stories.
If you're worried about downloading yet another mobile app destined to disappear in three months (taking all your new Insta-creations with it), know that Unfold's adoption has been impressive. Since its debut in January 2018, the user base has exploded to three million actives with more than 100,000 added daily. In that time, it's spawned more than 50 million Instagram Stories. Big brands like Cathay Pacific, Soho House, CBS, and Four Seasons have already adopted the app as part of their branding strategy. Heavy-hitting Instagram influencers like @joanpala (with 213,000 followers), @alivialatimer (100,000), and @aleksandarjason (127,000) rely on it to publish many of their Stories. Apple has also given its stamp of approval, naming Unfold a "Must-have App." So, it seems the app is here to stay for the foreseeable future.
The Unfold app is now available as a free download for iOS and Android with 25 free templates. For a small premium, users can opt to add 60 more.
Editors' Recommendations