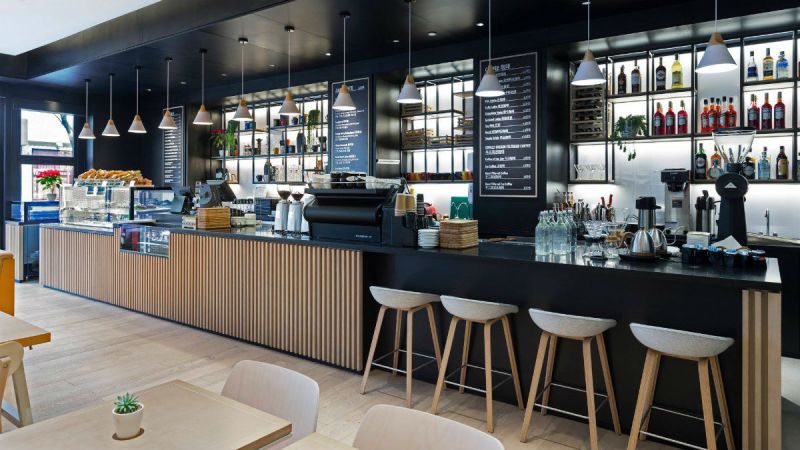 Few names are as universally recognized and adored among frequent travelers as Moleskine. Since 1997, the Italian brand has elevated the lowly travel journal to cultural icon status. Now, they're expanding their reach even further with the debut of Moleskine Cafés around the globe.
Moleskine opened its first Moleskine Café in 2016 in the Geneva Airport, followed by Milan, Italy — a fitting home given that's where the brand got its start. The third location recently opened its doors in Beijing's Taikoo Li, a multi-use retail and lifestyle space in the popular Sanlitun district. Additional locations are in the works for London and Hamburg, followed by the first stateside café in New York City.
The design of every existing and forthcoming location is unique, but all bring the sleek, Euro-minimalist aesthetic of the Moleskine brand to life. The design ethos is centered around clean lines, transitional-style furniture, neutral color palettes, and high-brow artwork. All are combined in a sleek, sophisticated mashup that's part Starbucks, part Ikea, and part contemporary art gallery. It could well be considered "the thinking person's café."
Indeed, the company is reimagining the classic café littéraire, a place whose sole purpose is to attract and inspire creative types. Every café will feature special sections dedicated to exhibitions by designers, artists, illustrators, and those in film, plus scheduled workshops and talks by local experts. Of course, another section will offer an extensive selection of Moleskine's products, including notebooks, journals, writing supplies, and mobile lifestyle accessories.
The café menus pull inspiration from the cuisine unique to each location and blend them with classic Italian flavors and cooking techniques. Salads, soups, sandwiches, and a long list of brunch and breakfast items are all on offer. The extensive coffee offerings are based on grounds from famed Milan-based coffee roaster Seven Grams.
While the company made a name for itself with its retro-cool old school journals, they've recently stepped into the digital age. It started with Livescribe. Now, their ingenious Smart Writing System combines the best of both worlds of traditional writing with the freedom of digital note-taking. The Pen+ Ellipse, for example, works with specially coded paper to transfer every written note to a variety of desktop and mobile apps. It's travel journaling in the age of millennials.
Feature image courtesy of Moleskine/Facebook. All other images courtesy of Moleskine.
Editors' Recommendations