With Moleskine notebooks and tattered paperbacks giving way to mobile notepad apps and Amazon Kindles respectively, it seems the tradition of putting ink to paper is dying. As Brooks noted in The Shawshank Redemption, "The world went and got itself in a big damn hurry." Thankfully, plenty of companies still recognize the romance of not going digital. Here are four of our favorite old school ways of keeping a travel journal.
Field Notes
The Field Notes brand has become the Moleskine for the Millennial generation. The company initially launched with a single product: a three-pack of their Original Kraft notebook full of graph paper. Now, it's available in ruled paper, plain, and mixed three-packs. Plus, they offer dozens of specialty notebooks for any purpose you can imagine. Front Page, for example, is a tall, thin, reporter-style notepad with basic, college-ruled pages — ideal for taking brief, to-the-point notes on the go. Their special edition Black Ice is like the company's sleek new concept car — a traditional notepad wrapped in an embossed, industrial silver-black metallic foil. Bottom line: no matter what sort of notes you need to take, Field Notes has a notepad for you.
Fisher Space Pen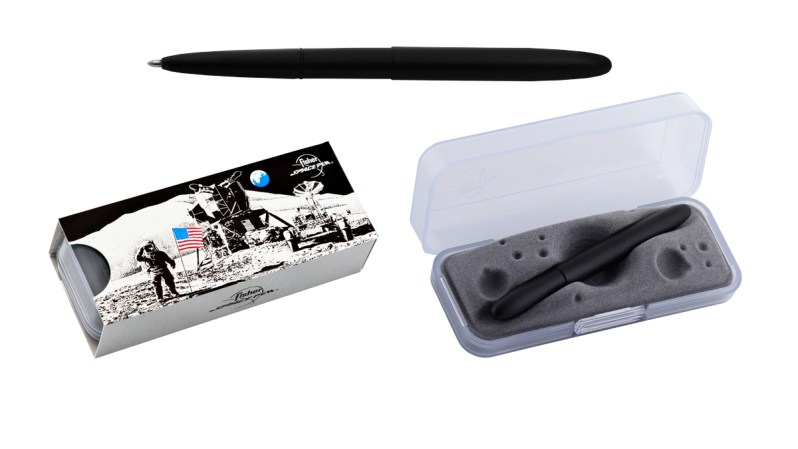 In the world of writing implements, Fisher Space Pen's original Matte Black Bullet Space Pen is arguably the cleverest, most utilitarian designed in the last century (it's even been featured at NYC's MoMA). First crafted in 1948, the solid aluminum body featured a pressurized ink cartridge that worked virtually anywhere including in space and underwater. Fast-forward into the 21st century, and the design has hardly changed. It's still the gold standard for durable, outdoor, go-anywhere pens. The brand now offers dozens of specialty and novelty versions of their iconic pen, although we're partial to the rugged Matte Black Trekker.
Rite in the Rain
More than a century ago, entrepreneur Jerry Darling realized the logging industry needed an all-weather, on-the-job notepad. He went on to found the aptly named Rite in the Rain. The company's current catalog features their iconic utility yellow notebooks of various sizes and layouts with a single purpose: to hold up to and be usable in almost any weather conditions. They're guaranteed not to dissolve when wet and the ink will never smudge or bleed. The pocket-sized Memo Book — 112 pages, lightweight, and wrapped in soft, durable, weather-resistant Field-Flex material — is the ideal travel journal for those who value utility and durability above all else.
The Bolt Pen by Karas Kustoms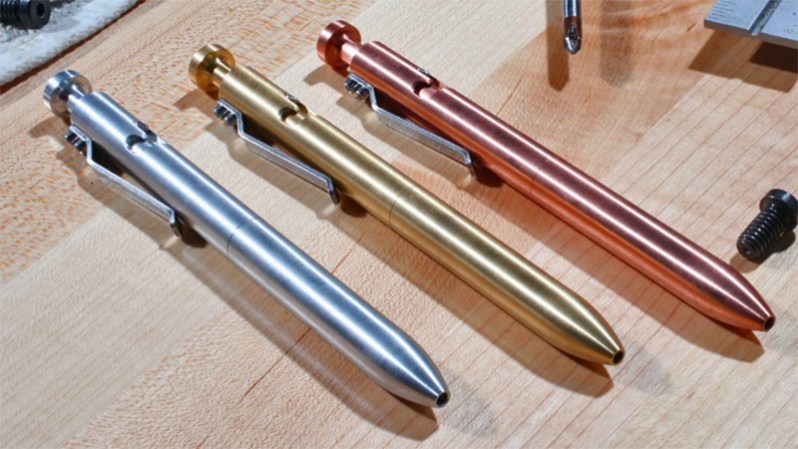 The guts of most store-bought pens are constructed of junk plastic that's unreliable for adventure travelers. Kara Kustoms recognized the need for something more durable. The aptly named The Bolt pen is arguably the last writing implement you'll ever need to buy. The bolt-action pen body is machined out of your choice of solid copper, brass, or aluminum. The latter weighs just 1.1 ounces but is virtually guaranteed never to break. What's nice is The Bolt accepts any standard Parker ballpoint compatible refill, so you'll never be without ink.
Editors' Recommendations