Tulum, Mexico, is a vacation destination that truly has it all. From sugar sand beaches with jewel-toned waters to adventurous activities like cave-diving to Mayan ruins, Tulum is an ideal getaway spot for solo travelers, couples, or a group of friends looking to make lasting memories.
Built on the edge of the jungle, Tulum Treehouse is a tropical minimalist vacation rental. Large enough for up to 10 guests, the house can be reserved as a partial rental, which gets your three bedrooms, or a full rental of all four floors, with a total of five bedrooms. All rentals include concierge, daily housekeeping, and a continental breakfast every morning. Pricing varies depending on time of year and type of rental (partial or full house).
Walking through the trees and up the stairs into the home, you find spacious open floor plans with plenty of natural light, views of the jungle, and a wonderful blend of indoor and outdoor spaces. Designed by Annabell Kutucu and CO-LAB Design Office, the treehouse is beautifully simple in its design, with just the right amount of tropical touches. Locally sourced materials like ceramics, rugs, and textiles pair nicely with the polished white cement and Tzalam wood accents. The furniture throughout the home is bespoke from Meridian artisans. Striving for sustainability, the home is entirely solar powered and features a water treatment irrigation system to help maintain the delicate balance of the surrounding mangroves.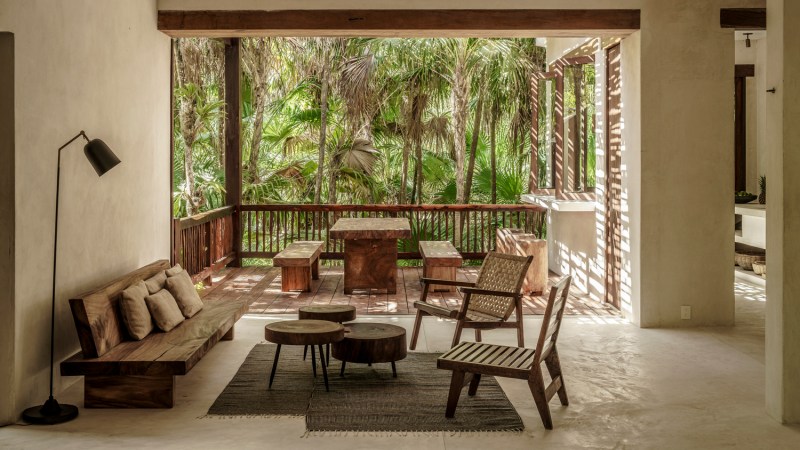 The first floor of the home includes a large family room and a simple kitchen with concrete countertops and open shelving. It's just enough space for cooking up meals to enjoy in the large outdoor dining patio. The first of five bedrooms is just off the family room and has a spacious en suite bathroom.
Heading up stairs to the next floor, you find two more bedrooms (each with its own bathroom) and a massive deck with plenty of spots to sit and relax. Each bedroom has its own balcony for privacy and all outdoor spaces include amazing views. Renting out the entire home gets you the bonus lower level which features two bedrooms, two baths, a sitting area, and a massive balcony for relaxing and watching for jungle animals.
The true star of the home is the rooftop. Make a drink at the wet bar, dine with 20 guests at the massive dining table, or relax in the many seating areas while you gaze out above the treetops. These unobstructed views let you see for miles on a clear day, taking in all of the beauty that Tulum is known for.
And if you find yourself on the Pacific coast of Mexico, you can stay in this treehouse instead. Or maybe one of our favorite treehouse hotels in the world.
Images courtesy of CO-LAB Design Office/Annabell Kutucu Office/Brechenmacher & Baumann Photography.