Few experiences scream "I'm a kid again!" like sleeping in a treehouse. Almost every man has childhood memories of hanging a "No Girls Allowed" sign and reading comic books by flashlight into the wee hours in a friend's treehouse. Thankfully, you can relive that adolescent joy at some of the world's coolest treehouse hotels. Here are our favorites.
Pinecone Treehouse by O2 Treehouse
Oakland, California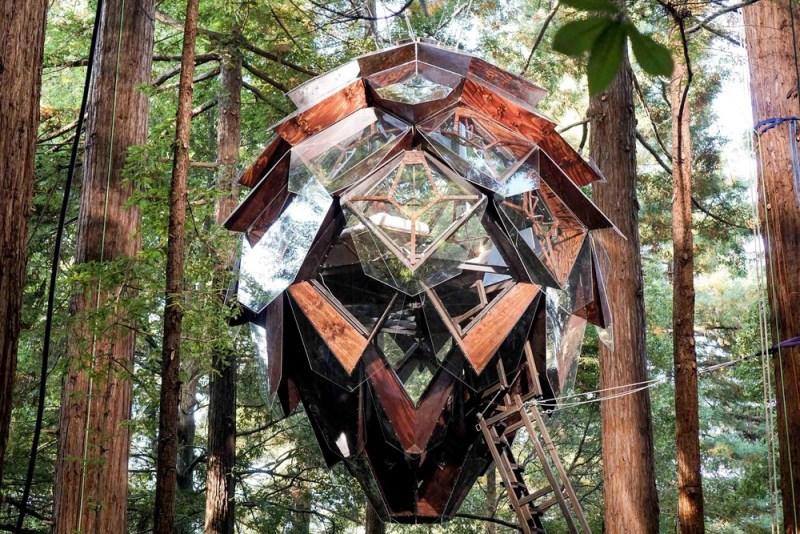 Most treehouses look like treehouses with a distinct, rustic design that often the recalls the treehouses of our childhoods. While this isn't a bad thing, O2 Treehouses set out to rethink the idea of the traditional treehouse. The result is the futuristic, genre-bending Pinecone Treehouse. The geodesic shell was constructed from steel and locally-sourced California redwood, while dozens of glazed panels provide the pinecone's "scales." From the inside, the view is like a kaleidoscopic panorama overlooking the surrounding Oakland forest. The best part is that it's for sale for the low, low price of just USD $150,000.
ArtisTree Yoki House Treehouse
Austin, Texas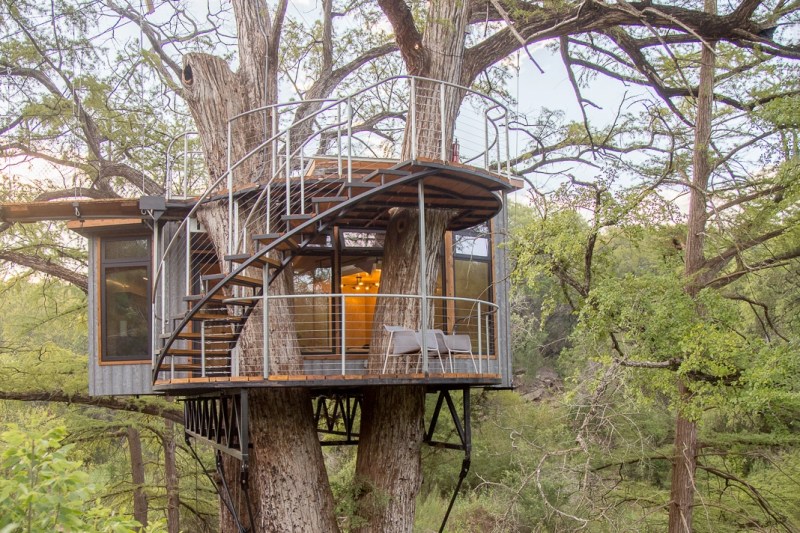 Not far from downtown Austin at Cypress Valley lies Yoki House. The bespoke treehouse designed by ArtisTree is actually a two-room suite suspended 25 feet above a spring-fed creek that runs between two towering bald cypress trees. The 500-square-foot interior is intimate and charming, while a 60-foot suspension bridge connects the sleeping/living quarters to a private bathhouse with a Japanese onsen-inspired soak tub. Floor-to-ceiling windows line every wall making this the perfect serene getaway for writers, couples, and bird-watchers alike. Yoki House welcomes overnight guests, but the treehouse's wild popularity means it's often booked months in advance.
Finca Bellavista Treehouse Community
Costa Rica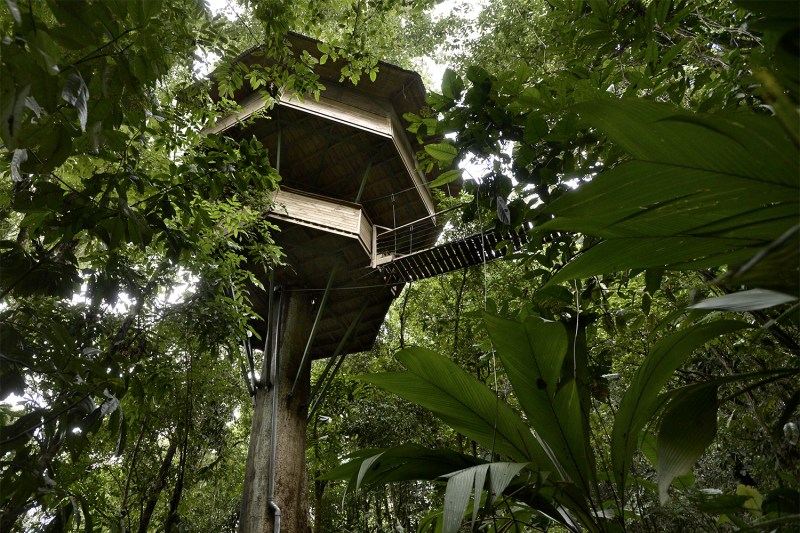 It's difficult to imagine a more picture-perfect place for an entire treehouse community than Costa Rica. Sited near the country's South Pacific coast, Finca Bellavista is a full-fledged treehouse compound where visitors can rent treehouses for overnight stays, buy a pre-built treehouse, or purchase a parcel of land to build their own to spec. This is no-frills living the tico (read local Costa Rican) way: no air-conditioning, no Wi-Fi, and no fancy amenities like television. There is, however, an on-site nursery, plenty of hiking trails, and you can even zip-line between treehouses. Is there a cooler way to make a grand entrance to your neighbor's house party?
Hapuku Lodge + Tree Houses
Kaikoura, New Zealand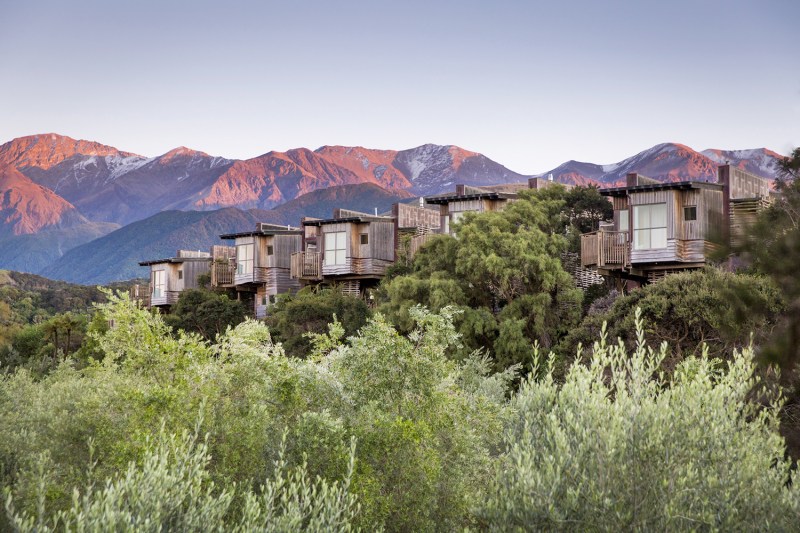 Few places draw nature-loving travelers like New Zealand. It's raw, wild, pristine, and unbelievably beautiful. Located in the coastal town of Kaikoura on New Zealand's South Island, Hapuku Lodge is designed to blend seamlessly into the surrounding Kanuka grove. The big get here for guests is a stay in one of the lodge's five treehouses. Inside, each one feels more like a luxury hotel room with TVs, fireplaces, free Wi-Fi, minibars, and hot tubs. Private balconies and oversized windows all afford amazing views to the Pacific Ocean and Kaikoura's mountain range — both of which are home to abundant year-round wildlife populations.
Aroma(n)tica Treehouse
Monferrato, Italy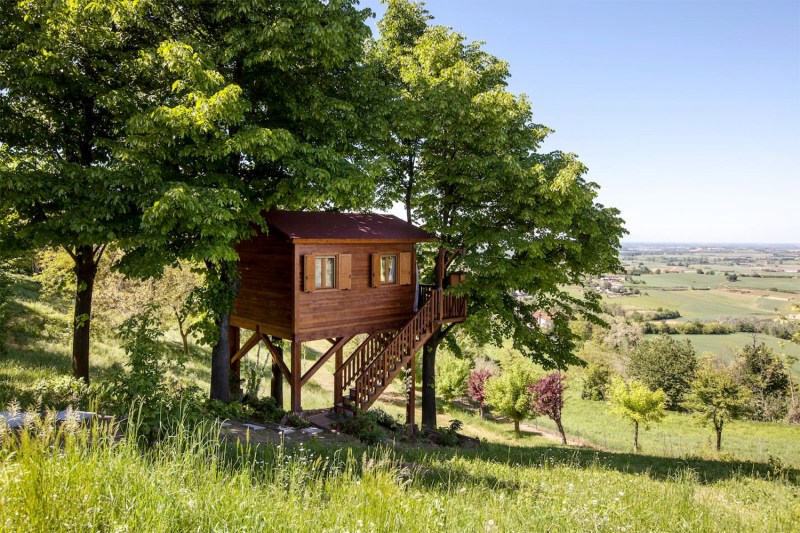 Sometimes less is indeed more. The Aroma(n)tica Treehouse offers plenty of simple, rustic charm, but the real treat for visitors is what's nearby. Though well hidden from view, it provides sweeping views overlooking the rural countryside of Monferrato, Italy. With a massive private garden, cultural walking paths, and hiking and biking trails just steps away, this is truly a nature lover's paradise. The area is well-known for its world-class wines, and guests even have access to a private onsite wine cellar.
Chateaux dans les Arbres
Nojals-et-Clotte, France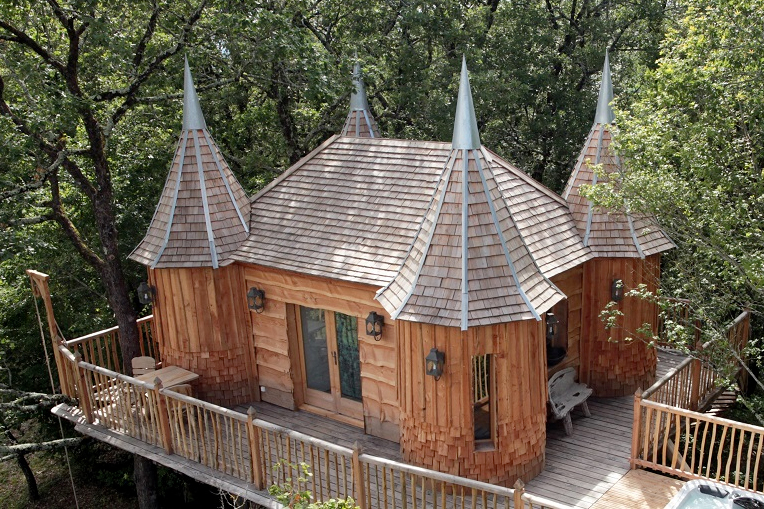 Castle-inspired treehouses might seem strange anywhere else, but they somehow feel right at home in southwestern France. The six elevated "spa castle homes" (their words, not ours) at Chateaux dans les Arbres were inspired by traditional centuries-old French chateaux. With four large spires at the corners and a rough-hewn wood exterior, these unique structures are equal parts miniature castle, log cabin, and ornate dollhouse. Inside, the eclectic decor blends elements of Moroccan, French Chateaux, and farmhouse chic. The best part is that every room features a wooded terrace with a private hot tub.
The Woodsman's Treehouse
Dorset, England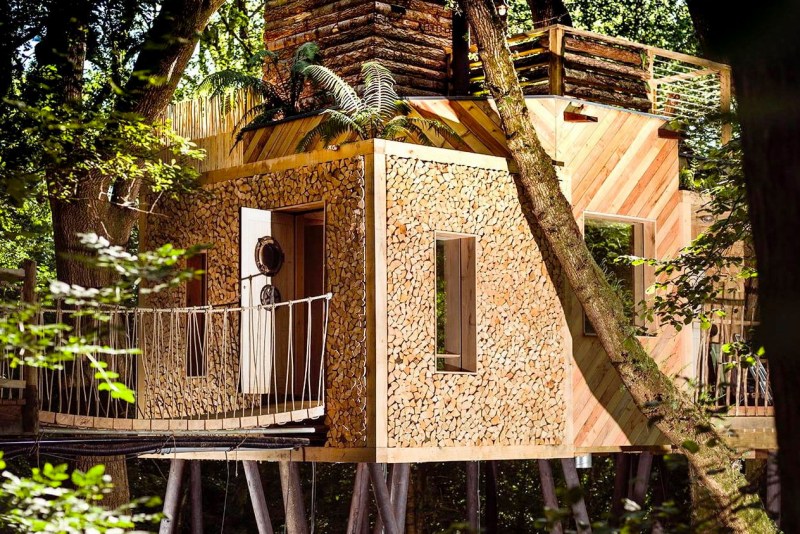 The Woodsman's Treehouse blends all the best amenities of a modern luxury hotel with the coolest, must-have features of the dream treehouse of your childhood. A steam engine steering wheel on the front door replaces a traditional doorknob, and a stainless steel slide leads from the main deck down to ground level. Inside is a private sauna and two-person copper hot tub on the upper deck, an open-air "tree shower," and a revolving fireplace that can be pointed wherever you need heat. The outdoor deck affords views of the surrounding Dorset woodland over the tree canopy, plus you'll find a wood-fired pizza oven and barbeque to boot.
Bangkok Treehouse
Bangkok, Thailand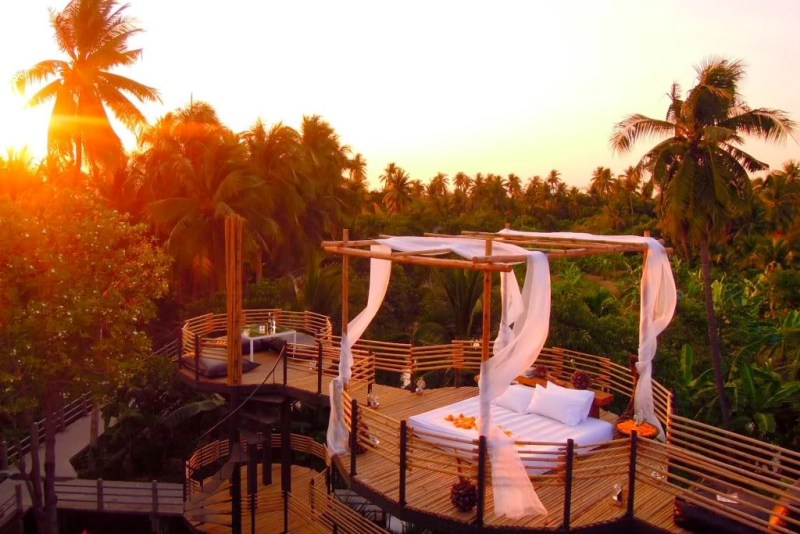 Opened in 2012, the Bangkok Treehouse is one of the oldest on this list. With 12 "rooms," it's also the closest to an actual hotel. Pulling heavy inspiration from Henry David Thoreau's Walden Pond, the owners readily admit that this rustic retreat is "not for everyone." Every room walks a fine line between romantic luxury and pared-down asceticism. One "room" (we use that term liberally), dubbed View with a Room, has no walls or ceiling, while the hotel's River Nest is literally just a double bed floating on the nearby river.
TreeHouse Point
Issaquah, Washington
If the ultra-rustic treehouse you had as a kid had been built by a legit architect, it might've looked something like the rooms at Washington's TreeHouse Point. While they boast all the charm of a traditional log cabin on the outside, guests will find thoroughly modern amenities inside. All six rooms offer heat, a private bathroom, a well-stocked kitchenette, and free Wi-Fi. The central lodge, cedar-lined bathhouses, and multi-purpose wedding and event space make this feel like a true hotel.
Lion Sands Game Reserve
Kruger National Park, South Africa
It's impossible to dream up more romantic, honeymoon-worthy hotel "rooms" than the treehouses at Lion Sands. After dark, candles light the pathways to these four, private, open-air treehouses where guests sleep under the brilliant, cloud-free skies of Kruger National Park. Picture lots of billowing linens, animal skin rugs, four-poster beds, and bottomless chilled Champagne. With the sounds of lions, leopards, hyenas, and elephants punctuating the air, it doesn't get wilder than this. Here, nighttime views of the stars and Milky Way are unparalleled. By day, guests can join the lodge's daily safari tours or head out on foot to explore the iconic national park with a professional guide.
Dove Men+Care
Chattanooga, Tennessee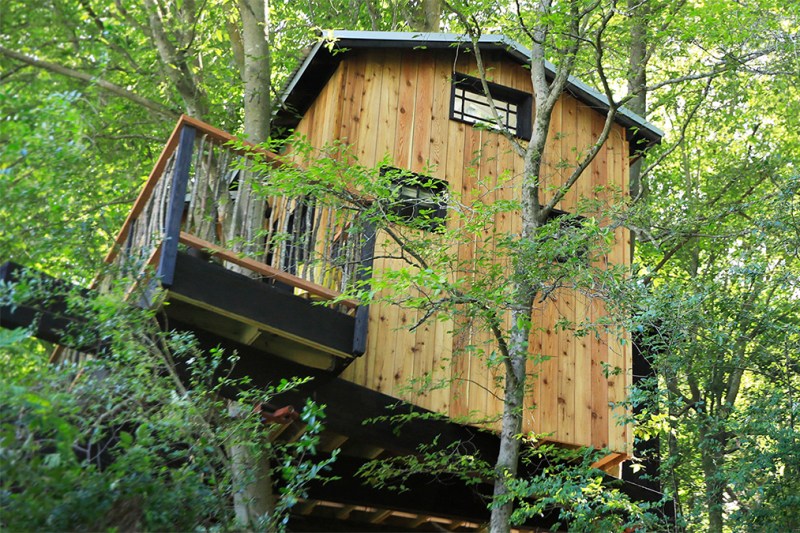 Dove Men+Care was so stoked to promote their nature-inspired Men+Care Elements product line that they built an entire treehouse just outside of Chattanooga to celebrate it. They even brought in renowned Treehouse Master, Pete Nelson, to architect the project. The 300-ish square feet and modern amenities of this "apartment in the trees" are a far cry from the rustic, postage stamp-sized treehouses of our youth. Features include a queen-sized Tuft & Needle bed, a loft with over-sized skylights for stargazing, a wet bar, air-conditioning, and — the pièce de résistance — a beautiful spa bathroom with heated pebble stone flooring and a glass, touchscreen-controlled, five-jet shower stall with a tree growing through the center. First glimpses of the treehouse were available via a contest held in 2017. Overnight guests can book their own stay via Treetop Hideaways.
Treehotel
Sweden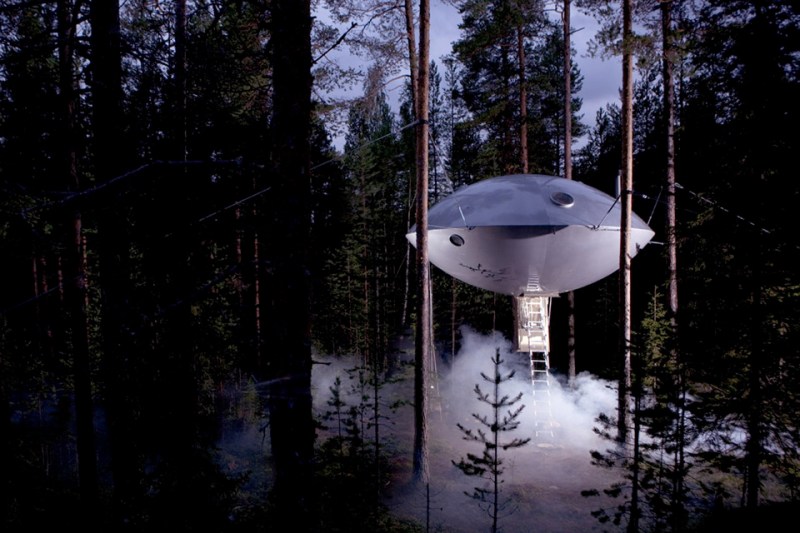 Where most treehouse hotels embrace their rustic, primitive surroundings, Sweden's Treehotel is an altogether different animal. The boutique hotel features seven ultra-modern guestrooms that collectively feel like a living art installation in the woods. Every room is distinct with unique themes that range from kitschy (The UFO) to otherworldly (The Mirrorcube) to MOMA-worthy (The 7th room). As extreme as the rooms may seem, the property is purposefully designed as a relaxed, minimalist escape into nature. Its location in the tiny, rural town of Harads (population: 600), just 30 miles south of the Arctic Circle, succeeds in doing just that. Indeed, its most notable "amenities" are the beautiful, endless stands of pine trees and lovely views of the Lule River.
Reserva Biológica Huilo Huilo
Chile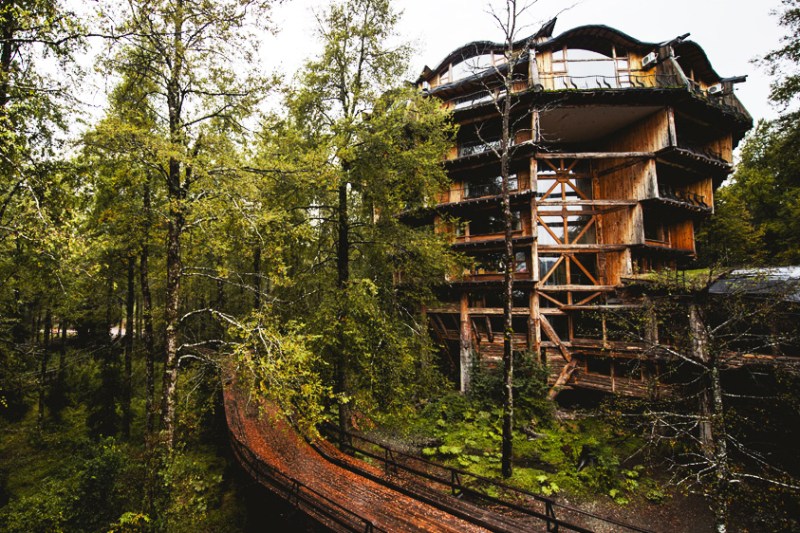 Reserva Biológica Huilo Huilo is among Chile's most prized forests. It's a 232-square-mile reserve that even won National Geographic's coveted World Legacy Award for conservation. In the middle of this remote outpost sits Nothofagus Hotel & Spa. Most treehouse hotels offer a sprawl of individual cabins interconnected by a labyrinth of catwalks and cables. But Nothofagus is a single, unique seven-story structure where many rooms feature private balconies, towering windows, and breathtaking views of the Patagonian Andes range. You may not want to call it "glamping" but, with available Wi-Fi, two onsite restaurants, and a luxury spa, that's exactly what it is.
Free Spirit Spheres
Vancouver Island, British Columbia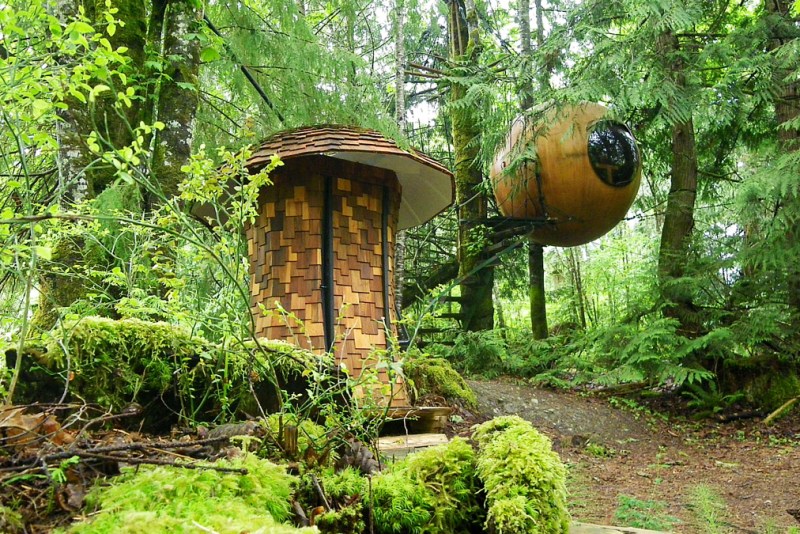 The tiny, three-"room" Free Spirit Spheres "hotel" definitely wins the award for the most unusual treehouse accommodations. These "suspended spherical treehouses" are actually large, wooden spheres each named — in true British Columbia fashion — with crunchy, Earth Mama names: Eryn, Even, and Melody). Instead of standing on a typical scaffolding of wood and steel, the spheres hang like giant pendulums from a network of cables. A stay here is equal parts terrifying and awesome.
Editors' Recommendations