Wilting vegetables, heat lamp steak, and soggy chicken parmesan. Mmm …
For years, resorts have been stigmatized as the last places on earth to find world-class cuisine. But, with a bit of help from the world's most lauded chefs, that perception is changing throughout Mexico and the Caribbean. Here are three of our favorite tropical resort destinations for foodies.
One&Only Palmilla (Los Cabos, Mexico)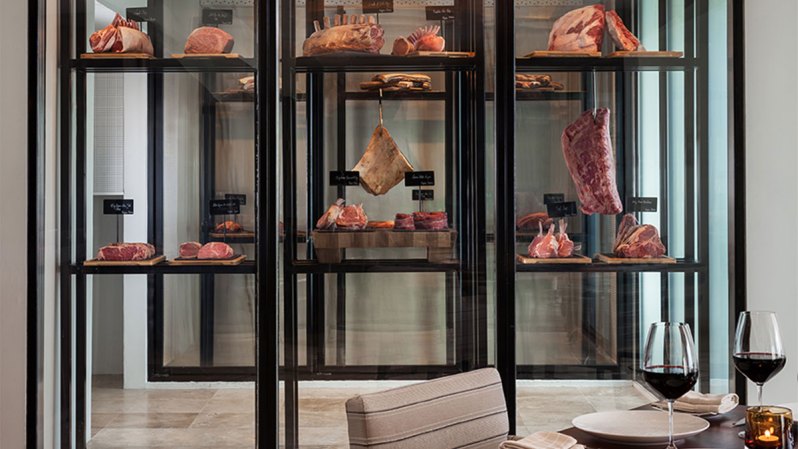 Mexico's Baja Peninsula is well-known as one of the country's most luxurious destinations, and, even among its four- and five-star properties, One&Only Palmilla stands out. From the oceanfront infinity pool, stunning Pelican Beach, and massive rooms, it screams "honeymoon-worthy." So, it's no surprise that the on-site restaurants are also second to none. The brand collaborated with Michelin-starred Chef Jean-Georges Vongerichten to create SEARED by One&Only — a high-end steakhouse serving prime cuts of the world's most sought-after (and expensive) beef including Wagyu A5 and Kobe Tomahawk. For a true taste of Baja, Suviche serves fresh, locally sourced seafood and sushi with a Sake Sommelier to boot. The intimate dining room is awash in dark alabaster and modern, sculpted glass light fixtures — all behind floor-to-ceiling windows with stunning views of the Sea of Cortez.
Related: 4 Stunning Caribbean Islands That You've Never Heard of
Hotel Le Toiny (St. Barts, French West Indies)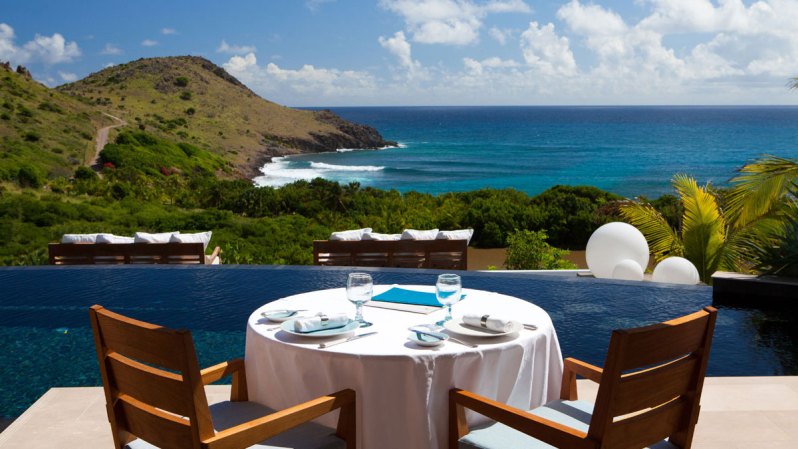 St. Barts may be the Caribbean's most exclusive island and Hotel Le Toiny in Côte Sauvage is no doubt the island's most exclusive resort. The 14 private, ultra-luxury villas set amid 42 acres of stunning landscaping routinely draw vacationing celebrities and foreign dignitaries looking to escape in secret. The aptly named Le Toiny Restaurant offers a crisp, understated, beach chic design with panoramic views of the Caribbean Sea. A champagne lounge and open-air oyster bar offer space for aperitifs before dinner. House specialties include the area's best-known seafood delicacies like yellowfin tuna, sauteed cod, and poached Caribbean lobster. Pricey, gourmet options include homemade caviar blini and organic roasted chicken with black truffle. If money is no object, private, in-villa dining with dedicated waitstaff service is also available. Lunch and dinner hours are limited and reservations are "requested" (read: required).
CuisinArt Golf Resort & Spa (Anguilla, Lesser Antilles)
For such a tiny island, Anguilla is doing its fair share to help reinvent the Caribbean culinary scene. The most popular restaurants serve barbecue dishes that rival Kansas City, Memphis, and any other BBQ-centric city in the South. CuisinArt Golf Resort & Spa is single-handedly pulling a lot of that weight. The sophisticated property houses four gourmet restaurants, including Le Bistro with its varied farm-to-table menu and weekly, authentic Anguillian Lobster Barbecue of whole pig, brisket, fish jerk, andouille sausage, and, of course, grilled lobster. Tokyo Bay offers upscale Japanese cuisine with a focus on sashimi, sushi, omakase, and teppanyaki. What's more: foodies will find intimate rum and wine tastings, professional cooking classes, and tours of the hotel's hydroponic garden (from which many of its herbs and vegetables are sourced).
Editors' Recommendations