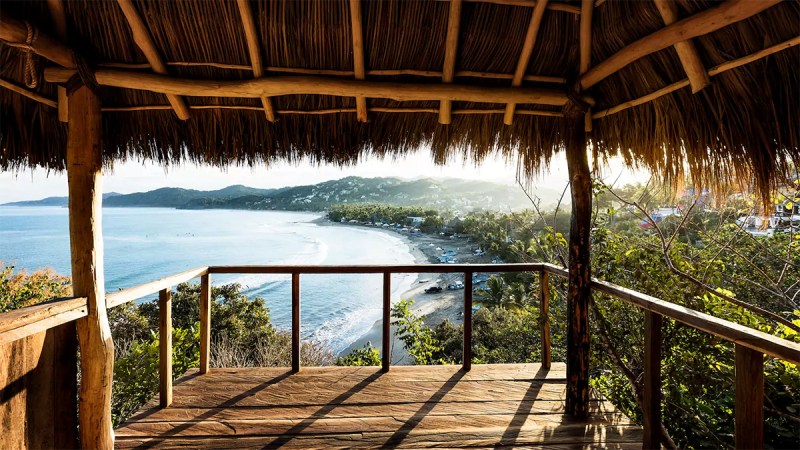 Get wild in Mexico this summer… not in Cancun, Cabo, or Puerto Vallarta, but the small village of Sayulita on Mexico's Pacific coast. Sayulita is backed by the Sierra Madre Occidental mountain and is known as a surfer's paradise.
And when we say wild, we don't mean white t-shirt contests and polished resorts. We mean treehouse Casa-21 ($464 p/night), an Airbnb that sits off the beaten path, perched in the jungle on the end of the beach overlooking the coastline.
No, Casa-21 doesn't have TV. No, it doesn't have AC. Yes, it's built in a private botanical garden, and yes, it will make you forget about the real world waiting for you back home. (We reconsidered returning.)
Built on a steep hillside, it's an adventure just getting to the house. Climb the irregular steps until you're high above the world. The hanging trees that shade Casa-21 lend to its secret treehouse vibe. With four bedrooms, four beds, and room for eight guests, Casa-21 beckons you to invite the whole tribe for a vacation shrouded in nature and design.
The aged aesthetic of Casa-21 is due to the fact that it's one of the oldest homes in Sayulita. But fresh out of a remodel, the grounds combine dark wooden decks with colorful, local-inspired tapestries, modern lighting and bathroom touches, and a perfectly safe to drink from tap.
All the water in the house is softened using an ion-exchange system, carbon filtered, and finally UV sterilized. So by all means, drink the water in Mexico!
With the beach only five-minutes away, go back and forth between the open surf and your shaded terrace hammock. There are plenty of hidden rooms to spend time relaxing in meditation (aka just taking a nap and reading a book), while also providing great social spaces to hold dinner outside under the trees.
The infusion of natural architecture with refined modern tweaks gives this treehouse/beach house a sense of primitive luxury.
So get wet and wild.
Images Courtesy of /Airbnb
Editors' Recommendations