For god's sake, don't get a cheesy beach house in Miami… you'll regret it.
Instead, escape across the globe to the remote Mornington Peninsula region of Victoria, Australia, where this perfect modern beach house sits unbothered by guidos or aggressive seagulls.
Designed by architects Ola Studio of Melbourne, the beach house Martha is the epitome of summer vacation houses, satisfying our need to retreat and float away for a while.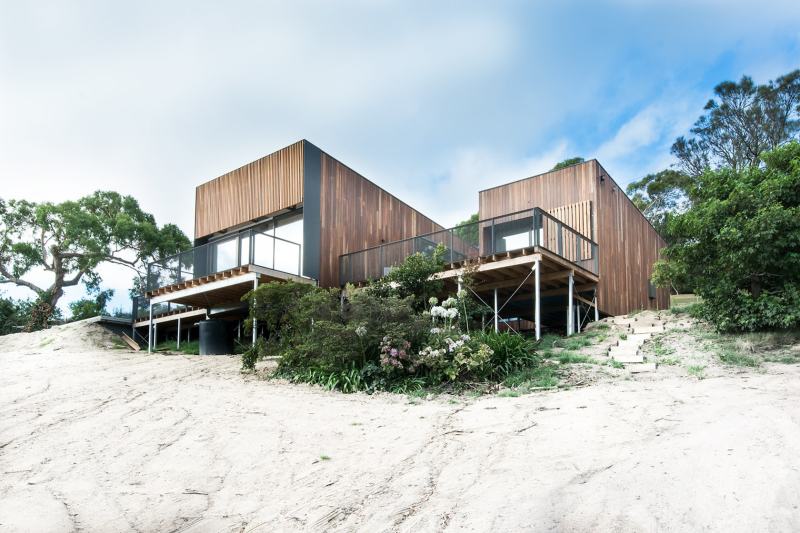 The single story, four-bedroom structure sits literally at the cusp of the water, perched in a calm and quiet nook of the Mornington Peninsula. The majority of visitors to this area are looking to escape to wineries and calm beaches, so there's no need to fear obnoxious frat bros on your only break during the year.
The lack of housing clutter in the area allowed architects to build a horizontally expansive and robust dwelling with jaw-dropping views of the Peninsula. The sensation is one of extreme privacy, yet tremendous openness… which you won't get with the majority of beach houses found in popular summer spots around the world.
Ola Studio built Martha on a sloped site, allowing the structure to blend into its wide landscape. The effect of this is nothing short of the illusion of floating. And this airy design seeps into your pores and gives new meaning to the term vacation. It also helps that the house was built in three zones that separate a parent's area, kids or guest zone, and a living/kitchen space that opens up to the coastal views. This blending of intimate and social is spot freakin' on.
And while the beach house is light, it was built strong enough to withstand the effects of its natural coastal surrounding.
Taking into account the extreme weather conditions that can hit this local, Ola Studio concealed Martha's windows behind operable timber shutters and various screens to give the retreat all-season usability. One detail we love: when the shutters are open they can be manipulated into various framed views, letting the sunshine pour into the space from a multitude of perspectives.
We're also drooling over the use of natural Australian timber hardwood for the external cladding and the way the sand literally meets you at the back door.
Last but not least… what's a beach house without a pool?
Editors' Recommendations