A low maintenance house with high design.
On the outskirts of Tepoztlán, MA House, a modern-day fortress built of stone, brings new meaning to the term weekend retreat.
Some 35 miles south of Mexico City, the open floorplan of MA House— including a floating stone staircase and no dividing walls separating the upstairs hovering floor—plays with the concept of a living structure that blends in to its environment.
In fact, the architecture obliterates any traditional use of floors or boundaries. The entire house encapsulates three volumes connected by outdoor patios, partially sheltered, and each "wing" appears as one of three linked triangle pavilions. The center point is one patio— intentionally placed at the eye of the construction to be a gathering point.
Overall, Ma House is nothing short of geometrical entrapment… and we're more than willing to be drawn in.
It's dipped and slanting ceilings mimic the peaks and plunges of its surrounding mountains while walls of glass open the rooms to natural light and double as sliding doors to let in the fresh air. The non-designated front, looking out from the main living room, is pure views. It's like you're looking out over Jurassic Park.
And it's quite a view. See, the beauty of Tepoztlán is its perfectly temperate sunny days – a staple the small picturesque village of pre-Hispanic origins is famous for. No, this is not the blazing weather you'll find in Cabo or Cancun. (Raise your hand if these are your only experiences you've had south of the border.) Tepoztlán experiences intense rain during its monsoon season from roughly July through September, and although many travelers would avoid a vacation during deluge, Ma House allures us (the real explorers) through rain or shine.
It's sleek yet earthy and texturized interior is a match for all weather, and provokes a new-age caveman mentality. The evocation is visceral, yet soft. Open and exposed, yet protected.
Ma House is the result of Cadaval & Sola Morales— an architecture and design group with offices in Mexico as well as Spain. The overwhelming element these designers were forced to confront during its design was the surrounding overgrowth of pre-historic-esque surrounding. However, the lush vegetation and untouched mountains proved to be inspirational instead of condensing. Cadaval has built two other "weekend retreats" in the same area, using the same materials of stone and concrete.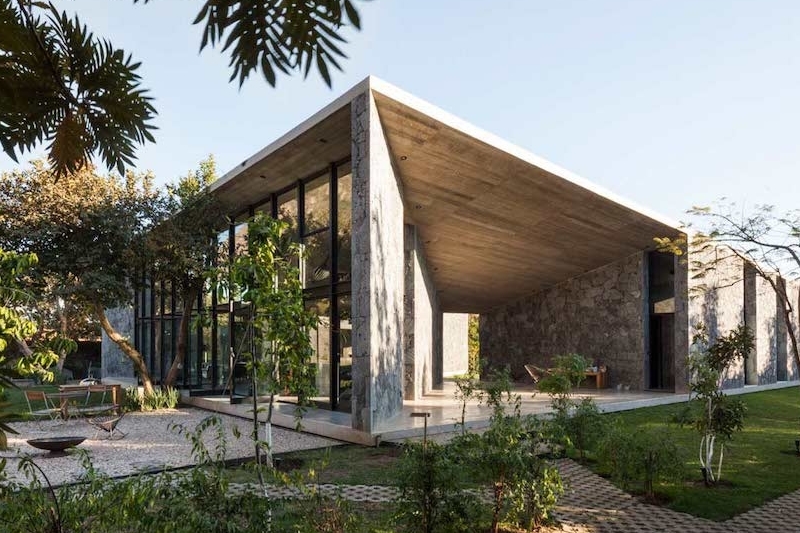 And why stone? (This part is really cool). It's hard, traditionally uncomfortable, and low maintenance. Amen to a low-maintenance house!
"The decision doesn't respond necessarily to aesthetic reasons but more to its common existence in the place, its little need for maintenance, and its low cost for built square meter," says the designers at Cadaval & Sola Morales. "Such premises are taken as a project challenge in a structural, typological and aesthetic way.
And yet, the stone utterly gives the house its edge.
The house was completed in 2016, but it's just now breaking through to the outside world.
If you raised your hand earlier to visiting only the tourist hotspots of Mexico, do yourself a favor and devolve for the better with a trip to MA House.
Photos courtesy Sandra Pereznieto
Editors' Recommendations