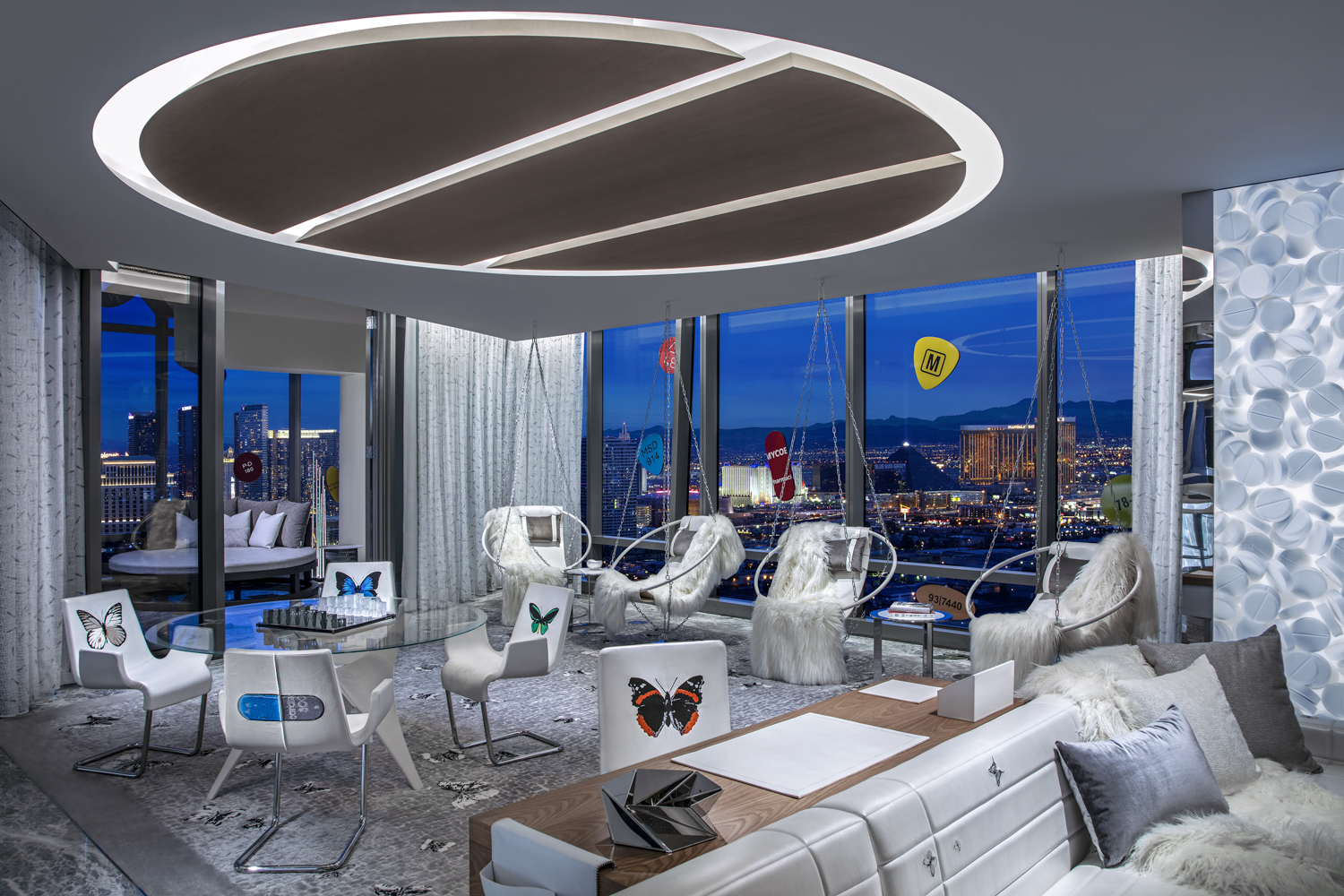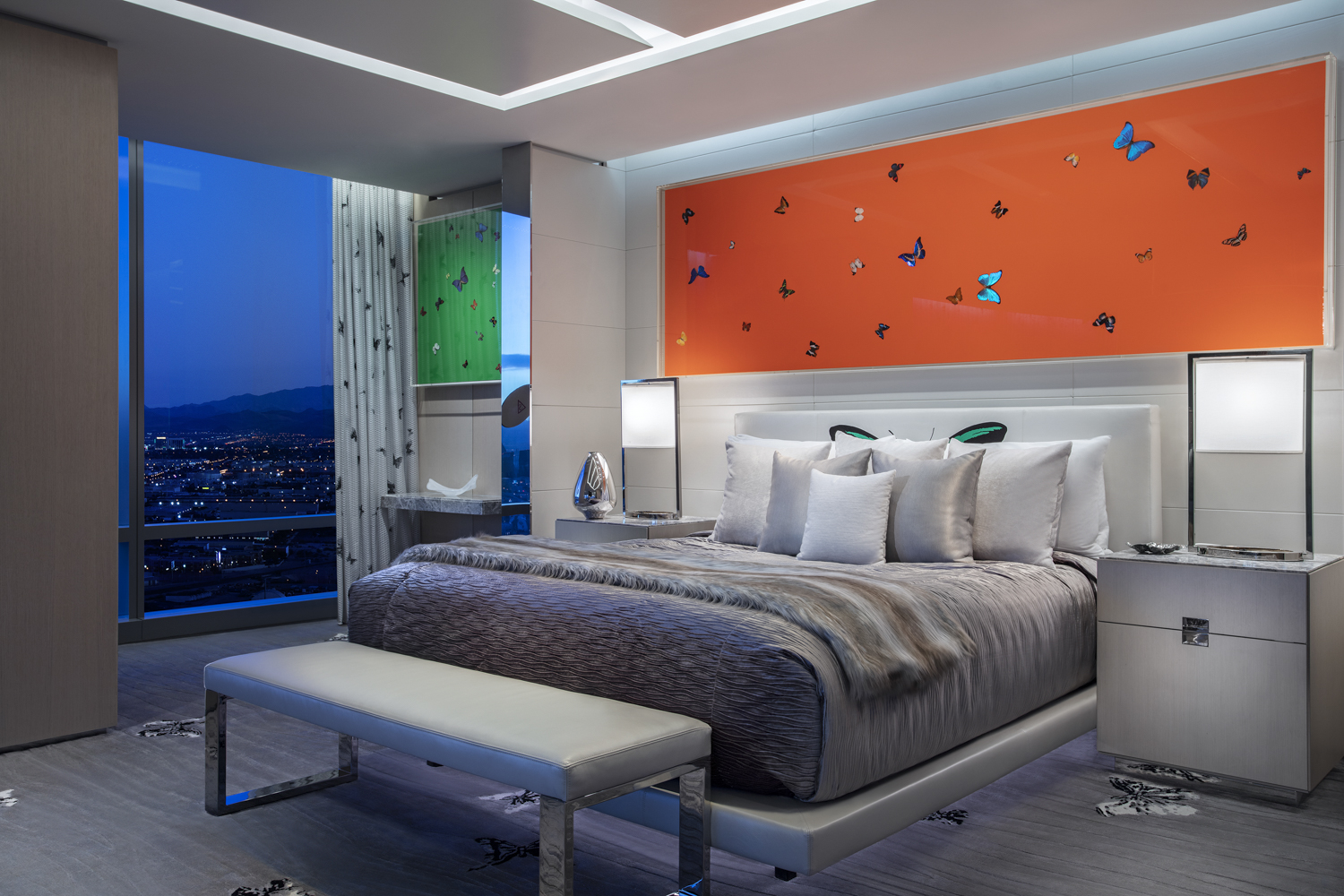 Vegas casinos see a lot of big spenders, but there are high rollers, then there are legit whales. These are the one percent of one-percenters who exist in a stratum where money is literally no object. Such is the clientele for the Palms Casino's all-new Empathy Suite, the most expensive hotel suite in the world.
The ultra-luxe, Damien Hirst-designed suite is a study in sheer excess. It's big, garish, and ridiculously expensive — everything the notoriously sensationalist British artist is known for. His most controversial works have included jewel-encrusted human skulls and vats of formaldehyde stocked with animal carcasses. And the same in-your-face styling influences every aspect of the Empathy Suite's aesthetic, from the carpet to the furniture to the amenities to a private in-room art collection valued in the eight-figure range. Hirst, in collaboration with Bentel & Bentel Architects, had a hand in it all.
The design of the two-story space includes a diamond-lined medicine cabinet, a formaldehyde-filled tank with a pair of shark carcasses (aptly named "Winner/Loser"), and nearly a dozen one-of-a-kind works by the artist on canvas. In a nod to Hirst's famous Medicine Cabinet series, the curved, 13-seat bar at the center of the suite's entertaining space has been intricately filled with medical waste, while two marlin carcasses — one skeletal and one taxidermied — float overhead. Hirst's love of butterflies is represented in bold motifs that cover many of the walls, the artwork, the master bedroom, and even the pool.
You'll find all the requisite luxury amenities you'd expect in a two-story Vegas guestroom of this caliber. There are multiple living, dining, and entertaining spaces, plus a high-end media room. The game room features a custom-designed pool table emblazoned with one of Hirst's famous spin paintings. The piece de resistance, however, is the cantilevered infinity plunge pool that juts out from the suite's living space, offering stunning views of Vegas. To help offset your Sin City shenanigans, Empathy Suite even offers private wellness amenities including its own fitness center, a salt healing den, and two massage rooms. Naturally, guests are treated to additional services like chauffeured car service, on-call butlers, and guaranteed access to the hotel's best A-list entertainment.
Empathy Suite is the latest addition to the Sky Villa collection of luxury suites at Las Vegas' chic Palms Casino Resort. It's all part of the hotel's massive $700 million renovation project that includes six of the most lavish hotel suites in the world complete with insane in-room amenities like a Kingpin-themed bowling alley, a regulation-sized basketball court, and a hidden whiskey room.
The price tag is a cool $100,000 per night with a two-night minimum. That bests the world's former most expensive hotel suite — The Grand Penthouse Suite at NYC's The Mark Hotel — by $25,000 per night. Not to worry though: as long as you're touting a million-dollar line of credit (a safe assumption if you're a reader of The Manual), the Palms Casino will comp your stay.
Of course, if you're a goodie gumdrops who doesn't enjoy gambling, medical-inspired artwork, and sinful excess, the city offers plenty of non-gambling-related activities to enjoy.
Editors' Recommendations