There's a reason they call it Sin City and the saying goes, "what happens in Vegas, stays in Vegas." Whether you're there with your boys for a raucous bachelor party or going away for a romantic weekend with your lady, there's plenty to do in Las Vegas — from a wide range of fine dining to an insane array of shows, there's something that you're sure to have a blast doing. While gambling is still a thing, Vegas has spent some of that money on cool cultural attractions and even a few places foodies will be pumped about. Here's our guide to Las Vegas travel.
PLAY
With it's deep history with gangs and the Mafia, there is no better place for such a cultural institute to reside. Naturally this new museum is based in a former federal courthouse and inside you can find all sorts of ephemera from real weapons used by thugs to a piece of the bullet-ridden wall from the St. Valentine's Day Massacre. There are also a plethora of interactive exhibits and even a replica electric chair.
The Big Shot at the Stratosphere

If gambling isn't enough of an adrenaline rush for you, head to the Stratosphere, where you can get on some of the world's highest rides. Hop on the Big Shot and strap on your safety belt and get ready to be shot 160 feet in the air at a whopping 45 miles per hour while looking down on the city lights. That's 1,049 feet above the ground. If that's not an adrenaline rush to you, then you've got to be nuts.
If you want to get away from the constant ringing of slot machines, head out on a hike. Not many people think of Vegas as an outdoor getaway but the Calico Basin Trail is right outside the city. We discovered a bunch of other here.
With the Grand Canyon nearby, what better way to experience the great American West than by helicopter. You can choose from a breathtaking sunset tour or do it up with picnic, boat ride and champagne additions.
The Olympic Garden

You can't visit Vegas without the requisite strip club visit, so head to OG, which to our chagrin stands for Olympic Garden, not Original Gangster. Pick the girl of your choice and let her work some of that Vegas hospitality on you. And remember, what happens in Vegas, stays in Vegas.

SHOP
Frankly, most of the shopping is what you can find at your typical luxury mall: Tiffanys, Gucci, Cartier, Moncler. But it's always fun to go poke around and ogle the price tags! You can also ogle some seriously impressive architecture at The Shops at Crystals (wouldn't it be more Vegas to be at Krystal's?) designed by Studio Daniel Libeskind.
EAT & DRINK
Skip the hotel buffet and head on down to Chef Natalie Young's perpetually popular EAT. Located on the ground floor of a broken down old apartment building (which is, admittedly, refreshing after all the sparkle of the strip!). Her chicken fried steak or truffled egg sandwich will hit the spot, hangover or not.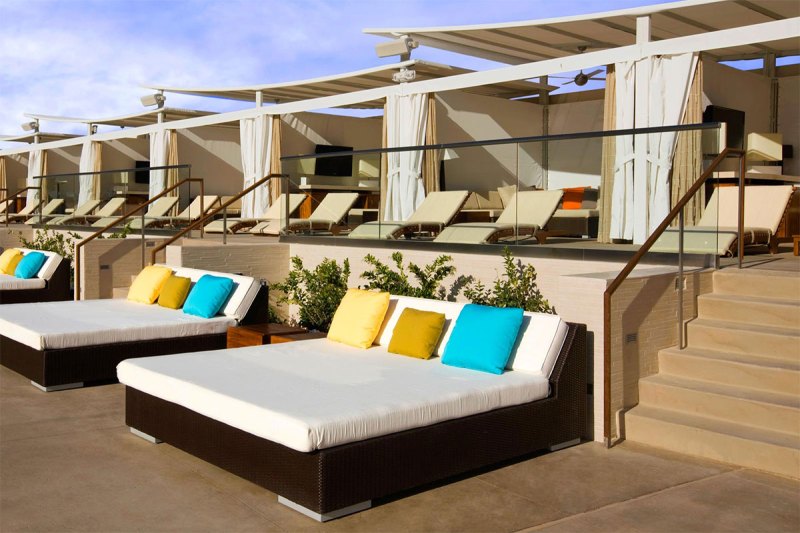 Cabana culture is a big deal here. Yeah, it can be around $150 to rent one, but it's your all day oasis. We are fans of The Palms for their good music, people gazing and food. Hello, 18 flavors of hot wings…
Tired of martinis? Vegas has their very own brewery in the arts district. Pony up to the bar for a thirst quenching IPA or a seasonal brew. What better place to be in that desert heat?
Talk about retro Vegas, this bamboo clad bar is open 24 hours and serves brilliantly names concoctions like Tonga Reefer and the, um, Bearded Clam
Dino's Lounge

For those of you who are more into dive bars than megaclubs, Dino's is the place to be at. This Vegas institution has been the source of a good time for 50 years and it doesn't get better than Saturday nights, when the bar hosts the city's best live karaoke night. So go ahead and get on the stage and pretend you're a rock star!
Related: Creed opens in Vegas
SLEEP
While most hotels are pretty pricey, very loud, and full of flash, you may want to check out the airbnb options too if you would rather spend your cash on tiki cocktails and slots.
ARIA Resort & Casino

At just under four years old, the Aria — which is a part of the sprawling collection of shops, restaurants, hotels and more that make up CityCenter — is one of Las Vegas's nicest hotels. For an extra luxurious experience, opt for one of the Aria Sky Suites, where you'll get the best in service and an extra large room with floor to ceiling panoramic views of Vegas' lights.
Editors' Recommendations