Treehouses, minimalist hotels, manmade island "parks" — Scandinavia has a lock on the sleekest, ultra-modern spaces designed solely for relaxation. When such a design is situated on a stunning island inside the Arctic Circle, it would seem like the perfect recipe for a one-of-a-kind getaway. Such is the case with Arctic Hideaway.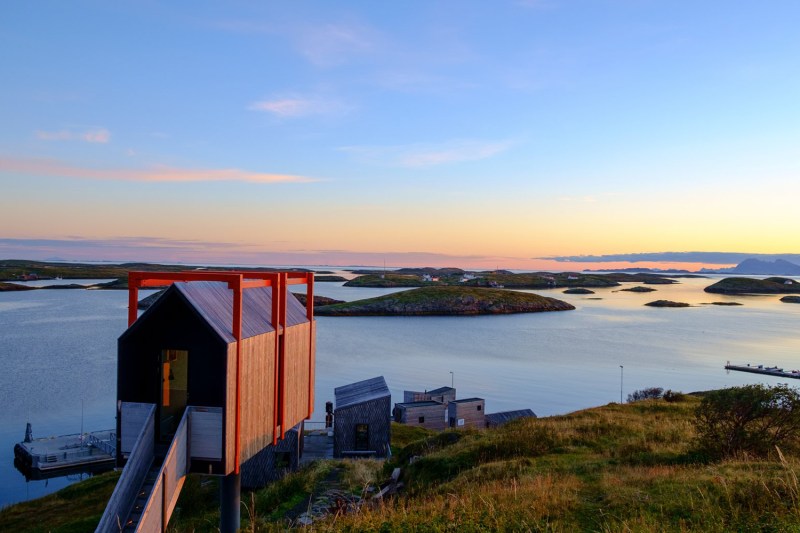 Perched on the tiny island of Fleinvær in remote northern Norway is Fordypningsrommet Fleinvær. Arctic Hideaway, as it's more commonly known (and easier to pronounce), is a series of tiny-home-style buildings that collectively work as a compound. Each of the 10 buildings serves a singular purpose, whether it's cooking, sleeping, or relaxing. All feature the hallmarks of minimalist-meets-industrial Scandinavian design — clean lines inside and out, exposed steel support beams, and large floor-to-ceiling picture windows designed to bring the outside in.
The property is designed to be shared by a group with a maximum of 15 guests. Five of the buildings house sleeping quarters, one is the kitchen and dining area, another includes the only shower and bath, and then there's a relaxation and "chill-out" studio. In true Scandinavian fashion, there's even a dedicated sauna building.
The pièce de résistance is the "Tower House," a tall, stilted structure with massive windows overlooking the rugged, pristine landscape of the Lofoten Islands to the right and the horizon to the left.
The island's location was a deciding factor for co-owner Håvard Lund to develop the site as a vacation home and creative getaway in 2004. The composer and jazz musician initially wanted the place all to himself as a base to work on his craft. However, its stunning beauty eventually encouraged him to share it with others as a full-fledged rental retreat.
Arctic Hideaway is a place for digital detoxing if ever there was one. There are no shops, cars, people, or any real noise on the island at all. It's serene and surreal. Visitors arrive via an hour-long ride from Bodø, the so-called gateway to Norway's true north. Food and other essentials are pre-arranged for guests so that, after their arrival, they needn't do or think about anything.
As to the price, the short answer is: it depends. The owners request would-be guests email them and explain what it is they hope to get from a stay at Arctic Hideaway. It seems vacationers are likely to pay one price while starving artists or musicians looking for a creative retreat might be charged another. In collaboration with Norway's Nordland county council's culture department, the island hosts several artist-in-residence programs each year. Maybe it's high time you get the band back together, pack up your lute, and plan for a week-long rehearsal session in the Arctic.
Editors' Recommendations