Few things will break you out of your comfort zone like solo travel to some far-flung country that you can hardly pronounce. Traveling by yourself can prove eye-opening, even life-changing, but it can also be challenging to plan and downright terrifying, especially if it's something you've never experienced before. Flash Pack is hoping to change all that by bringing affordable, authentic, and convenient group-travel style to solo travelers.
Flash Pack coordinates group travel for folks who aren't typically down with group travel. The company is aimed at travelers who have outgrown the traditional youth backpacker style of travel where every night is spent shacking up in hostels with dreadlocked 20-somethings playing the bongos. However, these same travelers don't want to spend their time traveling with retirees for whom a "wild night" is having two glasses of wine before heading to bed at 8:30 p.m. Flash Pack's clientele (who they dub "Flashpackers") falls somewhere in between.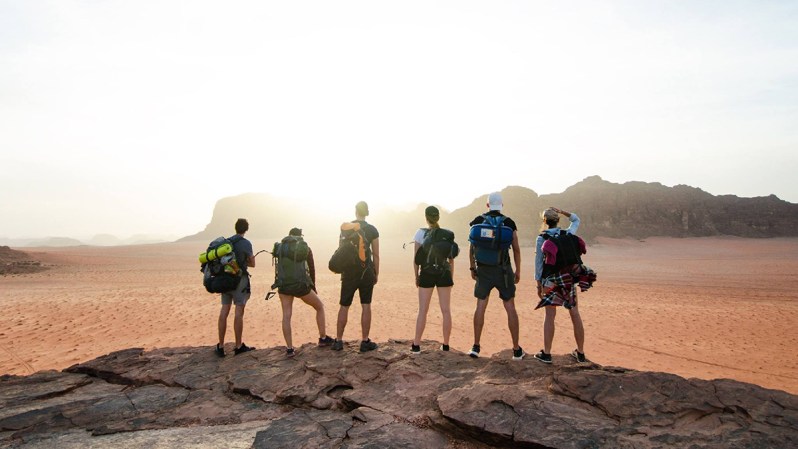 The company's catalog is full of tailor-made adventure tours ideal for professionals in their mid-30s to 40s looking for the freedom and adventure of traveling alone but without the hassle of spending two months planning that same trip. For those on a time-crunch (read most Americans), Flash Pack offers plenty of trips designed to be tackled in a long weekend. Think: a whirlwind tour of the Laurentian Mountains in Quebec or a four-day drive through the Spanish countryside on a Vespa.
There are also plenty of iconic, bucket-list-worthy journeys like visiting the Great Pyramids and ancient treasures in Egypt, voyaging through Vietnam (with a kayak of Halong Bay), trekking Peru (including Lima's nightlife and hiking Machu Picchu), and hiking through Jordan (including visits to the country's famed red deserts, exploring the ancient city of Petra, and a swim in the Dead Sea).
Dig a little deeper and the opportunities get much more interesting. The Explore the Wild Frontiers of Oman tour, for example, takes travelers on a seven-day journey of one of the world's most uncommon travel destinations. The tour includes waterfall jumps at a hidden grotto, trekking the desert at Wahiba Sands on a self-guided GPS hike, and sleeping under the stars at a legit Bedouin camp. Likewise, the two-week Sensory Journey of Japan gets well off the beaten path with excursions like legit ninja lessons, a street food safari in Osaka, and a visit to Tokyo's Whisky Library.
The company's tours might seem a bit steep (north of $2,000 for a four-day tour of Spain, for example), but virtually everything from accommodations to activities to meals is included. Book your own non–solo–solo adventure tour at FlashPack.com.
Editors' Recommendations