Havana has been largely immune to the crush of branded, cookie-cutter hotel chains (mostly due to the American travel and trade embargo–hey, silver lining!). Throw a stone in any direction from the center of Old Havana, and you're likely to hit a legit boutique hotel or casa particular (private homestay). But, if you must choose, here are three of our favorites.
Hotel Ambos Mundos
Situated in the heart of Old Havana, Hotel Ambos Mundos is an iconic example of what most visitors to Cuba envision a Havana hotel should look like. The property opened its doors in the early 20th century and still maintains much of its original hundred-year-old architecture. The beautiful Spanish Colonial facade and lobby decor remain, along with the original Otis cage elevator (complete with operator and which is still in working order today). But, the biggest draw is the hotel's inextricable link to Ernest Hemingway. The author famously lived and worked for seven years in room 511 where he began his work on For Whom the Bell Tolls. The space is now a one-room museum where many of his belongings and memorabilia remain much as he left them. It's one of Old Havana's most charming, romantic hotels, even for non-guests who can enjoy a Cuban cigar and a strong coffee while listening to piano music from the lobby lounge waft onto Calle Obispo.
Hotel Raquel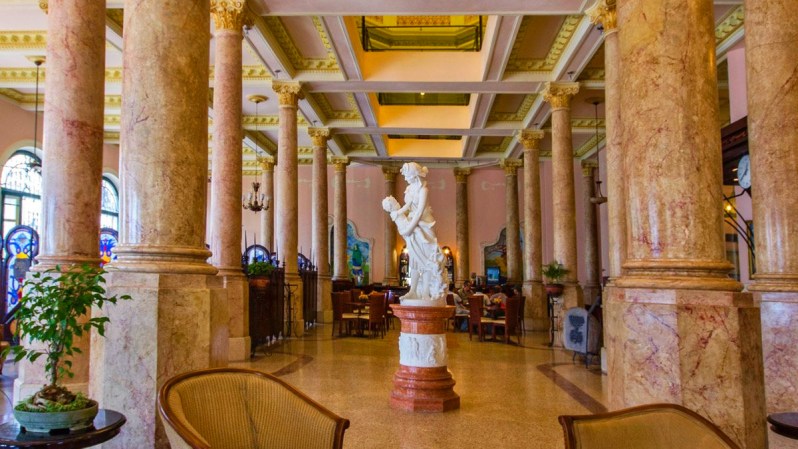 To walk through its lobby today, it's hard to imagine that Hotel Raquel began life as a textile warehouse in 1908. Much of the original baroque architecture and decor — including beautiful stained glasswork, towering marble columns, and intricately carved cathedral ceilings — remains. Bible-themed artwork by contemporary Cuban artists pays homage to the city's unique Jewish history (indeed, the on-site restaurant serves authentic Jewish cuisine). The rooms are relatively basic but charming — even luxurious by most Cuban standards. Don't miss the rooftop terrace which offers stunning, panoramic views of Old Havana.
Hotel Santa Isabel
One of the oldest hotels in Cuba overlooking the oldest, most beautiful plaza in Havana — such are the claims to fame of Hotel Santa Isabel. The hotel was established in 1867, although its history dates back to the 17th century. Since then, the hotel has served as the home of the Counts of Santovenia and many of Cuba's most regal notables. Jimmy Carter stayed here during his highly publicized 2002 visit. Much of its centuries-old architecture remains, including arched stone columns, crystal chandeliers, and beautiful polished wood furnishings. Although it's just steps from Calle Obispo and Plaza de Armas, the central courtyard feels miles from anywhere. The tiny adjacent bar serves a mean mojito and houses a selection of fine Cuban cigars. A wide terrace outside the on-site Restaurante El Condado offers alfresco dining and is an ideal spot to people-watch along the plaza.
Editors' Recommendations