Can we all agree that everything is better fried? Right? Right. Well, if the occasional basket of happy hour hot wings just isn't satisfying your craving for fried, it's time to invest in some destination snacking. There's no better place to travel for deep-fried fare than the state fairs of the U.S. South and Midwest. Thankfully, we're on the heels of annual state fair season and some of the best in the country just around the corner.
Wisconsin State Fair
August 2-12, 2018
There are three food groups in Wisconsin: meat, deep-fried, and cheese. Only the most divine snacks fall into more than one of those groups. The Wisconsin State Fair celebrates them all. You'll find chicken in a waffle on a stick, chocolate-covered gouda on a stick, and football-sized gyro rolls. What the fair lacks in quantity (it's arguably the smallest on this list), it more than makes up for with "exotic" foods. Adventurous eaters can savor things like alligator legs, kangaroo teriyaki, rocky mountain oysters (that's bull balls, by the way), and plenty of fried insects. The cricket and earthworm jerky from All Things Jerky makes a nice appetizer.
Iowa State Fair
August 9-19, 2018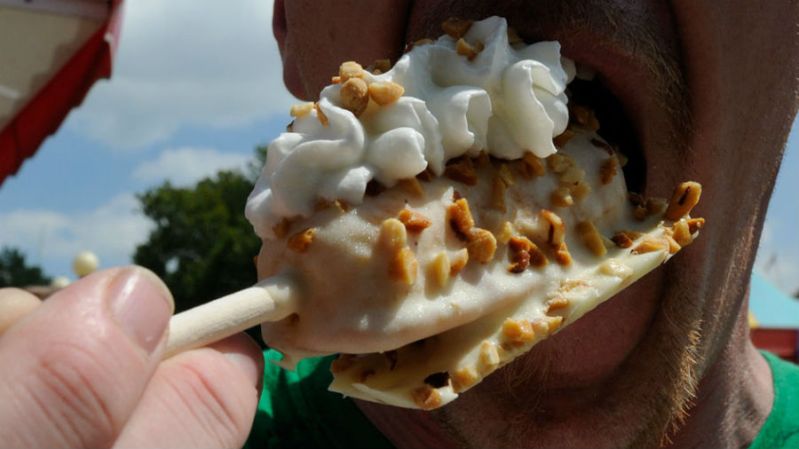 The Iowa State Fair is the country's oldest (since 1854!), busiest (with more than one million attendees annually), and most impressive fairs of its kind in the country. Here, you'll find an inordinate amount of livestock competitions and more than 200 food vendors. The big get, however, is food on a stick. Seriously, if there's a way to stick-ify an unhealthy snack, you'll find someone doing it here. The fair is so well-known for it, in fact, that they publish a page dedicated to all the "on-a-stick" treats you can sample this year. You'll find all the staples like apple pie, corn dogs, and pork chops — all on sticks. But, why not broaden your horizons (and your waistline) by going all-in with unicorn lollipops, ultimate brisket bacon bombs, and the always popular Chocolate Covered Chunky Bacon Maple Nougat On-a-stick? You only live once, and your cardiologist's kids certainly aren't going to put themselves through college.
Minnesota State Fair
August 23-September 3, 2018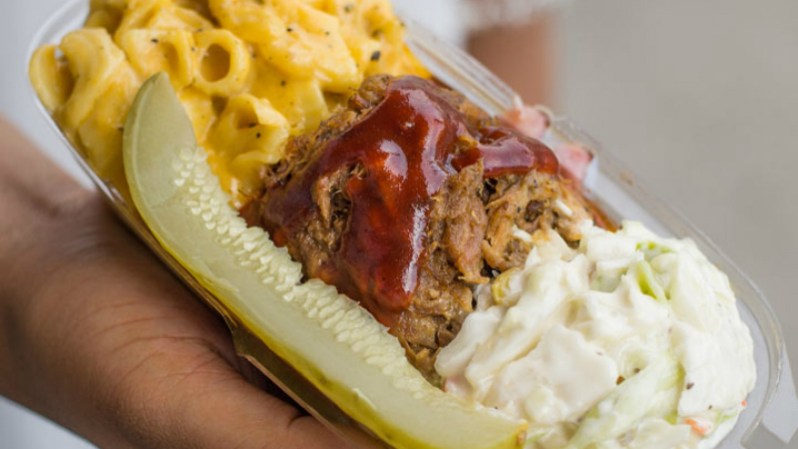 Minnesota is no slouch when it comes to overconsumption (see also: The Mall of America). The annual Minnesota State Fair pulls a close silver medal to Texas' outlandish annual event (more on that in a sec). You'll find plenty of carnival rides with questionable safety records and a dizzying array of free live music — more than 1,000 entertainers throughout the 12-night event to be exact. They even got The Beach Boys! But the real pièce de résistance is the food. The endless selection of heart-stopping, artery-clogging, impossible-to-resist fried food. Sure, some of it — like the gluten-free vegan Earth Wings and shrimp ceviche — provides the illusion of "healthy options." But who the hell isn't ordering the Irish Tater Kegs, the three-meat Swedish Meatball Smörgås (whatever they are), and a Turducken Sausage Sandwich?
State Fair of Texas
September 28-October 21, 2018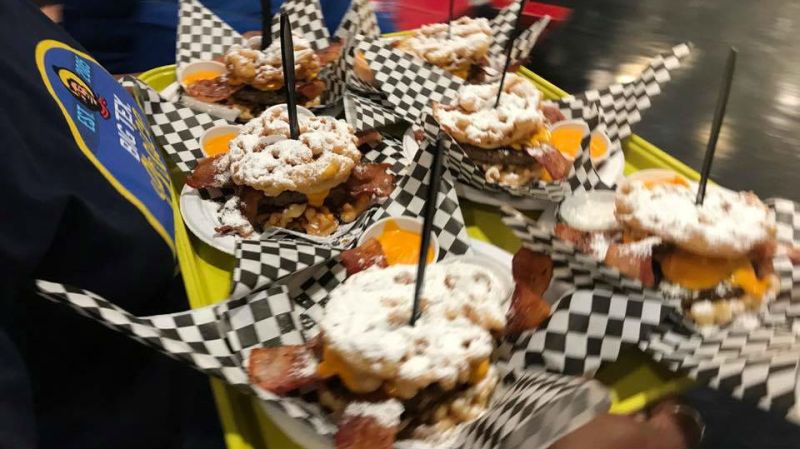 Because (almost) literally everything is bigger in Texas, it's no surprise the state is home to the biggest, most outlandish, and frankly most absurd state fair in the country. The aptly named State Fair of Texas is an annual event that sets the bar for gluttony. There's a giant, 55-foot-tall talking cowboy mascot, the country's tallest Ferris Wheel (an almost terrifying 212 feet), and rows upon rows of food vendors who've never met something they didn't want to stick in a deep fryer. You'll find fried Fruit Loops, fried bubblegum, fried peanut butter banana cheeseburgers — even fried beer.
God bless America.
Editors' Recommendations