This piece is part of The Manual Awards 2018, an annual series of awards given to the best restaurants, bars, local brands, shops, outdoor experiences, barbershops, and coffee shops across the United States. From Milwaukee to Minneapolis, from Houston to Boston, The Manual Awards are an opportunity to shine a spotlight on all of America's up-and-coming establishments, wherever (and whatever) they may be.
Located along the western shore of Lake Michigan just 90 minutes north of Chicago by train, Milwaukee is the welcoming gate to the country's Upper Midwest. With a love of hockey, beer (it's still home to Miller), cheese, and outdoor activities, Milwaukee scores big for being a friendly, down-to-earth yet up-and-coming small city. However, if you think Milwaukee's small size is a drawback when it comes to art, culture, food, and entertainment, you'd be dead wrong.
The Milwaukee Art Museum was designed by architect Santiago Calatrava (best known for the Oculus at the World Trade Center) and features mechanical wings that open up to a 217 feet during the day, shading the central atrium and acting as a huge public work of art itself. Along with the high-brow cultural offerings, Milwaukee is also home to famed motorcycle manufacturer, Harley-Davidson, and its accompanying museum, as well as the architecturally significant Pabst Mansion. The city prides itself on being the main stage for multiple festivals throughout the year, including German Fest, Polish Fest, Irish Fest, Pride, and the Stihl Timbersports Lumberjack competition. So, if you think Milwaukee, Wisconsin, is just a sleepy Midwestern city, you're right about the sleep part — it's a sleeper hit just waiting to burst onto the national scene. Don't believe us? Here's proof that The Beer City is better than ever.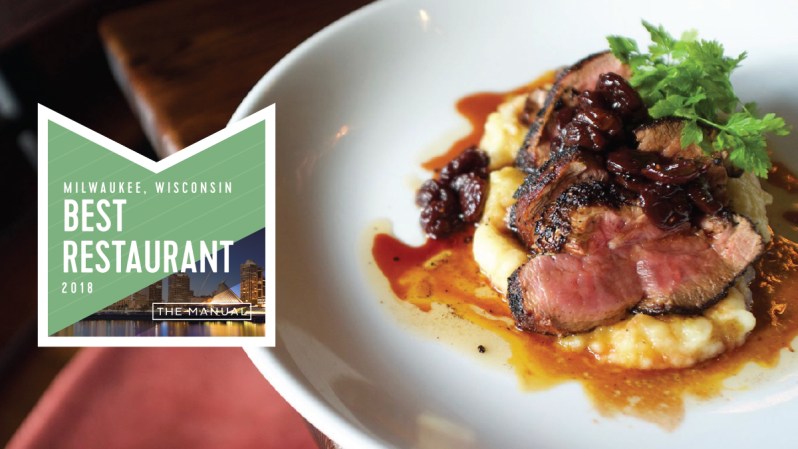 When your restaurant is based in one of the world's best farming areas, you're going to use fresh, seasonal ingredients, and you're going to change your menu often to accommodate that. So it goes at Crazy Water, a bustling little bistro in the heart of the Walker's Point Neighborhood. From succulent squid ink pasta starters and bone marrow brulee to Hungarian-braised Strauss lamb shank, Crazy Water serves up New American food with a light fusion twist. We recommend the Niman Ranch Hangar steak rubbed down with coffee-spice and served with a smoky tomato and chili relish and chayote squash — a unique combination that verges of Wisconsin's version of Tex-Mex. And if none of that was convincing enough, chef/owner Peggy Magister was a James Beard semi-finalist for Best Chef Midwest in 2010, so you know she's got chops.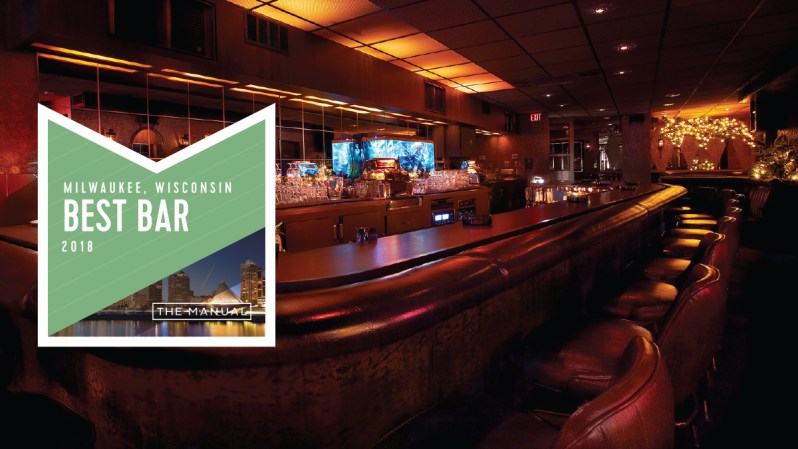 Opened way back in 1938 and still going strong, Bryant's Cocktail Lounge is the cocktail lounge in Milwaukee. With old-school Madman-type design vibes featuring velvet wall-coverings, rounded-leather banquette seating, and a distinctly Mid-Century Modern bar, Bryant's offers a reprieve from the typical sports or drinking-to-get-drunk bars. They advertise themselves as a lounge, meaning you have to be seated by a hostess if you want to order a drink. Be forewarned, though — this place is popular, and the occasional wait times can be lengthy. For small parties, though, the delay is usually about 10 minutes. Thanks to Bryant's particularly attentive and congenial service, you'll be glad you did. Note: Bryant's does not have a bar menu because, as the lounge notes on its website: "Our expert bartenders and servers will help you find a cocktail that you will love." So, go in with an open mind and prepare to be wowed.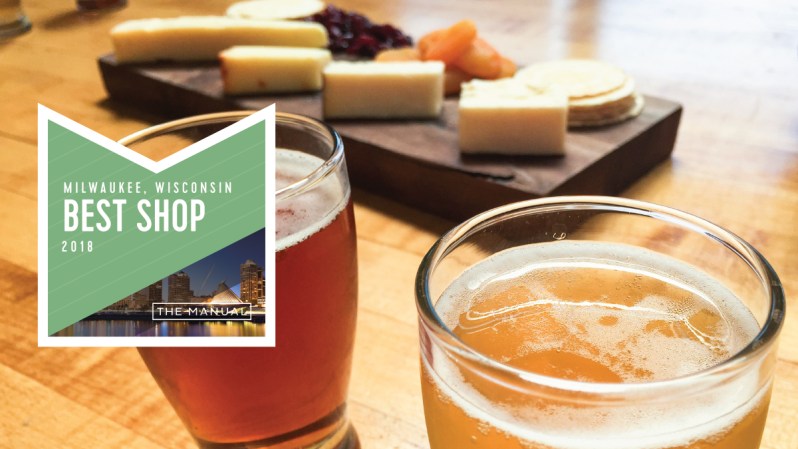 Wisconsin is famous for its cheese, and rightfully so. The state's farmers tend to treat their cows well and the green grass of the Upper Midwest lends a certain sweetness to the milk and cream those happy cows produce. The best place to learn this for yourself? None other than the Wisconsin Cheese Mart, which has also been around since 1938. Not only can you marvel at the hundreds of varieties and brands of Wisconsin-made cheeses, but you can also treat yourself to a Wisconsin-brewed beer and cheese pairing in the Mart's Über Tap Room. If you really want to go full-blown Wisconsonite, you've got to get a bag of cheese curds. And remember: the best curds squeak when you bite into them!
Runner Up – Milworks
We couldn't get away from Milwaukee without at least directing some attention to Milworks, a fantastic men's shop selling many of our favorite brands, including Faherty, Filson, Bellroy, and Juniper Ridge. Milworks is the one-stop shop for Milwaukee's guys in-the-know.
When first entering Stone Creek Coffee at Radio Milwaukee downtown, you'd be forgiven for thinking this a one-off, small coffee shop. The attention to detail, the quality of ingredients, the decor, atmosphere, and aroma of the place all point to a single-business run with aplomb. But that's not the case with Stone Creek Coffee. This is a company with over 10 locations across the state, and those multiple outpost and concomitant popularity belie its farm-to-cup ethos. Stone Creek works directly with coffee farmers at the source to ensure fair trade, fair working conditions, and total transparency. Beyond making a responsible and damned good cup of coffee, Stone Creek also offers up classes on home brewing and espresso, as well as brewing guides and scientific case studies surrounding the subject of coffee agriculture.
Wisconsin (and Milwaukee by extension) owes its killer cheeses to successive waves of cheese-making immigrants, beginning in the 19th century with Germans and Scandinavians, and followed by the Swiss, Italians, French, and Dutch. Today, 35,000 dairy farms sell milk from nearly 2 millions cows, with nearly 75 percent of that devoted solely to cheese. Clock Shadow Creamery is an urban cheese factory located in the heart of the city in the Walker's Point neighborhood. Founded in 2012 by seasoned cheese-makers, the Creamery hosts tours where you can see their famous cheese curds being made, as well as a cheese shop for all you fromage fiends out there. What's even better, they'll ship you one their cheese baskets to anywhere in the U.S.
Runner Up: Harley-Davidson
You don't create a century-old motorcycle brand out of a shed without at least getting an honorable mention from us, and you can't visit Milwaukee without a trip to the Harley-Davidson Musuem. For more information and a better overall idea of the facilities, take a look at a visit we made in summer 2017.
Milwaukee is a beer town, make no bones about it. As the former home to Schlitz, Blatz, and Pabst, and current home to Miller and about a thousand small breweries, beer runs in the veins of many Milwaukeeans. A couple of those guys who have beer for blood started Lakefront Brewery in 1987. Ever since, they have been bottling brews year-round with seasonal and limited releases peppered throughout. We're partial to the crisp and refreshing Lakefront Pils after arriving at the brewery and Beer Hall via kayak. The Beer Hall, located in a refurbished factory building that's more akin to a cathedral than a production floor, offers food that pairs stunningly well with all the beers. We recommend the Brat and Bite (think bratwurst and pretzel bites) and the Beer Cheese Fondue. And, for a little education with your drinkin', Lakefront Brewery also offers the highest-energy and funniest brewery tour we've ever been on. Cheers!
What we like most about Stag Barbershop is its simplicity — no fancy bar, no hair dying, no eyebrow waxing, no manicures, and no pedicures. There are only a few options at Stag, including a haircut for $35, a shave for $30, a haircut and shave combo for $60, a straight-up head-shave for $30, and a shoe shine for $12. Sweet, simple, and to the point. The interior is relaxing with leather waiting chairs, reclining barber thrones to make your straight-razor shave more comfortable, and, of course, a taxidermied stag up on the wall. To add to the barber shop fauna, Stag also features an actual stuffed bear. And anyplace with one of those is automatically a winner in our book.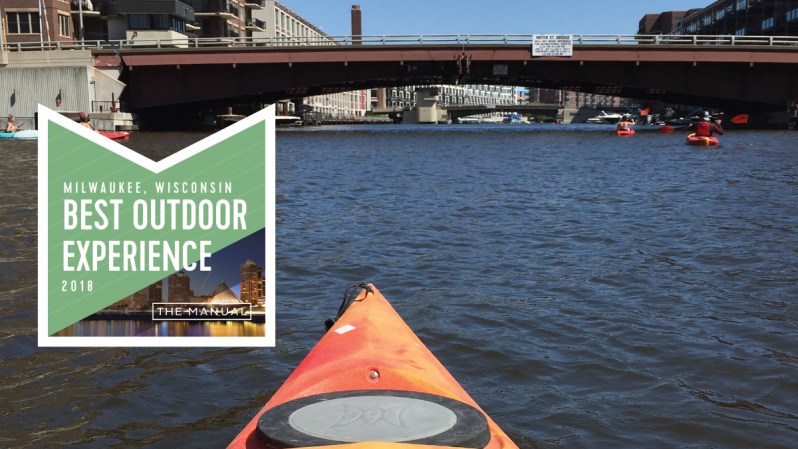 Milwaukee is a water city. Not only is located right on the Great Lakes, but three rivers (the Milwaukee, the Menomonee, and the Kinniickinnic) wind their way through downtown before dumping their contents into Lake Michigan. With all that water along Milwaukee's river walks and behind old factory buildings-turned-apartments, it's no wonder that there are multiple kayak and canoe companies within the city. But the best is Milwaukee Kayak Company. With reasonable rates and options for single and tandem kayakers and canoers ( and SUP, if that's your thing), MKC provides the chance to ply the waters of Wisconsin. With very little river traffic coming from boats, kayaking the Milwaukee or Monomonee rivers is a peaceful (but active!) way of exploring the city from a perspective most people don't bother to try.