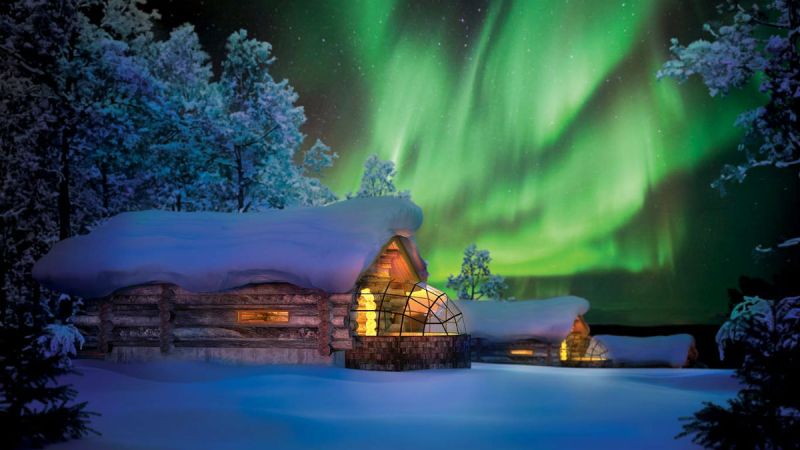 Europe's history, architecture, and romantic charm make it the perfect holiday vacation destination. From 100-year-old markets to glass "igloo" hotel rooms with views of the Northern Lights, here are eight of the best places in Europe to spend Christmas.
Visit the Christkindlesmarkt in Nuremberg, Germany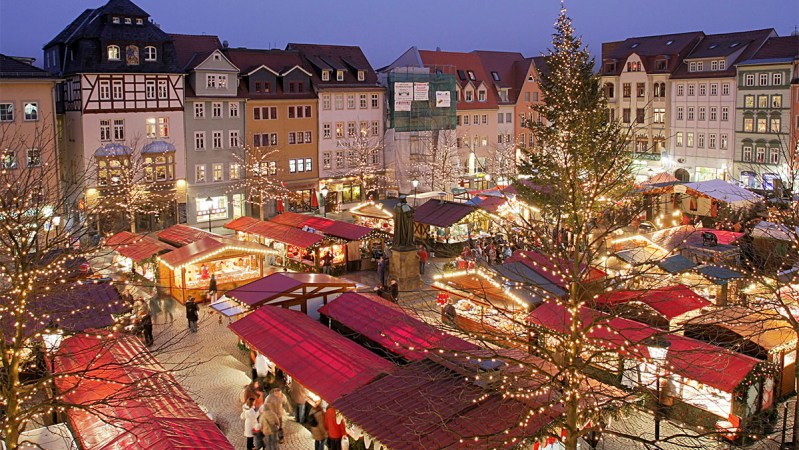 Even if Christmas markets aren't your thing, Germany's Christkindlesmarkt is well worth a visit. As one of the world's oldest and now most famous holiday markets, it draws more than two million visitors every year. The Christkind (Christ Child) — a beautiful, young, blond woman adorned with angel wings and a golden dress — kicks off the event each year with a theatrical holiday speech. Germany may not be well-known for haute cuisine, but its best holiday edibles — gluwein (mulled red wine), local bratwurst, and lebkuchen (a traditional Christmas dessert similar to gingerbread) — are all worth a try.
Explore an Actual Winter Wonderland in Lapland, Finland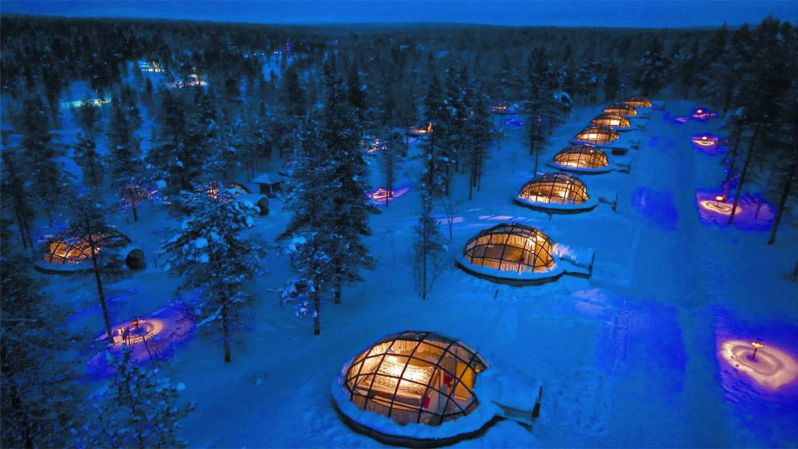 "Winter wonderland" is an overused bit of hyperbole among tourism boards. However, every winter, that's exactly what northern Finland becomes. Travelers willing to brave the country's notoriously frigid temperatures will find truly unique outdoor opportunities in Urho Kekkonen National Park. Less than two hours from Helsinki by plane, the massive, protected area offers cross-country skiing, reindeer-pulled-sled rides, and is considered by many Europeans who "believe" to be the modern home of Santa. The Kakslauttanen Arctic Resort offers stunning accommodations including twenty domed glass "igloos" with panoramic views to some of the best Aurora Borealis viewing on the planet.
Get a Taste of True Scandinavian Cuisine in Reykjavík, Iceland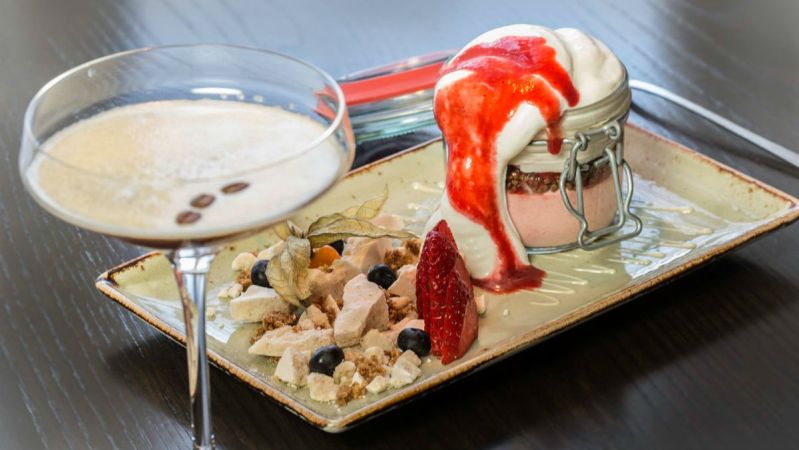 North Americans are finally hip to what Europeans have known for years: Iceland is simply amazing. With only four hours of daylight during winter, the days in Reykjavík feel surreal. At Christmastime in particular, the city comes alive with illuminated statues of the 12 Yule Lads (the country's nod to Santa), all-night holiday partying, and routine Northern Lights displays. For the hungry, Laekjarbrekka offers elevated yet authentic Scandinavian and Icelandic dishes — fish stew (pictured above), anyone? For a proper post-dinner tipple, visit the adjacent cocktail bar for a shot of Brennivín (Icelandic "firewater") and unparalleled views of the city from the rotating, 360-degree dome above. The quaint Hotel Leifur Eiriksson offers some of the most centrally located lodging in Reykjavík with views to Hallgrímskirkja cathedral and affordable rates (especially by Icelandic standards) to boot.
Peruse Europe's Best-Preserved Medieval City of Bruges, Belgium
With its meandering cobblestone streets, perfectly preserved medieval architecture, and winding canal system, Bruges offers no shortage of charm any time of year. Christmas is the busiest season, but trust us, it's worth braving the tourist crowds. Think legendary Belgian beer and world-famous Belgian hot chocolate. Head to the Bruges Christmas Market for ice skating amid centuries-old buildings that appear much now as they did the day they were built. Nearby, the intimate lounge at the sophisticated Grand Hotel Casselbergh Bruges is a great place to warm up with glühwein and a bit of speculoos. The hotel's lobby is a maze of elegant rooms, each uniquely decorated with an elaborate holiday display — all worth exploring.
Enjoy Theater and Trdelník in Prague, Czech Republic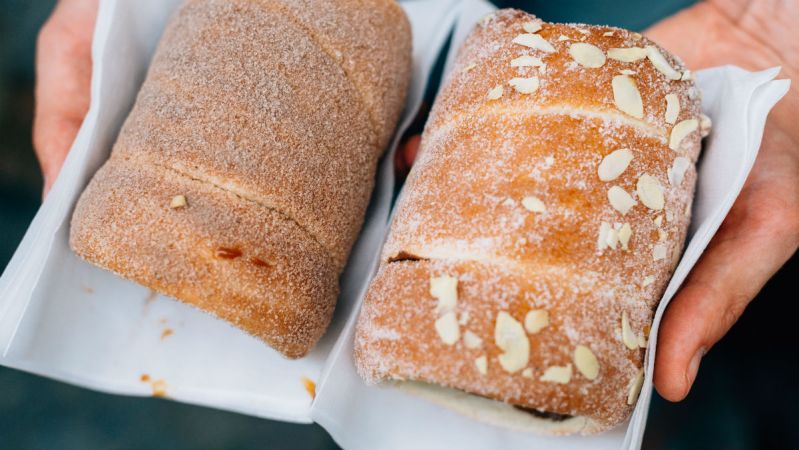 Many Eastern European cities battle for the title of "Most Charming," and Prague is an easy contender for good reason. The entire city feels as if pulled directly from a Gothic fairytale. No time of year is this more evident than at Christmas. Old Town Square is the de facto home for the city's celebrations as it hosts Prague's oldest, largest, and most impressive Christmas market. Here, there's an endless array of artisan crafts and handmade ornaments. But, more important are the traditional Czech delicacies like mulled wine, spit-roasted hams, and trdelník — rolled dough often topped with walnuts and sugar. To sidestep the holiday crowds, head to the satellite markets at Náměstí Míru (Peace Square) and Wenceslas Square which are smaller but every bit as charming. Make time to check out a performance of The Nutcracker at the legendary National Theater.
Appreciate Table Art in Copenhagen, Denmark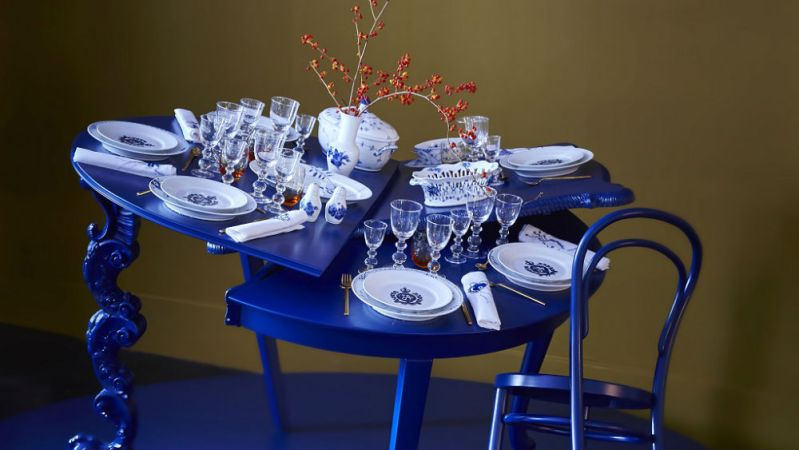 Few countries in Europe marry innovative design, small-town hospitality, old world charm, and some of the world's happiest people like Denmark. Copenhagen's Tivoli Gardens is a picture-perfect combination of all of these. As the world's second oldest amusement park, it offers plenty of childlike fun and vintage appeal. It's made even more so during the holiday season when the park is adorned with hundreds of thousands of twinkling lights, and a charming, alpine-inspired market selling all kinds of traditional Danish wares. The city's already stunning Nyhavn district comes alive during the holidays as a beautifully lit backdrop for a romantic waterfront stroll. The Royal Copenhagen Christmas Tables — arguably the city's most well-known Christmas event — is also worth a look. Every year since the 1960s, a handful of artists decorates six tables with elaborate displays, each with a unique backstory.
Visit France's Oldest Christmas Market in Strasbourg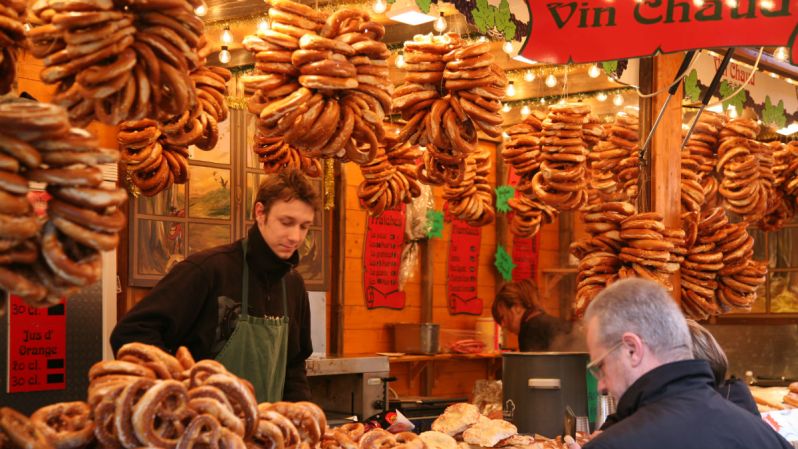 For Christmas travelers to France, Paris might seem the obvious choice. However, Strasbourg is our pick. Amid hundreds of twinkling house-lighting displays and intricate decorations, the city's UNESCO-listed Old Town truly comes alive during the holidays. Marchés de Noël are set up in plazas throughout the city, but the market at the foot of the city's beautiful Gothic Cathédrale Notre-Dame is the heart of the action. Dating back nearly 450 years, it's France's oldest Christmas market. Hundreds of vendors pack into wooden stalls, selling everything from carved Nativity figurines to handmade Christmas ornaments to homemade holiday treats like bredele (small Alsatian cookies), roasted chestnuts, and vin chaud (mulled wine). It's all for sale amid a backdrop of traditional Nativity plays, live holiday music, and plenty of ice skating.
Attend Choir Practice in Vienna, Austria
Few cities sparkle at the holidays like Vienna. Seemingly every building in the Austrian capital is adorned with hundreds of thousands of lights to celebrate Christmas each year. It's also home to the most popular Christmas markets in Europe, like the city's flagship Viennese Christmas Market at City Hall. The authentic market boasts more than 160 vendors selling all manner of traditional Austrian wares, including handmade toys, candles, and holiday treats. Market-goers are treated to a backdrop of holiday caroling from every surrounding street corner. The nearby Hofburgkapelle (Hofburg Chapel) is also home to a ticketed Christmas mass where guests can listen to the world-famous Vienna Boys Choir.