With its epic mountain landscapes, the Canadian Rockies and western coastal region offer some of the most renowned outdoor opportunities in the world, whether you're into snow sports, mountain biking, or simply enjoying magnificent scenery. The Banff and Whistler areas in particular are popular thanks to their combination of natural splendor and charming mountain hamlet vibes. With dozens of hotels to choose from, which one is right for you? Here, we'll check out the top Banff and Whistler ski resorts and hotels for a variety of trip categories: Budget, family-friendly, and so on.
You can rely on these recommendations, as I have vetted each and every one of them personally. Last summer I spent three solid months crisscrossing the region, and along the way I stayed at nearly two dozen lodges. Not all of them are worth planning your outdoor adventure around, but here are several that will provide a superior experience.
Best overall: Four Seasons Whistler
The Four Seasons Whistler — which recently underwent a total renovation, so the whole place feels brand new — blew me away by every metric. It delivers a luxurious experience that feels more homey than pretentious. Art is all over the place, and the suites offer woody opulence and views of the surrounding mountains. It also has several solid in-house restaurants, of which the SIDECUT is my personal favorite. Let me put it this way: My partner is exceedingly difficult to please when it comes to restaurants, and the SIDECUT's steak spread had her raving with foodie joy.
I'm going to go ahead and give the Four Seasons Whistler the award for "best for romantic getaways" too. The elegant yet cozy atmosphere strikes exactly the right tone.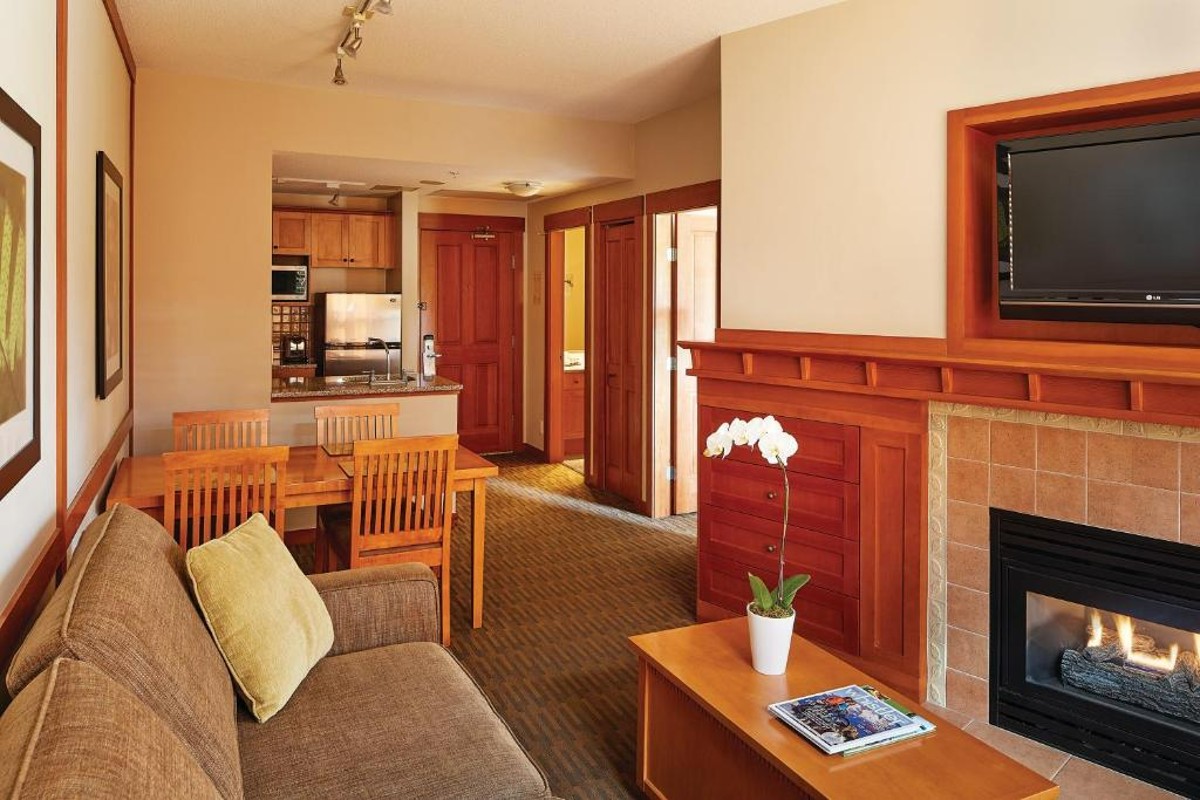 Best for families: Pan Pacific Whistler Mountainside
Nestled directly in the center of the village, Pan Pacific Whistler Mountainside is ideal for families thanks to its apartment-like suites that can offer multiple bedrooms along with a fully equipped kitchen. This is perfect for keeping hungry families fed without having to constantly shell out for restaurants. The central location also places it conveniently in the middle of all the action, just a few minutes' walk from the lifts.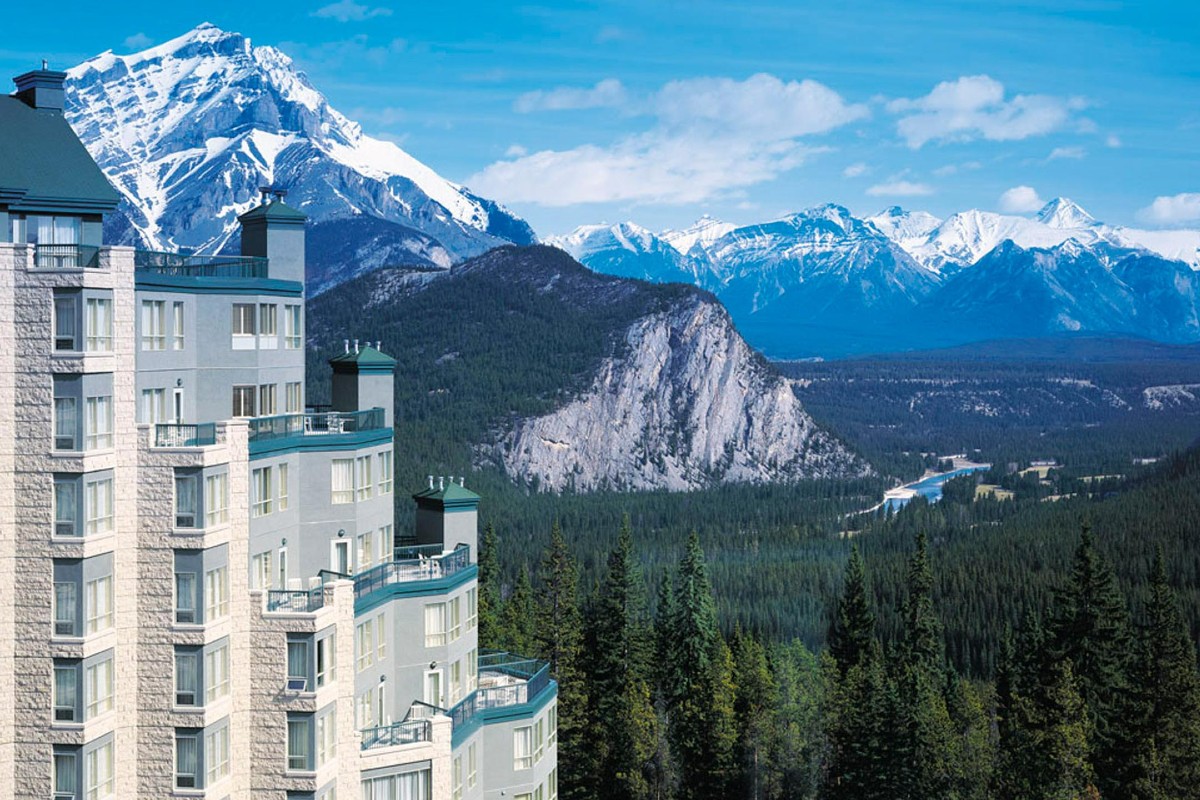 Most refined: Rimrock Resort Hotel
Located on a secluded hilltop overlooking Banff, Canada, the Rimrock Resort Hotel is the place to book if you're seeking a peaceful, upscale experience at a relatively secluded chateau. The stunning forest surrounding the place all but eliminates the potential for road noise. The back patio area in particular offers a supreme level of natural serenity. The general vibe of the place is majestic, if a bit Overlookish.
Best for adventure: Heather Mountain Lodge
Located a bit west of Banff in the gorgeous Glacier National Park, Heather Mountain Lodge is the place to go if you're a thrill-seeker. Its remote location makes it the perfect jumping-off point for alpine adventure, and you can even launch a heli-skiing adventure from it. The onsite restaurant, bar, and firepit are also great places to unwind after a day on the slopes with your fellow powder hounds.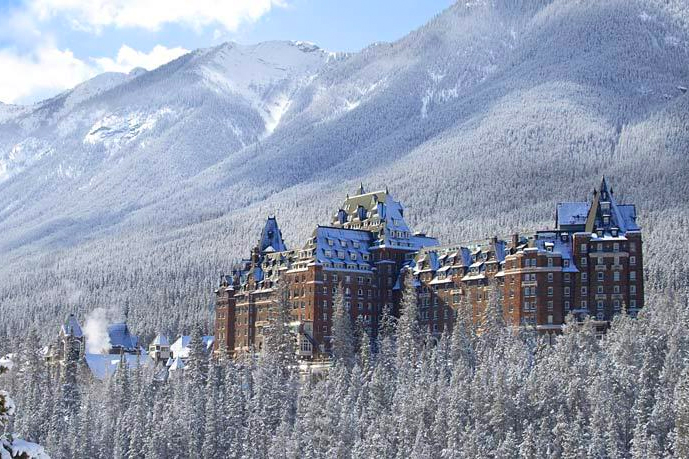 Best for parties: Fairmont Banff Springs
With its impressively oversized castle aesthetics, eye-popping views, and abundance of activities and food opportunities, Fairmont Banff Springs is a great place to party. Whether you're booking a bachelor/ette party, wedding, birthday, or even just a rowdy getaway with friends, it's an appropriately over-the-top place to cut loose in style.
Best in Jasper: Pyramid Lake Resort
Not Banff hotels striking your fancy? Drive six hours north of Banff through the gorgeous landscapes along the Icefields Parkway and you'll find the remote town of Jasper. About five miles north of this is the Pyramid Lake Resort. Situated on its titular lake, there is an absolute wealth of outdoor activity to be had here. In the summer you'll find hiking, fishing, and mountain biking galore, and once the snows come and the lake freezes over, it's perfect for launching days of cross-country skiing, snowshoeing, or ice skating. Best of all, there are communal campfires with s'mores all year round.
Best Basecamp: Basecamp Revelstoke/Canmore
If you're looking for the perfect accommodations for a long duration — say, a week of checking out all the skiing or MTB opportunities in the region — you'll be hard-pressed to find a basecamp better than, well, Basecamp. The concept is, essentially, that it's your home away from home for the duration of your outdoor adventure and equipped with everything you need for long stays. Basecamp Canmore is an excellent option for skiers and climbers in the Banff region who want to be in the buzzing hub of Canmore. If you're in the Glacier area, Basecamp Revelstoke offers more secluded, tranquil, upscale trappings.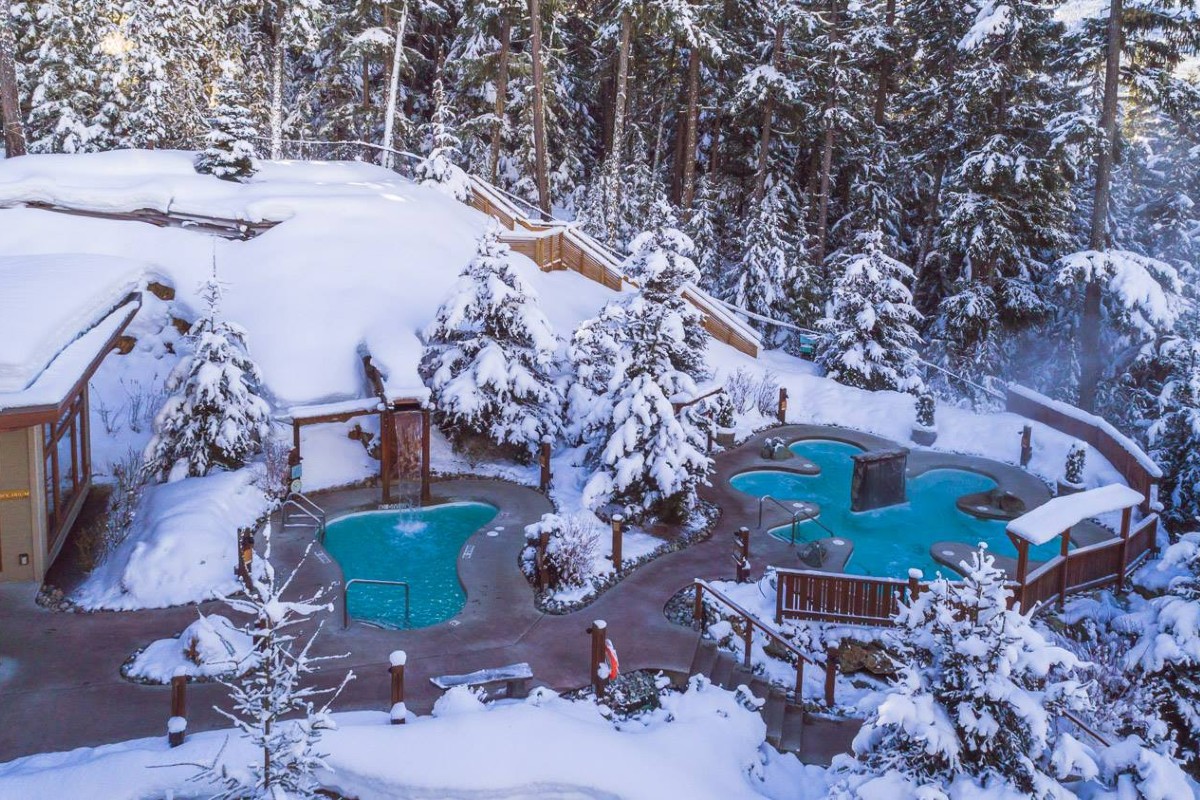 Bonus: Scandinave Spa Whistler
Fine, so this isn't a hotel or lodge, but it is an essential experience after a day of skiing, biking, or otherwise enjoying Whistler-Blackcomb. The site offers a silent spa equipped with multiple baths and waterfalls of varying temperatures, several different sauna and steam styles, a solarium, and rooms for yoga or kicking back in a hammock, making it a relentlessly tranquil setting for unwinding solo or with a partner.
Editors' Recommendations