Years ago, when I was a young man learning to snowboard, helmets were not something we thought about. Nobody I knew had a snowboarding helmet, and there was never a discussion about them. Things have changed, though — not wearing a helmet is seen as foolish these days.
And that's the correct stance to have. Moreover, if you're doing anything more than putting turns together on the beginner's hill, a helmet with MIPS or Wavecel technology is best. The Smith Nexus helmet has MIPS, but should it be your go-to helmet for day-to-day use? We gave it a full test to find out.
Pros
Lightweight
Koroyd and MIPS protection
BOA fit technology
Magnetic chin strap
Breathable
Cons
Bulky
Magnetic chin strap can be fussy
Smith Nexus snowboard helmet: packed with tech
Smith says the Nexus is its most advanced snowboard helmet to date, and it shows. Packed with tech, the Nexus also has an aggressive style advanced snowboarders tend to gravitate toward.
The Nexus has dual protection, too. Koroyd provides "all-over" coverage for lighter impact protection, while MIPS technology helps with harder and rotational force impacts. If that's confusing, we can clarify: Koroyd is built-in protection, while the MIPS protection is sort of free-floating inside the helmet. With MIPS, the helmet can move independently of your cranium while protecting your brain from being jostled as much.
MIPS is like a protective close-fitting protective membrane that moves and flexes independently of the helmet proper. This becomes an important caveat as we discuss the Nexus helmet's fit and performance further, but more on that later.
One small feature we love: the goggle strap band on the rear of the helmet. Most helmets have a clip at the rear of the helmet to keep goggle straps secure. The Nexus has an elastic band. At first, this seemed sort of "cheap" to me, but I actually love it. Fussing with hard clips has always annoyed me, but the Nexus band makes it really simple to settle my goggles onto the helmet, and remove them when it's time to store my gear for travel.
The BOA fit system is operated with a single dial: righty-tighty, lefty-loosey. There's an antimicrobial liner in the Smith Nexus, and the earpads are compatible with the Aleck audio system if you like listening to music on the hill. (We never advise listening to music on the mountain — it's more important to be aware of your surroundings, but you do you.)
The Fidlock magnetic strap is a bit fussy, but better than a clip. I just had a lot of trouble lining it up with gloves on, and it slides into place rather than clipping straight in, so it's all just a bit "new" in that regard. With time, muscle memory will solve that.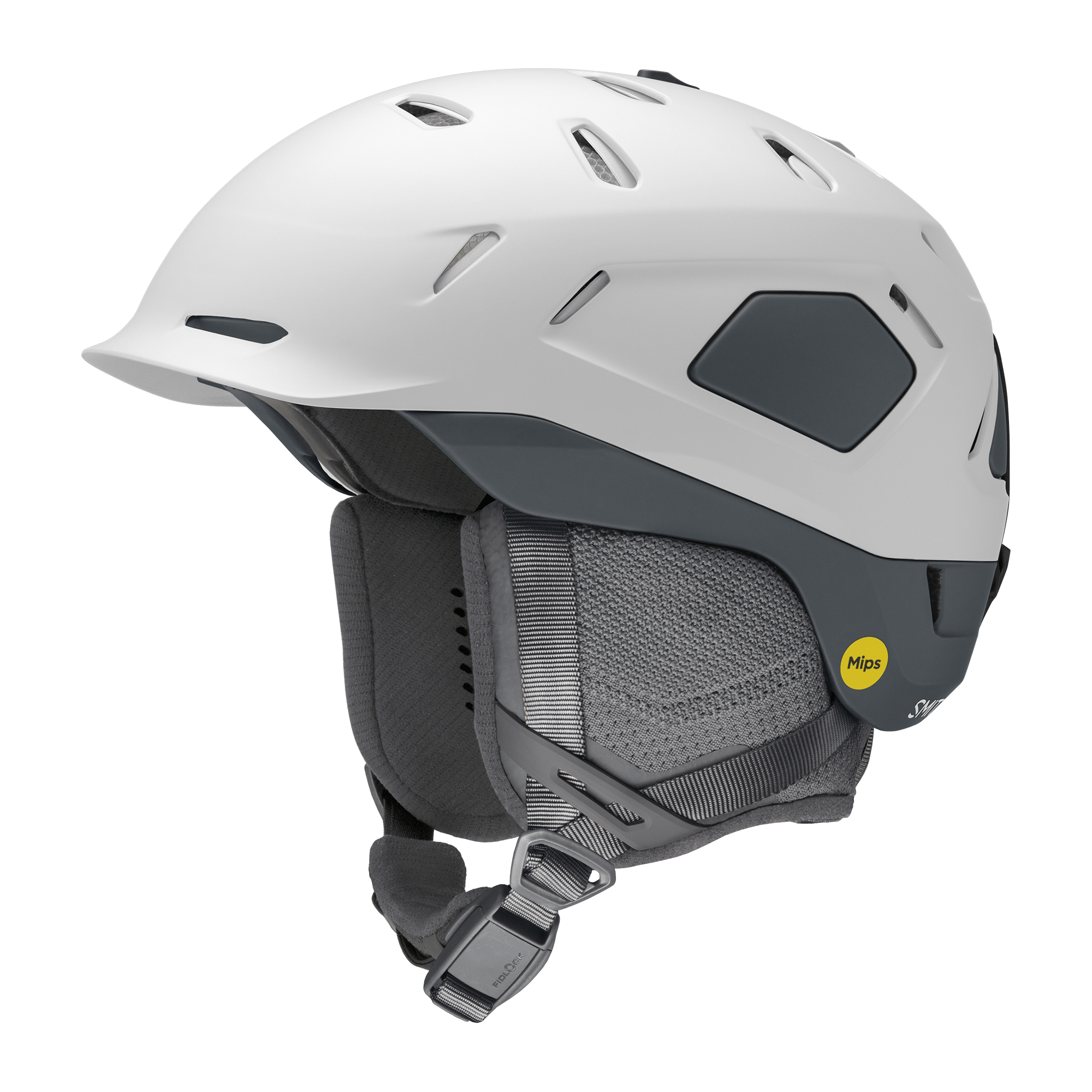 Smith Nexus helmet: style and performance
Style
A bit "mountain-bike-y" for some (that's literally user feedback), the Smith Nexus looks as it does because it's just jam-packed with tech. We know you want to look cool out there on the mountain; if the Nexus isn't quite your style of snowboarding helmet at first glance, we suggest letting that marinate for a bit; protection should outweigh all other considerations, and the Smith Nexus is packed with protective features and other great tidbits.
The Smith Nexus helmet is not bad styling by any stretch, but all styles are polarizing. I have the matte white Nexus helmet, which has grey panels at the rear for a Storm Trooper aesthetic. (As I'm also lousy with a blaster, this look tracks for me.)
Performance
The Smith Nexus is incredibly breathable. There are tons of vents (which you can open and close at will) which Smith markets as the "AirEvac" dual-ventilation system because there are two separate sliders. The slider closest to the middle of the helmet operates the vents toward the front, and the rear slider operates the vents at the rear. Each slider has stops at full-vented, half-vented, and closed.
The venting is a bit fussy — but interesting. You could choose to open just the front vents and allow cool air in to create a warmer environment as that cool air heats and is trapped in the helmet. Alternatively, you could open only the rear vents to allow warm air to escape, leaving the front vents closed to prevent cool air from entering. Of course, you could just open 'em all up and cool your head down. Two sliders and three stops on each slider are a bit finicky but ultimately make for one of the best all-season vent systems we've seen on a helmet.
The helmet is lightweight, but there's a drawback: it's bulky. It's larger than other helmets we've tested, even other MIPS helmets, and feels larger when you put it on. With so much tech packed in, this is understandable — but equally worth noting.
When riding, the size of the Smith Nexus isn't an issue. It doesn't hinder movement and isn't heavy. It's just larger than other helmets — and feels large — when you wear it.
We love the antimicrobial lining and BOA fit, too. Just be mindful to release the BOA system before taking the helmet off. (While I don't have proof of this, I have to think BOA fit enhances MIPS protection because it allows the helmet to fit close to your skull. Again, I'm no doctor; it just seems logical.)
Is the Smith Nexus helmet the snowboarding helmet (or skiing helmet) you should buy?
At $325, the Smith Nexus is priced at a premium. At $priceless, your brain is not something you'll want to get cheap about.
Koroyd impact protection, along with MIPS, is as protective as any helmet out there. We can't and won't argue anyone should look for a deal when bodily harm is on the table.
Its styling is a bit sporty, so some may not like that. If you're more of a "skull-cap" helmet person, Smith has those too — and with MIPS. Those options just won't be breathable and typically don't sport things like a BOA fit system.
We love this helmet for the curious skier or snowboarder. If you're looking to dip an edge onto a rail in the park or carve a line through some trees, this is a great helmet for you. For those who like side hits and more aggressive hills, we can't recommend this helmet enough.
Smith is asking you to spend three bills to get everything they can pack into a helmet. If that's in your budget, we say go for it. Feature-packed and incredibly protective, the Smith Nexus helmet should at least make the short-list for your next helmet purchase. The Nexus may be more than you thought you'd spend on a new snowboarding helmet, we get it, but a helmet is just not the thing to skimp on. Smith didn't when designing the Nexus, and you shouldn't when purchasing a snowboard helmet.
Editors' Recommendations