Just like a map is essential on the trail in the summer, the winter trail map is your guide to not getting lost on the mountain this winter. The first thing most skiers and snowboarders do when they turn up to a new ski resort is to get hold of a trail map and earmark some runs they want to explore. If you've got a holiday booked and coming up soon, you might already be looking online to get your bearings on the ski area, but do you really know what you're looking at?
Ski slopes are broken up into different difficulties and marked on the map using different colors. Experienced skiers may be able to glance at this map and know where they're headed — they're probably able to tackle most of the slopes, too — but skiing for beginners is hard enough without adding mapreading into the mix. And then what happens if you end up on the wrong slopes, clinging onto a ski run for dear life? Well, our ski slope difficulty rating guide is here to ensure you don't get lost on the mountain and safely make it to aprés at the end of the day.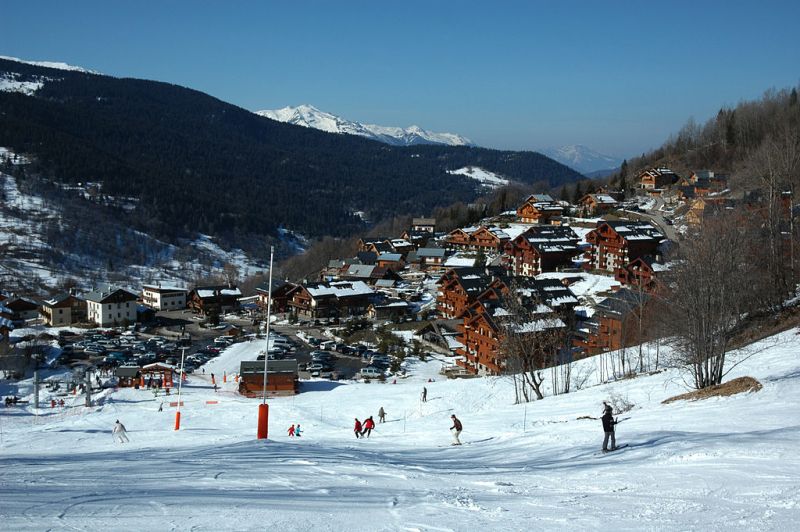 Bunny Slope
The bunny slope: skiing and snowboarding for beginners. This is where you take your first turns, get used to clipping yourself into your ski or snowboard, and where you can fall over safely without having experienced riders ripping it past you. Let's face it, when you're learning, you need a safe space away from high-speed skiers and snowboarders. And as a beginner, you're likely to make some, let's call them erratic, turns that take you across the slope.
The bunny slope is in itself a green run — see the next section — but we think it deserves its own section here. The bunny slope is a sanctuary, not a slope. It usually has either a magic carpet or a button lift up the side rather than a full chairlift, and that's because they're usually only a couple of hundred meters long. They're a gentle gradient, with enough width and length for you to learn your turns without overcommitting to a long trail.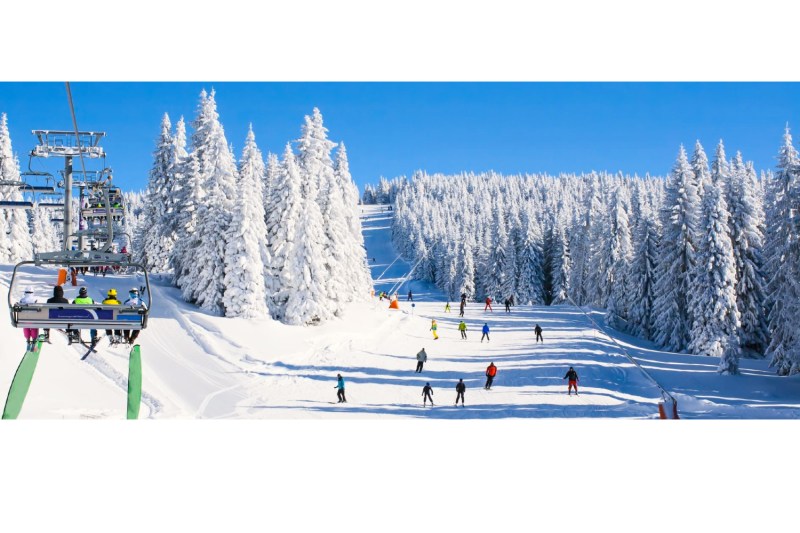 Green Slopes
Once you've mastered your turns and are ready to spread your wings beyond the bounds of the bunny slopes, your next step would be the green slopes. These slopes are the same gradient as the bunny slope and are generally at less than 25% gradient, making them slow and gentle. Add to that the fact that they're often wide — especially in any sections that push that gradient boundary — and you've got the ideal setting to take what you learned on the bunny slope and progress it.
But don't think for a minute that green slopes aren't a great way to explore the slopes. In fact, plenty of ski resorts understand that one of the first things you want to do is get some altitude and enjoy the view. Plenty of beginner-friendly ski resorts have green slopes that run all the way from the top to the bottom of the mountain. Because of their mellow nature, these runs have to weave and wind their way down the mountain, and many of them make you feel like you've been on a journey around the mountain.

Blue Runs
The vast majority of skiers and snowboarders find that they're at their happiest on a blue run. These slopes are somewhere between 25% – 40% in gradient, often made up of steeper and mellower sections. Some blue runs will feel like a green slope with a steep section, while others will feel like they're touching on being allocated a black grading. For that reason, European and Japanese ski resorts also include a red grading, equal to a hard blue/easy black in the U.S.
When you're a confident skier or snowboarder, blue runs are your cruising runs. They're the groomers that can carry you around the entire mountain, connect together steeper runs — if that's your thing — or be your entire ski day. Blue runs are often the last runs that are groomed in resorts, depending on the style of black runs.
Black Runs
Now we're getting into the realms of steep and challenging terrain. Black runs will usually have a gradient greater than 40% and, depending on the resort, may consist of groomed and ungroomed sections. These runs are consistently steep, narrow, and challenging but represent a real risk if you crash on them. The nature of black runs differs between different ski resorts, but they're always at the top end of the pile.
The mistake a lot of skiers and snowboarders make is thinking that because they're confident cruising on a blue run, they can tackle a black run. Blue runs have a very different feel to black runs, and your best way to make the transition is to find a ski resort with either a consistently steep blue run — that verges on 40% the whole way — and make narrow turns, staying in control as you do.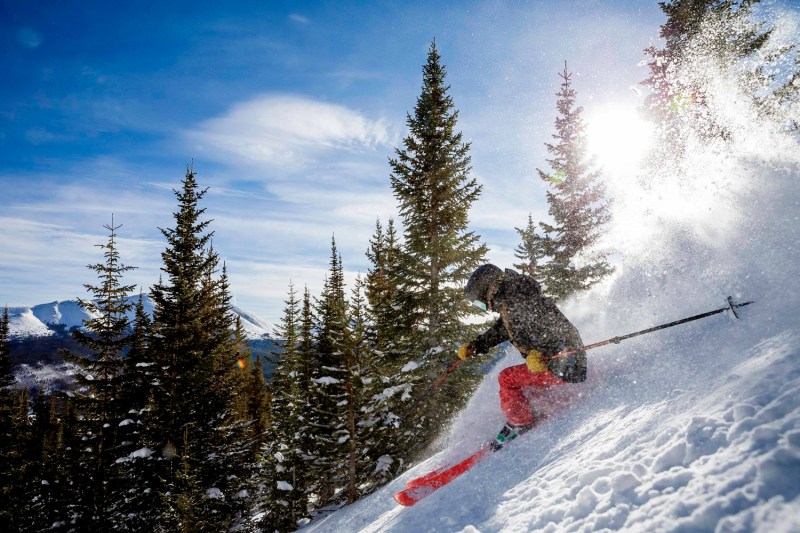 Double Black Diamond
The Double Black Diamond ski run is the top end of ski difficulty in the U.S. It's put on a pedestal by many skiers as the ultimate goal. Once they reach it, plenty of skiers and snowboarders will tell anyone who listens — or stands still for long enough — about how they absolutely nailed their first double black diamond. You may have met someone like this in the office or at the aprés bar, or they may have followed you across the parking lot if you were really unlucky.
The truth is, plenty of skiers will never ski at this level, and many don't want to. Double black diamond runs are the mountain's steepest, most demanding terrain. It's nearly always ungroomed, with real-world features like cliff bands to negotiate. These trails aren't for the faint-hearted, and plenty of them have to be 'in condition' to be worth skiing. But if they are in condition, and you're up to the challenge, some of the best snow and most enjoyable terrain on the mountain can be found in places you can only reach by skiing a double black diamond run.
Orange
Orange ski slope markers are generally found above the terrain park. These markers warn you that you're about to drop in on jumps and rails. If you want something a little different, then the terrain park is a great way to challenge your skills. The park's jump lines and features are often marked in terms of difficulty using the same color scheme as ski trails. This doesn't mean that if you can ski a blue run, you can hit a blue feature; it just means it's a medium-difficulty feature within the terrain park.
Editors' Recommendations