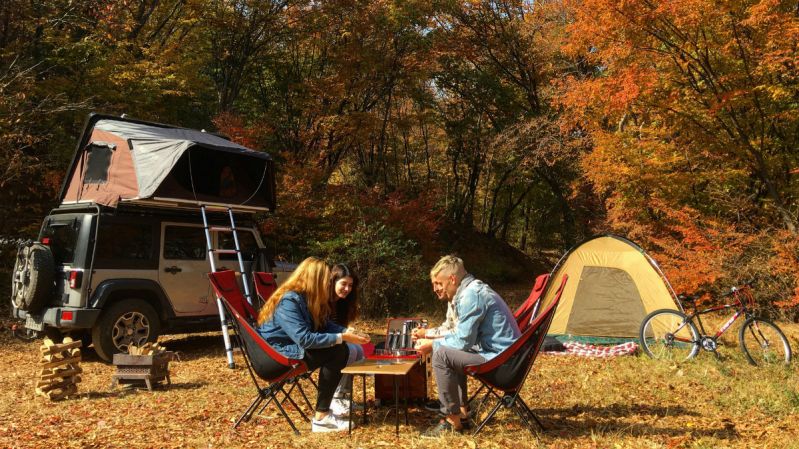 Here at The Manual, it's no secret we love to cook outdoors. Whether it's grilling or hovering over a camp stove, few things beat the satisfaction of a great meal enjoyed under the open skies.
One thing that isn't so great: hauling all of the necessary gear to do so. It can take a dozen different pieces of gear to achieve that magical cookout experience.
Our friends at iKamper (the same company that created the awesome SkyCamp), have come up with the EatOut, an all-in-one, self contained cooking box that can roll along for just about any tailgating or car camping experience. This aluminum box contains everything you'll need to prep, cook, and store a day's meals (everything except the kitchen sink).
An expansive, full Birch plywood table (with a waterproof, easy-clean coating) folds out with enough room to seat four people. There are two gas burners set up as the second panel of the table. These burners feature an easy ignition and 8500 BTUs per unit. They're compatible with any standard butane canister too.
The smaller "Excursion" model has a 37-liter volume for storage, while the bigger "Expedition" tops out just under 51 liters. Both models weigh in excess of 15 lbs before filling, so it's certainly more for stationary use.
Just like the Skycamper, the EatOut can be upgraded with additional options: One is an attachable LED lantern with a telescopic stand that mounts onto the burner panel. It can be controlled via an app to modify brightness and the color of the light. The lantern is built to withstand rain, dust, and the general rough and tumble of the day's events as well.
Another upgrade is the built-in soft cooler that turns part of the storage volume into a well-insulated cold box. It's removable and comes in two sizes to fit both models.
EatOut is currently in the early stages of development. iKamper launched a Kickstarter campaign which, at the time of publication, was more than half-way funded with a month left to. The brand says it will produce five to 10 different colors of the unit, depending on the final level of support the Kickstarter receives. Prices start at $185; delivery is slated for May 2018.