The Basic Process
Clean
Dry
Repair and treat
Store
There's nothing worse than getting stoked for a trip and pulling out rotten tents, sleeping bags, or hiking boots. Camping gear is also a huge investment and clean equipment works better, smells better, and lasts longer.
We'll walk you through the process for your major pieces of gear: tent, sleeping bag, sleeping pad, hiking boots, jacket, and backpack.
Tent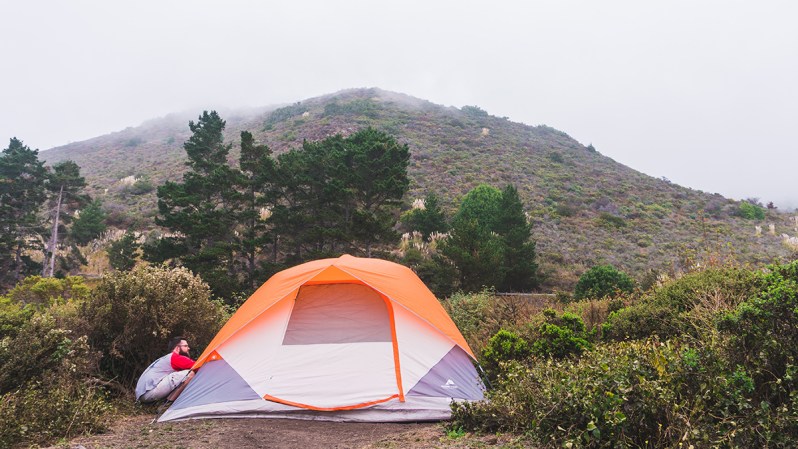 That eight-person tent offers a lot of room for the family, but it's a lot of nylon to scrub at the end of the season. Tents don't need to be cleaned after every trip but make a point of doing it after every season. If you're a regular camper, every four to five trips should suffice. Trips around sand, fine dust, bird droppings, or anything sticky might warrant a cleaning sooner than that.
1. Clean
Using a bucket of gentle, non-detergent soap or a specialized product like Nikwax Tent and Gear Solarwash, wipe the tent down with a sponge or rag. If there are any spots with mildew or mold on them, use a spray bottle with white vinegar. Scrub gently on the floor and the fly so you don't scrape the waterproof finish off.
2. Dry
Dry your tent completely. Of all the things you could do to extend the life of your tent, drying your tent before storing could be the most important. Set it up in the garage, pitch it in the backyard, or hang it on a clothes line on a warm day.
3. Treat and Repair
Treating your tent with a durable water repellency (DWR) product will help UV protection, water shedding, and fabric strength. Tent and Gear Solarproof from Nikwax works well.
4. Store
So you've completely, totally, absolutely dried out your tent 100 percent. Now it's time to stuff it in a wet basement or in direct sunlight. Wrong.
Store the tent in a bigger bag than it came with so it can breathe. It needs to go in a dry place with an even temperature. Rolling or stuffing the tent into a big bag prevents the fabric from breaking along the folds over time. If you have space, store the poles fully or partially extended so the elastics can relax.
Sleeping Bag
Compared to tents, smaller sleeping bags are easy to take care of. While on a trip keep them as dry as possible. Shake them out every morning and dry them in the sun if you can. If they're dripping wet after a trip, put towels inside and roll tightly to squeeze water out. For less washing, get a sleeping bag liner and wash that instead of your sleeping bag.
1. Clean
Cleaning is just done with a regular front-loading washing machine. Larger machines at the laundromat are the best but your smaller machine at home works well too. As long as the washing machine does not have an agitator, you're good to go.
Throw your bag in with cold water on a gentle cycle and let it go. Use mild non-detergent soap or products design for washing gear: Nikwax Tech Wash for synthetic bags and Down Wash Direct for down bags. These wash the insulation as well as revitalizes the water repellency.
2. Dry
After washing, throw the bag in your dryer on low. It may take multiple cycles low. Synthetic will dry faster than down. Never turn the heat up. If drying a down bag, throw a few dryer balls or clean tennis balls in to break up the clumps of down.
3. Treat
Many sleeping bags have no special treatment on the outside. If yours had a water repellent DWR coating, then you can spray more on after your bag is done drying. Nikwax TX.Direct Wash-In for synthetic and Down Proof for down bags works best."
4. Store
As with tents, a cool, dry place to store your sleeping bag is key. To keep the insulation fluffy until next spring store it in a loose, breathable bag like a pillow case or unrolled under a bed.
Sleeping Pad
Comfortable sleeping pads (that stay inflated) are key to a good camping trip. Cleaning and storing your sleeping pad will help them last as long as you do in the woods.
1. Clean
To clean your pad, just sponge it with warm water and a gentle soap, then rinse. Don't machine wash or dry sleeping pads.
2. Dry
Hang the pad somewhere to dry. Don't apply extra heat as this may cause seams to unglue
If you can dry out the inside and outside of the pad before storing, it will last longer. Moisture inside will delaminate the layers. Inflating the pad multiple times with a hair dryer set on low should to the trick.
3. Repair
If you have any holes in your pad, patch them up before you forget. The Permanent Home Repair kit from Therm-A-Rest or a kit from your pad's manufacturer will solve the problem.
4. Store
Sleeping pads are best stored completely unrolled under a bed or hanging in a closet with the valves open. If you do have to pack it up more, roll it up loosely and tuck in a dry place.
Hiking Boots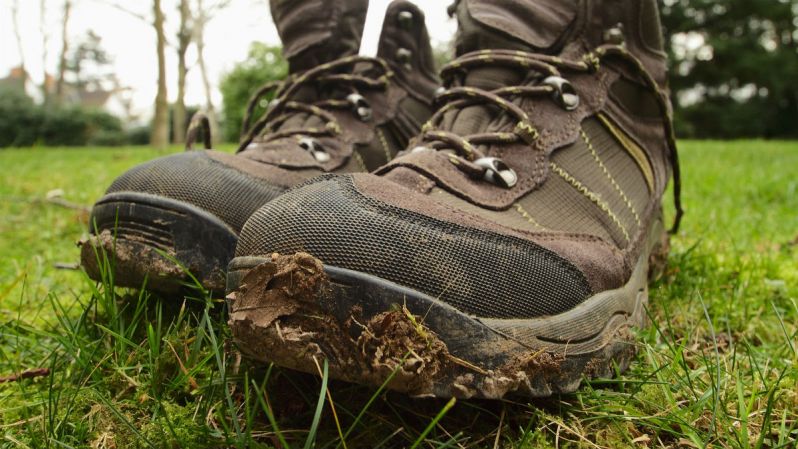 Of all the gear in this list, hiking boots are likely to be the dirtiest. (If your boots aren't dirty after a hike, it's time to get off the pavement.) Boots like to be clean and will stay waterproof longer.
1. Clean
Taking a brush with warm water to your boots to get all the dirt off after most trips or before any long storage will go a long way. Don't use regular soap if you can help it; it can break down the treatment on the outside and clog the waterproof membranes. For seriously gross boots, Nikwax Cleaning Gel will clean and revitalize the water repellency at the same time.
If the insides are as gross as the outsides, take out the insoles and wash them separately. A bit of baking soda inside can help with the smell if you can't get near them without a gas mask on. Taking the laces out helps get the tongue clean.
For more tips, check out this in-depth guide.
2. Dry
After the shoes are clean, stuff them with newspaper or on a drying machine meant for boots. Never put them in front of a heater or fire.
3. Treat
Once you're finished cleaning the boots, it's time for their treatment. The product you use will depend on your boots.
If your boots are just synthetic fabric or a combination of leather and fabric, you can use something like Nikwax Fabric and Leather Proof. If your boots are a soft nubuck leather or suede then you'll be using the Nubuck and Suede Proof. Finally, if you're boots are a smooth leather, then get the Waterproofing Wax for Leather which can be a cream or a spray. Follow the instructions to cover the boots with the sprays making sure some gets into the seams.
4. Store
Store your boots in a cool, dry area that isn't in the sun.
Jacket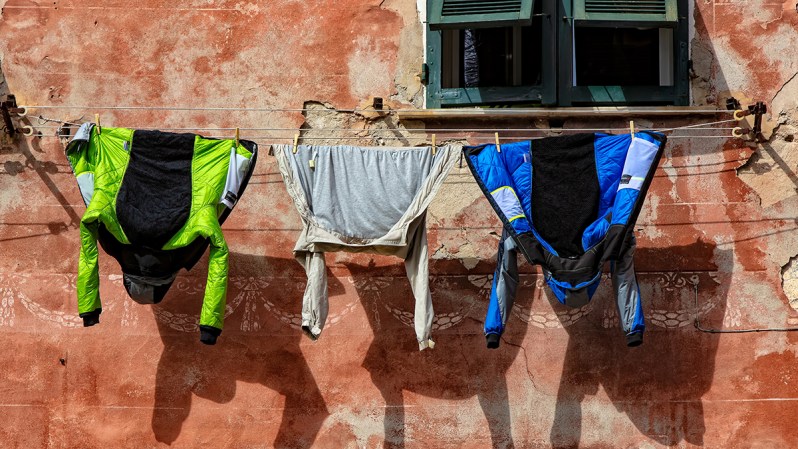 Jackets are super easy to take care of. They work better and will last longer if you wash them often. If it's dirty or the water isn't beading up and rolling off the outside any more, it's time for a wash.
1. Clean
Clean with a gentle soap. If you use a regular soap versus a product meant for outdoor jackets, be sure to rinse it twice.
2. Treat
If the jacket hasn't been beading well, spray with a DWR treatment like Nikwax TX.Direct Spray before putting in the dryer.
3. Dry
Drying is an important step in the process. This will re-activate the DWR treatment. Regular temperature on your dryer for about 40 mins, or until your jacket is dry, will serve just fine. It won't harm your jacket — it goes through much higher temperatures when it's being made.
Store
Hang in a cool dry place after cleaning and your jacket will last for years.
4. Backpack
Most backpacks won't fit in the washer or dryer. If they do, great — chuck them in and wash with a gentle soap. If not, we can use a different process.
1. Clean
First, scrub dirt off the outside with a brush. Next, dunk and scrub your backpack in a tub of warm, mildly soapy water. If you want to get the bag squeaky clean, wash the zippers with a toothbrush. Rinse out with the tap or a hose until the water runs clear.
2. Dry
Just hanging up the bag to dry is fine. You can also lay it flat.
3. Treat
Backpacks don't require special treatment. Waterproof bags may have a DWR treatment on them that you can re-apply. To really go the extra mile, lube the zippers with silicone grease.
4. Store
Hang up or lay flat in a cool dry place for storage.
Editors' Recommendations