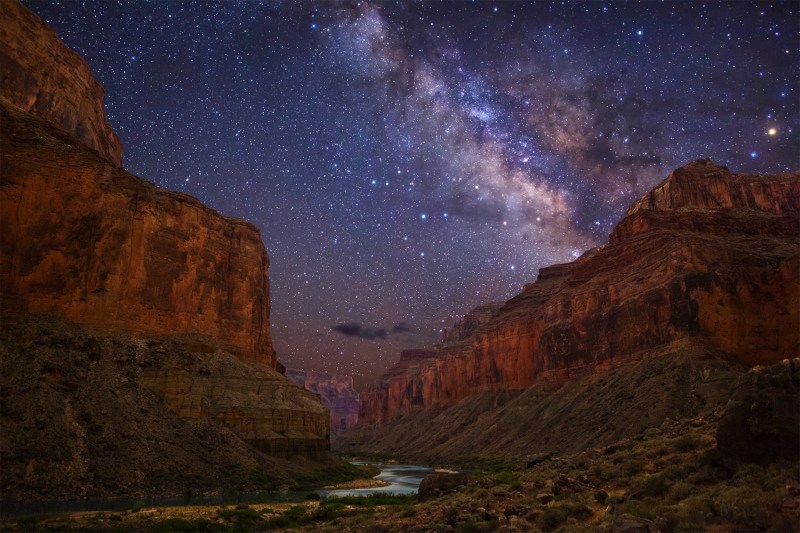 Grand Canyon National Park is the second most visited National Park in the U.S. It hardly needs any new accolades, and most people don't need yet another reason to add it to their bucket list. However, the good folks at the International Dark-Sky Association (IDA) are providing one anyway. Earlier this month, the iconic park was awarded Dark Sky Park status, cementing the Grand Canyon as one of the best places in the world for stargazing.
The news comes on the heels of Colorado's Great Sand Dunes National Park gaining the same Dark Sky Park status in May. Grand Canyon was granted provisional status in 2016. Among a host of other initiatives, it has since outfitted two-thirds of the park's lighting — more than 1,400 fixtures in total — with low-watt LED bulbs and directional shields to minimize light pollution, which was enough to secure the new distinction. Of the park's efforts, the IDA notes that given its "remarkably dark night skies and U.S. National Park Service (NPS) efforts to make visitors aware that 'half the park is after dark,' an authentic and meaningful dark-skies experience is available to over 5 million visitors annually." Officials confirmed that 90% of the park's lights would be retrofitted by 2022.
With less than 70 certified "dark" spaces throughout the world, the Dark Sky Park classification is an exclusive one. While the United States is home to some of the worst light pollution in the world, the worst affected regions lie mainly along the coasts, particularly in the Northeast and in California. But the country also boasts some of the best Dark Sky Parks with the best stargazing opportunities on the planet. In addition to Great Sand Dunes National Park, Texas' Big Bend, California's Joshua Tree National Park and Death Valley, Arizona's Petrified Forest, and Nevada's Great Basin all enjoy Dark Sky Park status.
For 2019, Great Canyon National Park is celebrating its 100th anniversary and its new Dark Sky Park distinction every night this week (June 22-29) with a unique Star Party. Amateur astronomers from around the country will gather at the Grand Canyon Lodge along the north rim and the park's official visitor center along the south rim to share their telescopes and knowledge with anyone interested. This year is especially good for astronomy lovers with amazing opportunities to see not just the Milky Way, but Saturn, Jupiter, Mercury, and Mars as well. Aside from the park entrance fee, the events are free.
If crowds and awe-inspiring canyons aren't your thing, check out five of the country's lesser-known and least crowded national parks you need to visit.
Editors' Recommendations