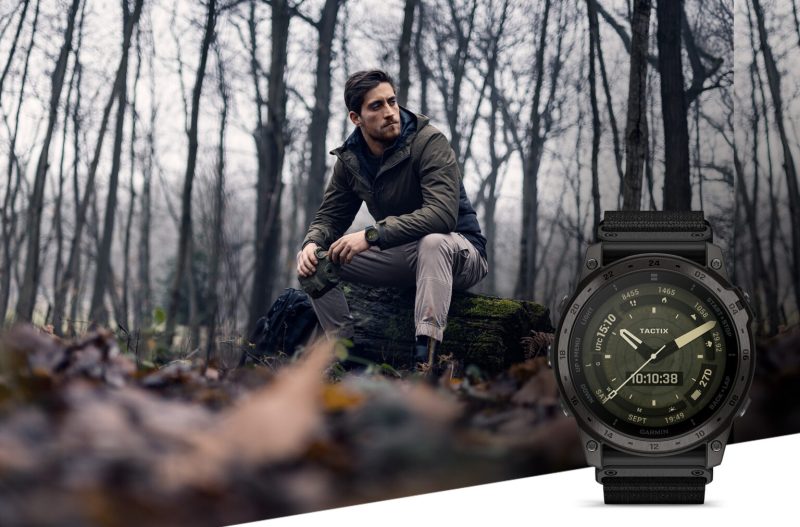 If you're in the market for a new tactical timepiece, look no further than Garmin's latest offering: the tactix 7 AMOLED. But this isn't your run-of-the-mill outdoor smartwatch. Garmin has once again raised the bar with the tactix 7 AMOLED Edition. Here's what makes it one of the greatest outdoor smartwatches of 2023.
One of the standout features of the tactix 7 AMOLED Edition is its bright and easy-to-read AMOLED display. Whether you're exploring during the day or in pitch-black darkness, this display can adapt to the situation, ensuring you have the information you need at your fingertips without straining your eyes. Plus, it can dim when the mission calls for stealth, keeping you concealed from prying eyes.
When night falls or you find yourself in low-light conditions, the built-in white and green flashlight comes to your rescue. It provides quick access to a bright, steady beam in either green or white light. In NVG mode, the white light is disabled, and the green flashlight becomes dimmable, perfect for maintaining a low profile while preserving your night vision.
With up to 31 days of battery life in smartwatch mode, the Garmin tactix 7 AMOLED Edition ensures you stay connected and informed during extended adventures without worrying about recharging. Equipped with preloaded maps, multi-band GPS support, and outdoor sensors, the tactix 7 AMOLED Edition enables you to navigate your world with confidence. The included Applied Ballistics software, accessible via the AB Synapse Garmin mobile app (unlock fee required), is a game changer for long-range shooting enthusiasts.
Tested to U.S. military standards (MIL-STD-810) for thermal, shock, and water performance, this smartwatch boasts a rugged yet sophisticated design. Its large 1.4-inch display ensures you can read vital information even in challenging conditions. The traditional button controls work flawlessly in any environment, while the responsive touchscreen interface provides quick access to selections and functions.
More features of the Garmin tactic 7 AMOLED Edition
The Garmin tactix 7 AMOLED Edition doesn't stop with the above features — there's more to look forward to:
Jumpmaster Mode: Calculate high-altitude release points according to military guidelines and navigate to your objective once you've jumped.
Dual-Position Format: Easily sync your location with others by displaying both the universal transverse Mercator and military grid reference system on the same screen.
Projected Waypoints: Set and save remote geo positions to be used later for navigation.
Hunt Activity: Track your hunt and mark hunt-specific waypoints directly on your watch.
Direct to Navigation: Navigate straight to a location or waypoint in the worldwide aeronautical database or choose the Nearest function to find the closest airport.
Weather Reports: Access aviation weather, including NEXRAD radar, METARs, and TAFs, to stay informed about winds, visibility, barometric pressure, and more.
Outdoor Maps+: Subscribe to Outdoor Maps+ for premium mapping content, such as satellite imagery and enhanced topo maps, downloaded directly to your watch.
Whether you're a seasoned explorer, an outdoor enthusiast, or someone simply seeking to enjoy military-grate tech, the Garmin tactix 7 AMOLED Edition could be your ideal partner.
Editors' Recommendations